How to roam with your iPad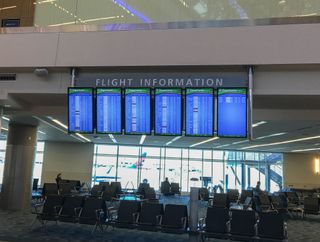 Depending on where you're traveling to, you may not want to bring your laptop with you, but your iPad may suffice. If you have an LTE-enabled model, you won't have to rely on spotty hotel Wi-Fi or Wi-Fi at all if you're on the go.
Here's how to get your data fix wherever your travels take you.
Make sure your iPad is unlocked
Most iPads are unlocked. In fact, essentially all but those bought directly through AT&T are unlocked. They'll either have an embedded Apple SIM card or a removable Apple SIM (some models in some countries may not come with an Apple SIM pre-installed), and they'll all have a nano-SIM tray that works with carrier SIM cards. If you're already using your iPad on a carrier plan, your best option is to simply call your carrier and ask if it's locked to the network.
Again, all but those actually bought from AT&T should be unlocked, but it never hurts to check. If you bought your iPad from, say, Best Buy, but then activated a plan with AT&T, your iPad should still be unlocked.
Option 1: Apple SIM
Your best option for data while traveling is the Apple SIM. If yours didn't come with one, you can buy an Apple SIM kit at an Apple Store in the U.S., U.K., Australia, Canada, France, Germany, Italy, Japan, Netherlands, Spain, Sweden, Switzerland, or Turkey. Once you have the Apple SIM, you can then choose a cellular plan right on your iPad. It's super convenient and you'll be able to get connected in over 180 countries and regions.
Apple has 11 SIM partners throughout those destinations, and, when traveling, you'll be able to easily choose a data plan from a local carrier or a prepaid provider. The best part is that you can easily switch back to your local carrier plan when you get home. All right on your iPad. Easy peasy.
Option 2: Carrier international plans
If you're already with a carrier at home and don't want to muck about with local carrier in your travel destination, then look at what your carrier offers in terms of international plans. You'll likely have to pay an add-on fee to get data in another country. For example, AT&T charges $60 for 1GB of international data, which lasts 30 days.
You'll have to chat to the carrier of your choice to get its data plan prices for international data. That being said, Apple is partnered with AT&T and T-Mobile for Apple SIM, so you can just do it right through your iPad if you don't want to talk to a carrier directly.
Option 3: Local SIM cards
Your iPad will have a nano-SIM tray for carrier SIMs, so if you don't want to go the Apple SIM route, you can pick up a local SIM depending on your travel destination. Many destinations will have SIM kiosks right in the airport, and you can then load up some data, usually on a prepaid or pay-as-you-go basis.
Some other destinations may require you to hit up a carrier store to grab a SIM. You'll probably have to pay for the SIM itself and may even have to pay an activation fee. Prices will vary depending on the destination and carrier.
Option 4: International SIM cards
You can also just buy a SIM card that works in multiple destinations. There are a few options that offer data-only SIM cards and you can use them on a pay-as-you-go or prepaid basis.
WorldSIM offers a "Worldwide Data SIM Card", which it claims offers 4G speeds in countries that offer it, and you can just add prepaid credits starting at $27. You can also add data bundles, starting at 500MB and going up to 4GB. Rates will vary based on the destination.
GO-SIM offers a $10 world data SIM, and you then grab data on a pay-as-you-go basis, with prices as low as 1 cent per MB of data. There are three coverage "zones" to choose from, so if you know you'll be sticking to one country, pick the card that works best for you. Prices vary by zone.
How do you travel with your iPad?
Do you use the Apple SIM when you travel or do you prefer local SIMs? Sound off in the comments below with how you get your international data.
Master your iPhone in minutes
iMore offers spot-on advice and guidance from our team of experts, with decades of Apple device experience to lean on. Learn more with iMore!
Mick is a staff writer who's as frugal as they come, so he always does extensive research (much to the exhaustion of his wife) before making a purchase. If it's not worth the price, Mick ain't buying.