How to travel internationally and roam on your iPhone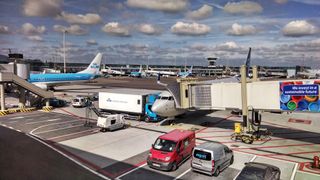 If you're headed overseas, then your iPhone could be your best tool for figuring out routes, learning about the cities you visit, and keeping in touch with folks back home. Here's how to use your iPhone to its fullest — data, calls, etc. — while you roam!
Note: Before traveling anywhere with your iPhone, make sure it'll actually work in the country you're visiting by checking which cellular bands that country uses for GSM coverage. Apple has a handy tool for checking which iPhone model works where.
Option 1: Carrier roaming plans
Most carriers have an international plan that you can subscribe to while you're outside the standard coverage area. You'll likely end up paying a certain amount per day in order to use your iPhone just like you would at home.
For example, T-Mobile's ONE plan lets you use your unlimited data and unlimited texting in over 140 countries. You'll also only pay 20 cents per minute for voice calls. Verizon, on the other hand, has a trip planner, which will show you where your phone will work and what your plan price will be based on the destination. So you will have to pay extra if you want to use your phone abroad.
Basically, it's best if you get in contact with your carrier's customer service, let them know where you're headed, and they'll help you find the plan that best suits you.
Option 2: Buy an international SIM card
If you're headed abroad, an international SIM card may be your best option, since you can often get a pay as you go plan on it and load it up as you need it. The first thing you have to figure out is whether or not your iPhone is unlocked.
The easiest way to do this is to buy a new SIM card and pop it into your iPhone. Your phone will tell you it's locked to your particular carrier if that's the case, and if it is, you simply have to call your carrier and ask for it to be unlocked. You may be charged a fee, but if you explain your situation and that you're not leaving the network, only traveling, the fee may be waived. Carriers, by law, must unlock phones upon request.
After that, you'll just want to pick out the international SIM card that has the best plans for you.
Best travel SIM cards for iPhone
GO-SIM
GO-SIM has some of the most flexible options for international travelers, including an international SIM (good in over 210 destinations), a Europe card, a data-only SIM (good in over 100 countries), and a China SIM. All cards, aside from the data-only card, are $17, while the data-only is $10. The three $17 cards also offer a $10 credit for texting and data.
Rates will differ based on location, but you can buy up to 2GB of data, and choose a plan based on the number of locations you're covered in (Zone A, B, or C plans). Pricing ranges from roughly $35 to $179 for 2GB of data, which expires in 30 days.
WorldSIM
WorldSIM's SIM cards are free with the purchase of a pay as you go credit, which starts around $27 and goes up to $135. You can add multiple numbers to your WorldSIM card, so you can roam with your existing number. Pricing will vary by destination, and you'll basically add money to the card and that'll be depleted based on rates.
As an example, if you're traveling to Ireland, you'll pay 23 cents per MB of data, 22 cents a minute for voice calls, and 8 cents a text. WorldSIM also provides 24/7 customer support in case you have any questions or need assistance with your plan/SIM.
Option 3: Buy a local prepaid SIM
Depending on where you're going, especially in Europe, you could just buy a prepaid SIM card from a local carrier like Vodaphone, EE, or Three. These will basically work on a pay as you go basis, where you'll add credit or sign up for a particular plan while you're traveling. Rates will differ from carrier to carrier.
As an example, Vodaphone Australia offers 18GB of data and unlimited national calling and texting for $20 AUD (about $15 USD). It'll all depend on where you're headed. You'll always want to check first to make sure your iPhone has the right cellular radio bands for the country you're visiting.
Option 4: Stick to Wi-Fi-based calling and messaging apps
If you're ok with completely relying on Wi-Fi wherever you go, then there are a few decent apps that'll let you make calls and texts for free. FaceTime will also work for video and audio calls via Wi-Fi.
How do you roam?
What's your plan whenever you travel with your iPhone? Let us know in the comments below.
Master your iPhone in minutes
iMore offers spot-on advice and guidance from our team of experts, with decades of Apple device experience to lean on. Learn more with iMore!
Mick is a staff writer who's as frugal as they come, so he always does extensive research (much to the exhaustion of his wife) before making a purchase. If it's not worth the price, Mick ain't buying.