How to upload a video to your YouTube account with YouTube Capture for iPhone and iPad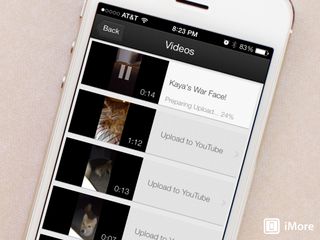 While the official YouTube app for iOS makes browsing YouTube convenient, it doesn't provide a way to upload videos. Fortunately, the YouTube Capture app does, no computer required.
Here's how to use it:
If you haven't used YouTube Capture before and don't have it installed, you can do so by clicking on the link below. You'll need to sign in to YouTube Capture and give it access to your mic and camera roll before beginning. Once you have it installed, proceed with following the steps below.
Launch the YouTube Capture app from the Home screen of your iPhone or iPad.
You can choose to either take a video to upload or choose one from your existing library by tapping on the folder icon in the bottom right of the screen.
Tap on the video you'd like to upload or record a new one.
In the upload screen add a title, choose the social networks you'd like to share to and any additional options.
Now tap the Share button in the upper right hand corner.
You'll see the video start processing. That's all there is to it.
YouTube Capture can upload videos in the background so you can close it out and continue doing whatever you'd like to on your iPhone or iPad. Once the video is successfully uploaded, you will receive an email confirming if you have notifications enabled for video uploads.
Do you use YouTube Capture for video uploads? If not, how do you prefer uploading your videos to your YouTube account?
iMore senior editor from 2011 to 2015.
Youtube and Youtube Capture should be in the same app. My blackberry has one app for watching and uploading videos.

Love it. I can upload multiple videos at once.

YouTube Capture is great, fast uploads of videos.

Why not just use the native integration??
And yes, Capture should be part of the YouTube app....

It takes AGES to upload. Ridiculous

Google (?) have conveniently glitched the iPad YouTube internal camera uploader. Now, you cannot add description properly through it, unless on iPhone.
So that Capture goes higher sales AND you get spied on more and more. Again.

Why does the rotate phone icon pop up. It won't go away

I was in the middle of loading a video to youtube through my capture app and it says "paused." It isn't on youtube, as I checked, and I can't get it off he paused status. Not sure what to do ro restart the load.

The best tutorial for the youtube. It have solved my purpose. Thanks for the post :) http://www.views2u.com/
Thank you for signing up to iMore. You will receive a verification email shortly.
There was a problem. Please refresh the page and try again.