How to watch the 2014 Super Bowl live on your iPhone or iPad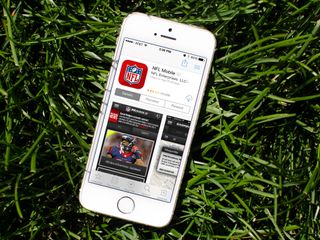 Super Bowl 48 is upon us and for the first time ever, FOX is offering ways for you to watch it live, no cable subscription required! So if you can't sit in front of the TV this Sunday with your friends and family, you can tune in on your iPhone or iPad and catch up with all the action when the Broncos and the Seahawks take the field. Here's how!
How to watch the Super Bowl live on your iPad
Anyone can stream the 2014 Super Bowl live if they have an iPad. All you have to do is download the FOX Sports GO app before game time. Then before the game officially starts, just load it up and you're good to go. Typically FOX Sports GO requires you to have a cable provider in order to use the app. These restrictions will be lifted temporarily for the Super Bowl from 12am Eastern time on Sunday, February 2nd until 3am Eastern on Monday, February 3rd.
How to watch the Super Bowl live on your iPhone (Verizon customers only)
Due to a licensing deal with Verizon, FOX can't live stream the Super Bowl to iPhones, or any smartphone for that matter, unless you're a Verizon customer that subscribers to NFL Mobile Premium. For those not already familiar with the service, it costs $5 a month and you'll need to download the NFL Mobile app to your iPhone via the following link:
NFL Mobile - Free (subscription required for live streaming) - Download Now

(opens in new tab)
Other ways to stream the Super Bowl live
If you don't have an iPad and Verizon wireless isn't your wireless provider, that doesn't mean you can't live stream the 2014 Superbowl. If you've got a Mac or PC you can go to the following website in order to watch a free live stream of the game:
www.FOXSportsGO.com
Same deal as the FOX Sports GO app for iPad, content will be available for a limited time the day of the Super Bowl for anyone.
How will you be watching the 2014 Super Bowl?
Now that we've talked about a few alternative ways to keep up with all the Super Bowl action, we want to know how you plan on spending this Super Bowl Sunday. Do you gather around the big screen with a group of family and friends -- or does everyone head down to the local sports bar? Let us know in the comments!
iMore senior editor from 2011 to 2015.
I think it's live on the BBC in Britain, so plenty options for phone or tablet viewing through the night Sent from the iMore App

Channel 4 I think. And Sky Sports for anyone who uses Sky Go

NFL Live Stream 2016-17 Free At www.pronfl-live.net

What's the Super Bowl.
xD Sent from the iMore App

there should be laws against watching the Super Bowl on a screen smaller than 50 inches or in standard definition.

Can it be cast to your big screen?

Thanks for these suggestions. I will definitely check out the fox sports app! Sent from the iMore App

Watch Super Bowl live streaming free HD TV,super bowl online video.Super-bowllivestream.com is the best site for nfl live final american football on pc,laptop or app.
http://super-bowllivestream.com/

AVN 3641 Baby face Nis Nis An An 5 Sent from the iMore App

You can also get updated with the Super Bowl 2014 here:
http://updatelly.com/Search/Super202014

I saw an easy way to watch Super bowl xlviii live on
http://www.pronfl.net/

Can you please add "only in the U.S." For App that are not available in other countries please? I love your commentary, but when I go to download the Ap, I can't because is only in the US! Sent from the iMore App

The fan of Seahawks deduce that the team will win with huge difference of goals. Both of the team strong enough of their team confidence and team spirits.

WATCH NFL ONLINE : 1. join MANSCAVEFOOTBALL 2. on any device 3. No install, watch directly online 4. Great free Replays section 5. Enjoy Unfortunatly that's expensive one option from nlf com this year. I need to watch this game on my xperia, can even pay few $ but is it worth for one game only ? I'm trying MANSCAVEFOOTBALL COM right now i see that it's worth ...

looks interesting, http://manscavefootball.com/explore for those without facebook

I'm certainly not streaming it over the internet! Tried it during playoffs and it was a terrible experience. Unwatchable in fact. You realize you don't need cable either? FOX is a network so it is "streamed" 24/7 over the good old airwaves. That's how I'll be watching it, in HD!! Sent from the iMore App

Over the airwaves on a large wide screen HD. BBQ & microbrews. :) Sent from the iMore App

I worked Super Bowl Sunday last year, so NFL Mobile was a life saver!!!

Watch Super Bowl 2014 Seahawks vs Broncos live streaming online free HD TV match takes place on 2 February at MetLife Stadium.
http://super-bowllivestream.com/watch-super-bowl-2014-seahawks-vs-bronco...

I don't need electronics to see the Superb Owl outside my window

Super what? :) Sent from the iMore App

Is there any app for Canadians to watch the NFL SUPER BOWL tonight? Sent from the iMore App

If you live in Canada download this https://itunes.apple.com/ca/app/nfl-mobile-canada/id579726353?mt=&at=10l3Vy Sent from the iMore App

Funny so iPhone and AT&T = screwed lol

I'm going to watch live. But I've downloaded the fox go app for quick bathrooms or snack breaks. Sent from the iMore App

Eh, the only reason I watch is the halftime simple as that. I can easily find the movie commercial afterwords on YouTube same goes to halftime. Posted via the Android iMore App!

Hi hi 3 more Sent from the iMore App

Gonna be using my sling player for iPad since I'm at work.

Thanks for this! Time Warner Cable keeps stuttering at friends house so were streaming from iPad to Apple TV! Sent from the iMore App

Match stated at 0:30 in germany, I think I fell asleep at 2 ;-) Posted via the Android iMore App!

If you are looking for live steams of this season's games you should take a look at http://www.watchfootballonlinenow.com

Thanks mate , We have a grate offer to follow favorite team from all over the world
here > http://www.nfloverseas.com/watch-nfl-live-online-get-game-pass-united-st...

how to watch NFL Live Online
Get the best of iMore in in your inbox, every day!
Thank you for signing up to iMore. You will receive a verification email shortly.
There was a problem. Please refresh the page and try again.