How to work with apps on Apple TV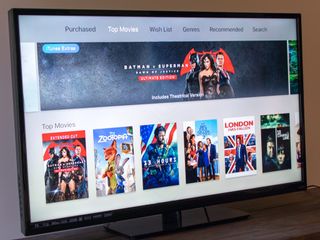 The Apple TV App Store can be rather daunting, with myriad apps to choose from all different genres. Don't get overwhelmed – apps break down into only a few categories and, once you know how, you'll be managing your Apple TV like a pro!
What types of apps are available on Apple TV?
The apps you can download for Apple TV can essentially be broken down into four types:
Once you get a handle on each category, it'll be easy to pick and choose the apps that suit you the best and that you'll have the most fun with (which is really the most important part anyway)!
There are all sorts of games in the Apple TV App Store! They range widely, from kid-friendly, free games, to adult-oriented shooters that can cost upwards of $5.
The best part of gaming on Apple TV? There are a ton of third party controllers available so you can play just like you would on a console! All you have to do is make sure that they have the "Made for iPhone" label on them or say that they're "MFi-based".
There are dozens of great apps on Apple TV to help get your mind and body in shape. If you are looking for morning Yoga routines, daily hardcore workout sessions, or relaxing audio and visual aids, you'll find something to fit your health and wellbeing lifestyle goals.
The lifeblood of Apple TV is its ability to stream all of your favorite movies and TV shows, as well as YouTube videos and tons more. There's a plethora of video streaming apps available for Apple TV, like Netflix, Shomi, Crackle, YouTube, the NHL app, and a bunch more.
Chances are that if you like to watch it, you'll be able to find it in a streaming app on Apple TV!
These are the apps the give you all the info you need to get going for the day. There are a ton of weather apps, map apps, recipe apps, and a whole bunch more to fit your lifestyle.
Heading out of town for the weekend? If you've decided last minute, the Airbnb app for Apple TV can help! Wanting to try something different for dinner? Check out the Yummly app!
If you need vital information or want to learn something new, utility apps on Apple TV are totally the fun and functional way to go!
How to search for apps
If there's an app you want to find and you don't feel like digging through the Top Charts, Categories, or Featured section, you can just search for it by name!
Launch the App Store app from your Home screen.
Swipe over to the Search tab.
Swipe down to the virtual keyboard.
Type the name of the app or use the Siri remote with voice dictation.
Swipe to the app you want to download as soon as you see it.
Click on the app icon.
Click on Get for free (or free with in-app purchase) apps, or the price for paid apps.
Click Buy to confirm.
There's also a list of apps trending in search, so if you're looking for a popular app, you might find it right there.
How to view the apps you've purchased/downloaded on Apple TV
Launch the App Store from your Home screen.
Swipe over to the Purchased tab.
The apps you've purchased are arranged by:
Recently Purchased: Apps you've purchased in the last 90 days
Not on this Apple TV: Apps you've downloaded to your Apple TV but deleted and apps that you may have download on your iPhone or iPad that are also compatible with Apple TV
Categories: The apps you've purchased will be organized according to their category, like "Games", "weather", etc.
How to tell if an Apple TV app is compatible with all of your devices
If you're really enjoying a particular game on Apple TV, you might just want to take it with you on your iPhone. But is it compatible? Here's how to check!
Launch the App Store from your Home screen.
Swipe over to the Purchased tab.
Find the app you want to check compatibility for.
Swipe to scroll down and look under the Information section. There's a "Compatibility" item on the list. All devices that are compatible with that app will appear there.
How to force quit or delete apps on Apple TV
Sometimes an app just won't respond or you want to get rid of one that you're sick of. If that's the case, then force quit or delete the app and re-launch or re-download it.
Got it?
Do you have other questions about working with apps on Apple TV? Ask in the comments below!
Master your iPhone in minutes
iMore offers spot-on advice and guidance from our team of experts, with decades of Apple device experience to lean on. Learn more with iMore!
Mick is a staff writer who's as frugal as they come, so he always does extensive research (much to the exhaustion of his wife) before making a purchase. If it's not worth the price, Mick ain't buying.