iMore Show 763: The Dark Knight Returns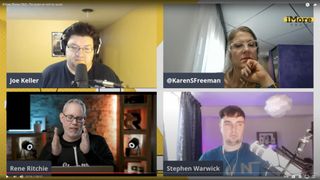 (Image credit: iMore)
Rene Ritchie joins Stephen, Karen, and Joe to examine Apple's newly announced child safety protection initiatives. In particular, they discuss privacy with regard to how the features will be implemented. The gang also dive headlong into some fresh rumors.
Listen now
Watch now
Links
Sponsors
Hosts
Be part of the show!
Send in your comments, questions, feedback, or follow-up to:
Jim Metzendorf has been using Macs since 1994. He is a podcaster, freelance audio/video editor, and author of 'The Professional's Guide to Audio Podcast Production'. Jim also teaches audio production at a college in Cleveland, Ohio. Follow him on Twitter: @jmetzendorf
Thank you for signing up to iMore. You will receive a verification email shortly.
There was a problem. Please refresh the page and try again.