Lightroom vs Photoshop: Comparing two premium photo editors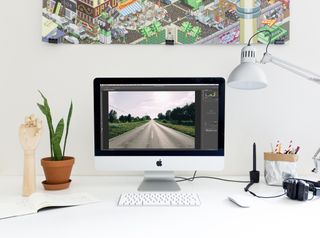 Whether you're a beginner just dipping your toe into the photography world or a hardcore hobbyist looking to go pro, choosing the right photo editor for the work you do is important. It can help you better streamline your workflow, organize your files, and create the best images possible for your projects.
Though there are many non-Adobe photo editing applications out there, Photoshop and Lightroom are considered by many to be industry standards. The question is, which program is right for you?
Do you shoot in RAW?
Many photographers choose to shoot in the RAW format — that is, the most minimally processed format that uses all information gathered by the camera's sensors — because it offers the highest level of image quality. When I personally take photos, I always shoot in RAW, as it gives me more room to make edits. If you're also a photographer who prefers the RAW format, there are a few things you need to know about both Lightroom and Photoshop.
Unfortunately, Adobe Photoshop doesn't allow you to open RAW images directly into the program without converting them to a different file type. In order to open RAW images in Photoshop, you're going to need to first open them using the Adobe Camera RAW (ACR) plugin. ACR offers a lot of editing options in and of itself, like white balance and curves, so you can touch up your RAW images before you open them in Photoshop.
On the other hand, if you use Lightroom, no plugin is required! With Lightroom, you can import RAW images straight from your camera with no interruptions or application switching, allowing for a more intuitive workflow.
Are you just looking to do some basic editing?
If you're new to the whole photo editing thing and just want to perform some basic edits on your snapshots, you may end up leaning more toward Lightroom than Photoshop. Because Photoshop has so many editing tools, it's got a greater learning curve, which might slow you down if you're just looking to adjust a few things. That doesn't necessarily mean Lightroom isn't robust tool-wise, though! With Lightroom, you can do the following (and more!):
Perform basic retouching (blemish removal, teeth whitening, et cetera) with the Healing Brush
Adjust curves
Adjust white balance
Adjust exposure and contrast
Adjust hue and saturation
Crop, straighten, and rotate
Add gradients
Dodge and burn
Blur and sharpen
Add vignette
You can also create and utilize what Adobe calls Presets, which allow you to thread multiple adjustments and effects together in a file and save it to apply to later photos. You can even download Presets other photographers and editors have created to achieve the artistic vibes you desire.
Do you need pixel-level control over your edits?
On the flip side, if you need extremely granular control over your edits and serious retouching abilities, Photoshop may be the way to go.
With Photoshop, you can alter each individual pixel if you want to, retouching your photos at their most basic level.
If you're the type of person that wants to remove whole objects from the background of an image or add elements of graphic design or digital art to your work, Photoshop is definitely your jam. In addition to all the adjustments and editing tools Lightroom has, Photoshop offers the following and more:
Vector image creation tools
A powerful layer system that allows for the separation of individual image elements, masking, and use of blending modes
Blur and shake reduction for individuals like me who have perpetually unsteady hands
Content-aware filling and patching for removing objects and improving composition
The ability to stitch photos together automatically to create panoramas
Filters that can change the overall look of your images (or of individual layers)
Painting and drawing tools
Rasterization tools
3D tools
Photoshop also has a feature similar to Lightroom's Presets called Actions, which also allows you to string together a sequence of edits and save them to be used again at a later time. However, Photoshop Actions can incorporate more detailed editing elements because there are simply more options to choose from.
Do you require meticulous photo organization and management tools?
So the coolest part of Lightroom — in my opinion, anyway — is that it's essentially an end-to-end post-production studio. That means that not only does it allow you to edit images, it allows you to import them, organize and manage them, and export them as well. If you prefer to keep things categorized and tidy, you'll love Lightroom's organizational features.
After importing photos directly from your camera, you can do things like sort them into collections, select and modify multiple images at once, rearrange image files on your hard drive, add keywords for later searching and sorting, and more. Once you're done editing, you can get straight to using and publishing your photos by designing books, calendars, and other paper goods, creating slideshows, and sharing your photos directly to the social media site of your choice — all without having to leave the program.
To perform any comparable feats in Photoshop, you need to install Adobe Bridge, which will allow you to import photos from your memory card, organize them, and view them. Again, it's not a huge difference to people who don't mind using multiple programs in tandem, but if that seems stressful to you, choosing Lightroom could make all the difference in the world.
Who should use Lightroom?
If you're new to photography or just looking for an all-in-one solution to organizing, simple editing, and publishing your photographs, Lightroom is probably the choice for you. It offers a really streamlined workflow that makes it easy to use throughout the whole post-production process, and you don't need a great deal of experience to start getting the hang of the editing tools and user interface. It's also great for those interested in creating books, calendars, and slideshows using their photos, Essentially, if you're looking to get your edits done quickly with minimal fuss and you aren't bothered by not having precise, pixel-level control, you'll want to go with Lightroom.
Who should use Photoshop?
If you're familiar with editing programs in general and you'd like to have all-encompassing control over the editing of your images, you'll probably want to use Photoshop. It is a bit more difficult to use, but that's just because there's more you can accomplish. If you'd prefer your editing experience to be more like adding an Instagram filter and calling it quits, steer clear, but if you really want to get in there and incorporate graphics or painterly elements, remove and rearrange subject matter, work with discrete layers, or do some intense retouching, Photoshop is definitely the program for you.
Who should use — gasp! — both?
I know, I know: "Tory, I came here to figure out whether I should use one or the other!" I understand! The attractiveness of sticking to and familiarizing yourself with a single program so you don't have to worry about juggling two is difficult to overcome.
However, it's extremely common for many photographers to use both programs in their post-production workflow, deciding which is best to use on a situational basis. Both contain elements that are hugely valuable to a photographer's process, and while Photoshop may work well for more experimental work, Lightroom is great for editing large batches of photos like those from a wedding or graduation.
What's more, choosing both is actually the more cost-effective option. Adobe actually offers a photography-centric Creative Cloud bundle that gives you access to both programs for half the monthly subscription fee of using one individually. That way, you can try using them both to figure out which you personally gel with. And, if you decide your project would benefit more from the other program, you can always switch it up, as the two integrate very well.
Questions? Thoughts?
Which program do you prefer and why? Share in the comments below!
Get the best of iMore in your inbox, every day!
Tory Foulk is a writer at Mobile Nations. She lives at the intersection of technology and sorcery and enjoys radio, bees, and houses in small towns. When she isn't working on articles, you'll likely find her listening to her favorite podcasts in a carefully curated blanket nest. You can follow her on Twitter at @tsfoulk.
Lightroom has merge to panorama and also merge to HDR tools

So what happened to Capture One?

It is possible to edit a RAW file in Photoshop and save it back to RAW. Open up the RAW in ACR, make the edits, then use the button in the lower left of the window to Save. You can opt to save out as DNG RAW (I choose this) for simplicity or maintain your camera's proprietary RAW format. Another trick is to open the RAW as a Smart Object in Photoshop. Open a RAW file in Photoshop's ACR then use the Open button in the lower right with a modifier key (I think Command) til you see the button label change to Open Object. When you Open Object, the RAW is placed into a new Photoshop document as a Smart Object. Double click it and you get the ACR window back to edit your RAW conversion settings. It definitely adds a lot of file size and the processing slows proportionately. But it does allow you to keep that RAW file editable as you begin Photoshop composition. I often rasterize the RAW Smart Object layer once it becomes clear I no longer require the editability of the Smart Object.

They aren't really worth comparing. They are designed to work together. Lightroom is a photography and DAM tool. Photoshop is a graphics design tool. It's like PaintShop and AfterShot Pro on the budget level. They work together. They don't compete. So you don't really choose between them. You just choose them based on what you need to use the software for. Adobe Bridge is borderline legacy software, at this point :-P

Bridge is only legacy if you only use Bridge to organize RAW photo files. The beauty of bridge is how it brings rich organization to ALL adobe formats (as well as lots of non-adobe ones, ****, I use Bridge's Batch Rename command for all kinds of non-graphic file renaming tasks). I guess it's obsolete if you haven't figured it out. But there is lots of usefulness in good old Bridge.