iMovie Updated with Support for 1080p Recordings, Outlining and Storyboarding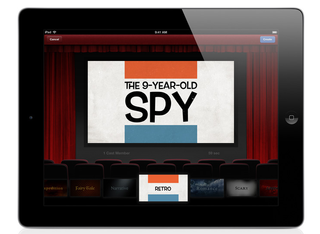 If you're an iMovie fan, you'll be pleased to know that a new update will soon be rolling out to the masses. As highlighted by Phil Schiller on stage, iMovie now has support for the New iPad and 1080p recording, along with outlining and storyboarding options from within the app.
Overall, this is a nice update and we'll certainly be checking out the new additions - especially when we get our hands on the new iPad. Maybe another shootout will need to take place.
iMovie will be available starting today for $4.99 and as a free update for existing owners.
Editor-at-Large at Mobile Nations, gadget junkie, energy drinker, ranter.
Sounds like a nice update.

Meh. Still can't edit soundtracks on it like I can on Avid, so it's not an exciting update for me. The trailer was cute, but that's all it was. They really went in the wrong direction on this. They apparently think only soccer moms use this app.

FYI: it also supports the original iPad as well. Downloading it right now, but not sure about performance yet. Not that I regularly use iMovie in my professional setup, but it's still good to note.

Okay, so it installed and runs, but the trailers feature has been stripped and it's slightly buggy (trying to make a photo slideshow renders image low-resolution for some reason).

Hey There. I discovered your blog the use of msn. This is an extremely neatly written article. I'll be sure to bookmark it and come back to learn more of your helpful info. Thanks for the post. I'll definitely return.

bonjour patrickj'aimerais avoir ton avis as tu u des intirmafoon sur la compatibilite9 du chargeur ipad vers iphone d'apres les caracte9ristiques que j'ai pu lire (au niveau puissance) il y aurais une difference donc est'il possible de recharge iphon avec ce chargeur.pour rire je reviens de mon apple strore est sois disant ils n'ont pas fait le test.

Last Update! Because I know everyone is dying to know. I added some more new music. Then dlieteng the cache, history, & cookies wouldn't work again. I tried several times. Not sure why it worked once. Then my phone died. After rebooting, I checked and the databases option was back. Yay! Then I just deleted the music database and Bam, problem solved. Not sure why my access to the databases went away, but once I got it back, it was easy.
Get the best of iMore in in your inbox, every day!
Thank you for signing up to iMore. You will receive a verification email shortly.
There was a problem. Please refresh the page and try again.