iOS 7.1.1 makes sure you know which apps have in-app purchases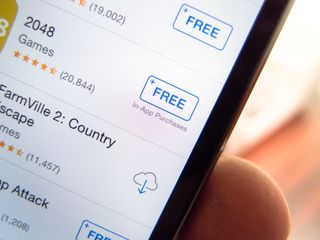 Now you can see which apps have the dreaded in-app purchases in the latest update right from the App Store's Top Charts section.
This comes as part of the iOS 7.1.1 update, and it's a great addition under that button that says "FREE."
Get the best of iMore in your inbox, every day!
I'm an RHCE and Electrical Engineer who loves gadgets of all kinds. You'll find my writings across Mobile Nations and you can hit me on Twitter if you want to say hey.
I don't want to call much attention to it and jinx it, but the attery-bay ife-lay appears to be etter-bay. Sent from the iMore App

LMAO! Sent from the iMore App

I've had this feature for awhile now. Pre-iOS 7.1 (betas) and post official release. Maybe it's just being pushed out by Apple the same way they are doing the new "Search" feature? Sent from the iMore App

K obay Sent from the iMore App

Just wanted to say how awesome it is to see Jerry doing some stuff for iMore now. Sent from the iMore App

Free or the purchase price. Glad they added this.

Fingerprint recognition was way better with 7.1, so that it finally stopped forgetting my thumbs. Now it's faster, and less attempts to get it. Good job Apple! Sent from the iMore App

Very satisfied with this update. Now I don't have to worry about downloading free or paid apps that have an extra layer of payment on it which will limit me to use the full features of the app!