These are the iPhone apps getting a major iOS 17 overhaul so far
Widgets and StandBy Mode are in vogue this year.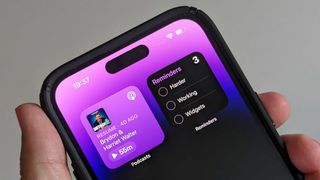 (Image credit: Future | Alex Walker-Todd)
Now that iOS 17 is available for your iPhone, it also means a bunch of apps have been updated to take advantage of its latest features.
Since this latest version of iOS was made available to developers back in June after WWDC 2023, many have been working on new features for their apps. For example, StandBy mode, which triggers when you put your iPhone on charge and on its side, can be used by third-party apps to display widgets.
There are also interactive widgets on the home screen in iOS 17. This means that you can control certain features and settings without launching an app.
Now that plenty of app updates are being rolled out, we've rounded up the best ones that take advantage of what iOS 17 offers so far. We'll also be updating this list with new apps that use some of its new features in the coming months.
Alongside this, we'll soon be adding other apps here that also take advantage of the new cameras and chips that iPhone 15 and 15 Pro offer.
Pretty Progress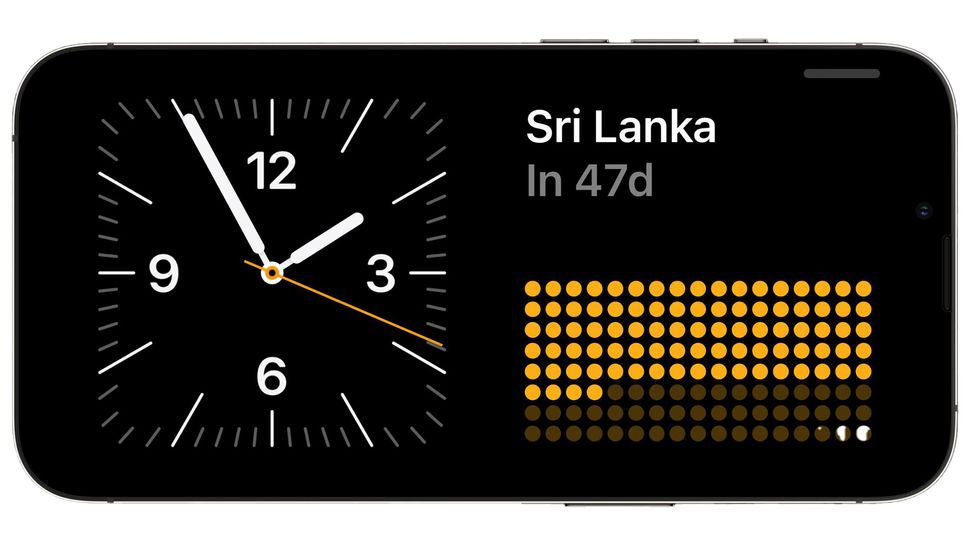 Developed by Rodrigo Sañudo, this showcases beautiful widgets on your home screen that can help you countdown to certain events in many different ways.
In a new update for iOS 17, widgets can now be used in StandBy mode, having an easy-to-see countdown as you wake up to check your iPhone. You can also interact with them to see a more detailed countdown, or to extend the time limit if you need to.
Dark Noise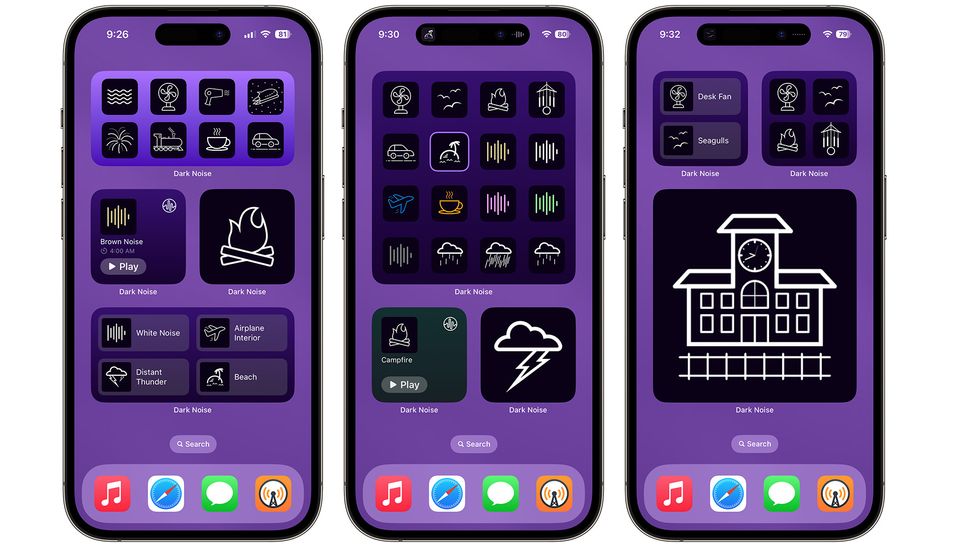 If there was ever an app that could benefit from interactive widgets the most, it's Dark Noise. For those unfamiliar, you can set a range of background sounds to help you focus on something, or go to sleep with. You can choose from heavy rain sounds to the inside of a plane - it's a great app to try out if you're struggling to complete a task.
Developed by Charlie Chapman, the latest update to Dark Noise not only features interactive widgets but support for StandBy mode too. Now, you can enable 'Heavy Rain' in this mode as you try to fall asleep, while also setting a timer so it will only play for a couple of hours.
Available from today, you can also purchase a 'Pro' subscription for $2.99 a month, $19.99 a year with a three-day trial, or a one-time purchase for $49.99. This offers the ability to add custom sounds, alternate app icons, and exclusive themes.
Amato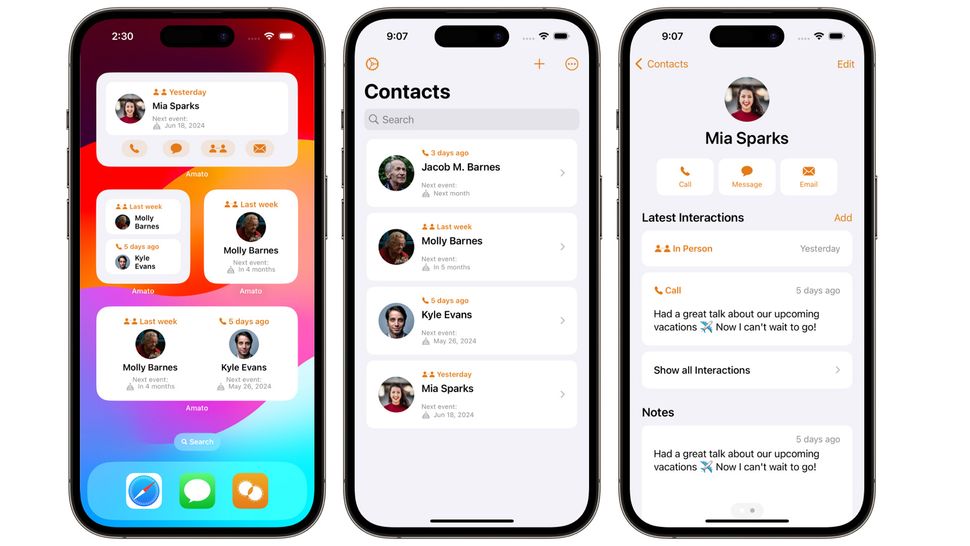 While you can already add favorite contacts to the home screen to easily get in touch with them with Apple's widgets, Amato goes further in iOS 17. Available now as a version 2.0 update, it features interactive widgets to call, message, or email a favorite contact.
You can also add notes to a contact's 'interactions'. This allows you to keep track of the last time you were in touch with them, which can help if you know you're going to be busy for the next few weeks, and you want to make sure you reach out to them once you're free.
CARROT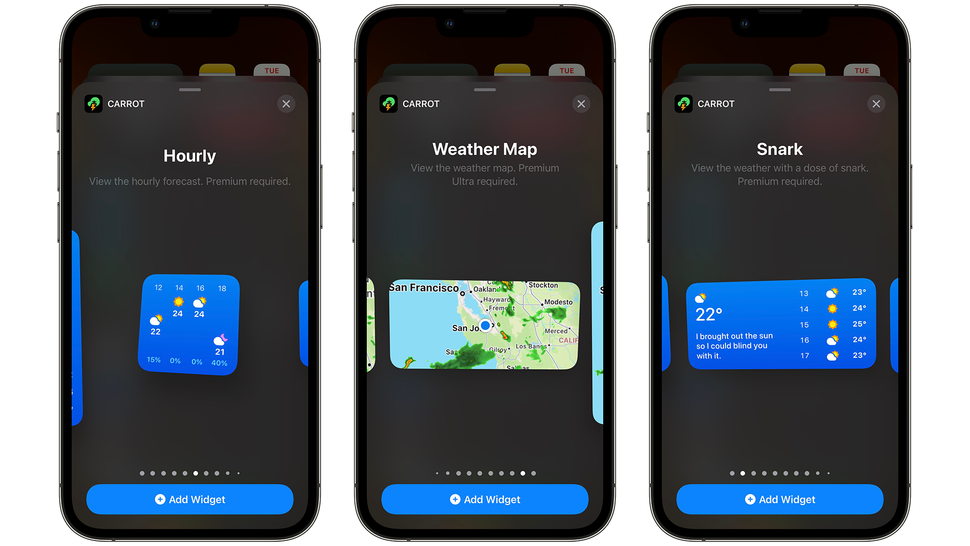 This weather app is a favorite among some of the iMore team. For those unaware, CARROT Weather can give you the forecast with sass. But it comes with a great design and great widgets. Its subscription tiers can also help give you a heads-up about upcoming rain, storms, and more.
Its developer, Brian Mueller, goes even further in its new update for iOS 17's launch. The widgets you've been able to place on your iPhone since iOS 14 can now be used in StandBy mode.
CARROT also uses Personal Voice in an innovative way. This is Apple's new accessibility feature, where your voice can be used instead of Siri's. Here, your own voice can now be used to read out the weather if you want it to.
As an aside, CARROT's app for watchOS has also been redesigned, so you can easily scroll between hourly, daily, or weekly weather updates on a watch face thanks to its new widgets in watchOS 10.
No Meat Today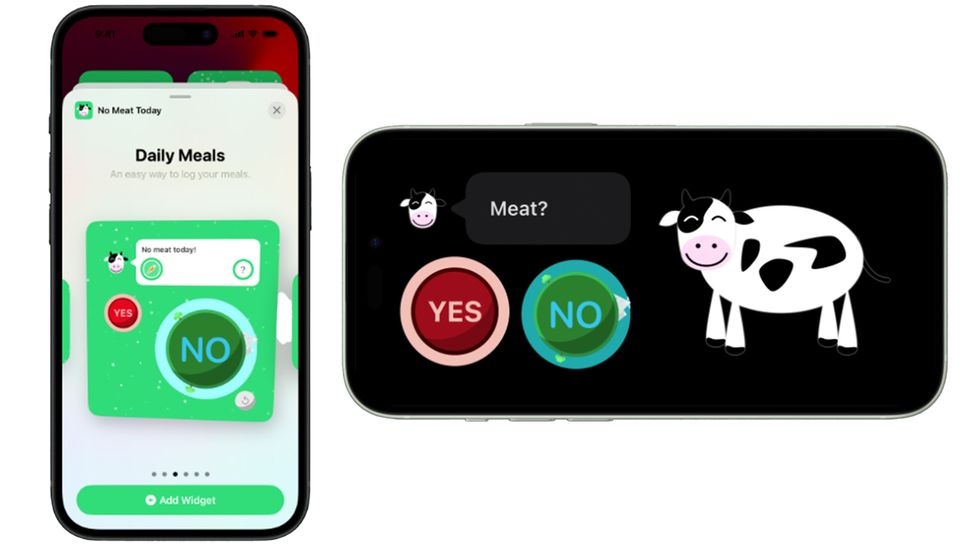 If you don't eat meat, or you're about to follow a diet that requires this, then developer Arnaud Joubay has a useful app to help you out. No Meat Today can help you track what you've eaten so far while offering useful widgets to prompt you if you've eaten a meat-based product for the day.
In a new update, interactive widgets now let you press 'yes' or 'no' to the prompt on the Home Screen when it asks you if you're eating meat that day. Apple Shortcuts can also be created to tag certain meals, add ingredients to meals at certain times of the day, and more.
Signals for HomeKit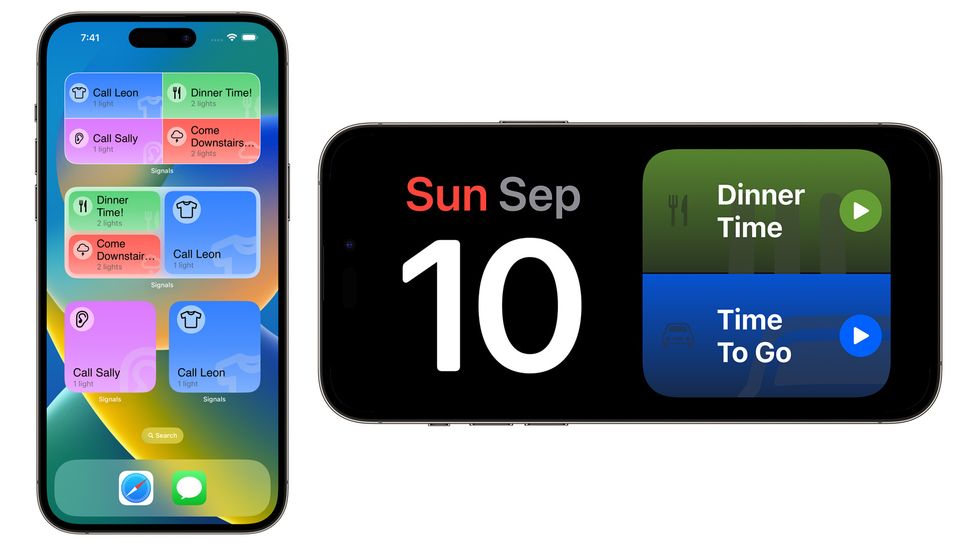 If you can imagine Apple's Home app, but supercharged, this is what Signals aims, and succeeds to be.
Available to download in the App Store, it mainly uses Shortcuts to help automate your lights and HomeKit-compatible peripherals around your home.
Alongside support for StandBy mode and interactive widgets in iOS 17, you can now use your HomeKit lights with Shortcut automations to get a visual alert when receiving Emails, iMessages, or with Apple's 'Sounds Recognition' feature.
In our short time with it, it's already the app that Apple should be drawing inspiration from. It's reliable, has a great interface, and is ingeniously interwoven with Shortcuts on iOS.
Ambre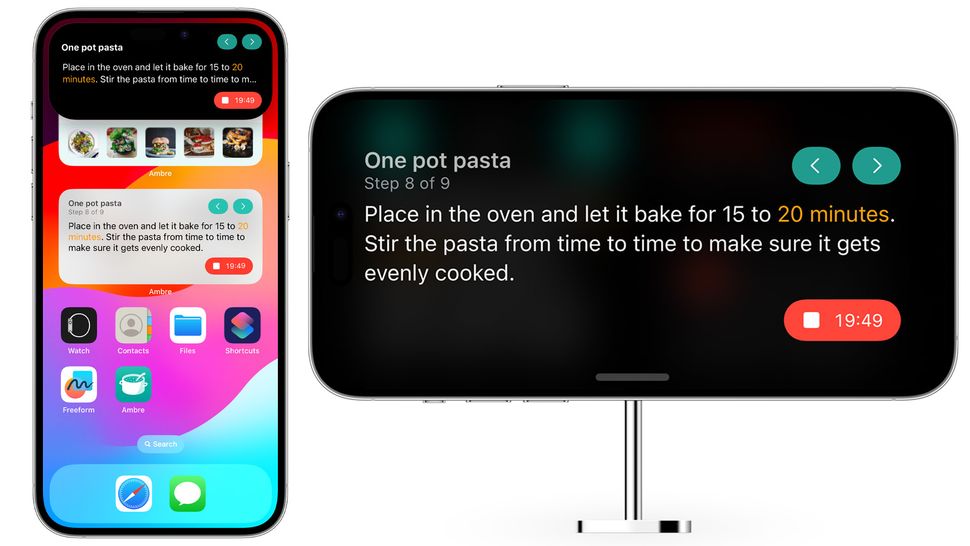 There's a good chance you've seen a recipe as you've been browsing the web, and while you may have bookmarked the page that contains one, you haven't come back to it since.
This is where Ambre comes in, so you can collate all of these in one place, and have Siri carefully read out the instructions to you, step by step.
For iOS 17, StandBy Mode, timers, and interactive widgets come to version 2.0, but that's not all. If you have Ambre installed on macOS for example, you can carry on following the instructions on your Mac thanks to iCloud Sync.
This way, if you need to quickly switch from your iPhone 15 to a Mac, you can continue where you left off, while making sure you're not adding any ingredients you shouldn't be.
Chronicling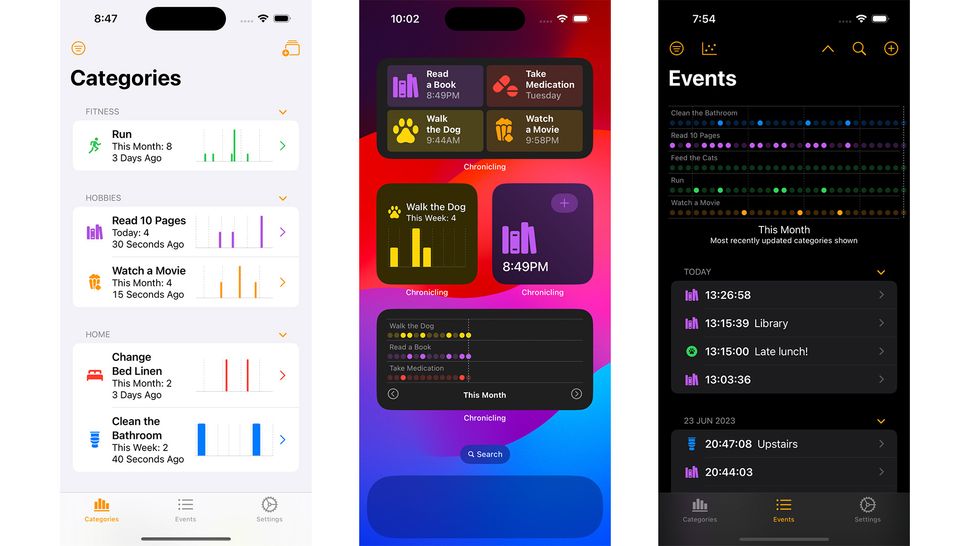 Tracking events each day can be a stressful task. And while Apple's Journal app is set to arrive later this year, Rebecca Owen has a great alternative in the form of Chronicling.
Available for free or as a subscription for $0.99 a month or $9.99 for a year, you can track anything you want. From meals to workouts, or keeping track of a book you're reading, Chronicling makes it easy but fun to log all of these.
The app has a great design that takes no time at all to learn the ins and outs of. Its widgets and Shortcuts support also help you refine how you want to track certain projects each week. Owen makes this part fun as well, and it makes you want to keep going in whatever you're trying to accomplish.
In Chronicling's update for iOS 17, you can now log events and switch between day, week, and month moments within new interactive widgets for premium subscribers.
Smart Gym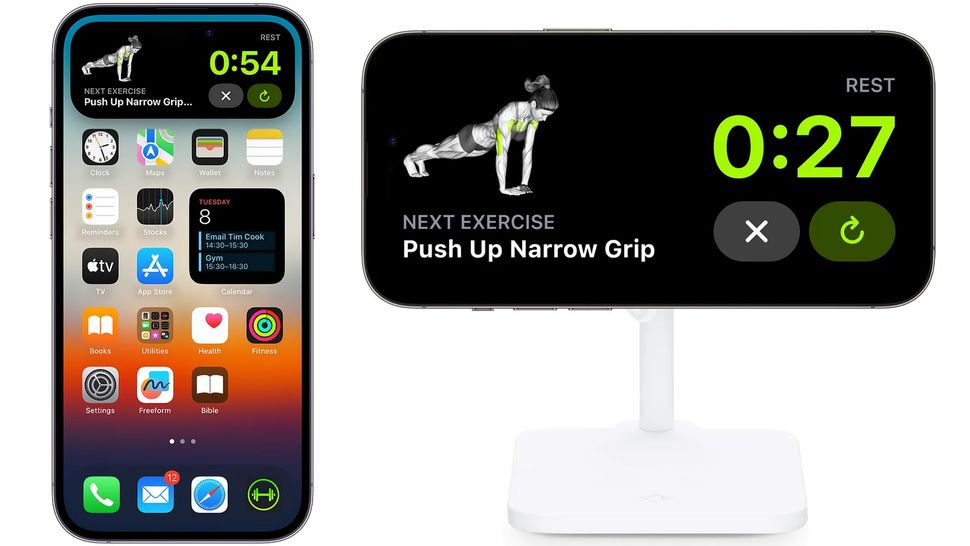 If you both love the Dynamic Island and going to the gym, then developer Matt Abras has a treat for you. Using SmartGym, you can organize your workouts and keep track of them through trends, widgets, and more. But a new update for iOS 17 uses SharePlay, Live Activities, and new interactive widgets in plenty of innovative ways.
If you and a friend bring both iPhones closer together that are also on the latest iOS update, AirDrop will share a chosen workout with the recipient. A Live Activities widget will also appear on the Lock Screen and on the Dynamic Island while the workout is ongoing, so you can keep track of how it's going throughout.
This also works for StandBy mode. So if you need to do a morning workout, for example, putting your iPhone on its side to activate this new feature will show a crunch or a sit-up on your iPhone's full display.
TV Launcher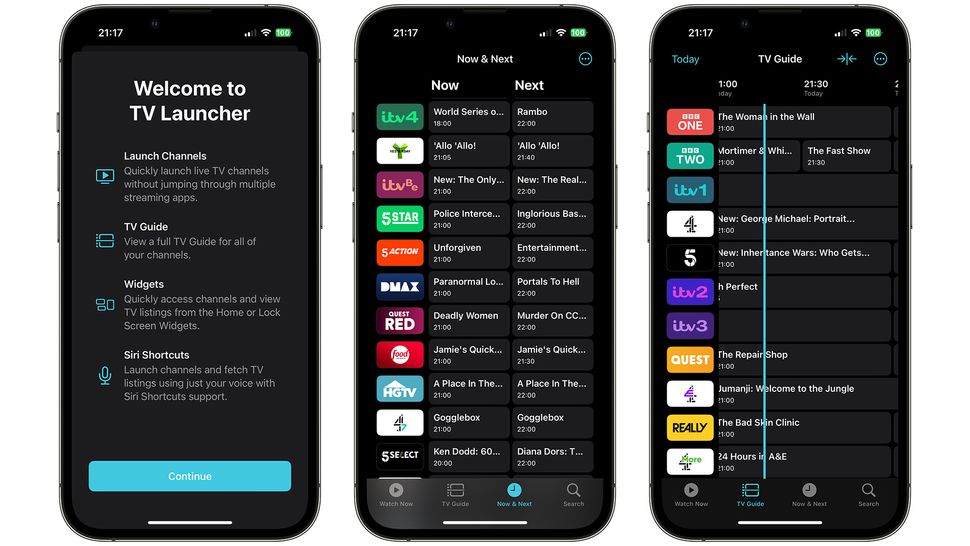 Developed by Adam Foot, TV Launcher lets you use your iPhone, Mac, iPad, and Apple TV as a modern TV Guide. It features previews for the shows currently on or up later, and once you're signed into the apps that show certain channels, the app collates them all.
This means that you don't have to launch the required app every time. TV Launcher cuts those steps, so you can watch a certain show at its scheduled time with no hassle.
Available on the App Store for $6.99, it's been very useful for cord-cutters around the world. But the new 2.8 update adds a bunch of new Shortcuts to help you with adding or removing channels from the Favorite filter.
Lock Screen widgets, StandBy Mode, and interactive widgets are also included in 2.8, alongside Tips to help new users with the app for the first time.
Widgle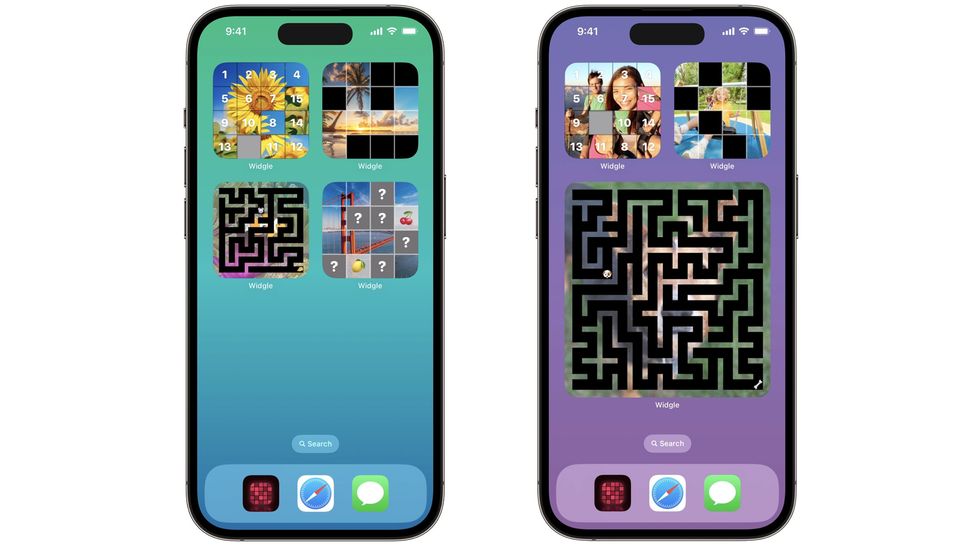 While many apps are adding support for interactive widgets in iOS 17 to complete tasks or cycle through some settings, developer Adam Shaw has released something completely different for the new feature.
Widgle is a freemium app where you can play a bunch of interactive puzzles, directly on your iPhone and iPad's home screen. There are four games to choose from, such as Tile Slide, Lights On, Match Up, and Maze Master.
Paying for the premium version for a one-off fee of $1.99 will let you use your own photos for these games too. This way, you can add some of your own personal photos of family and friends to solve through Tile Slide and the other three games to kill some time.
It's a great idea for iOS 17, and using the Maze Master game as an extra large widget can be a perfect time waster as you're on a work commute.
Glucomate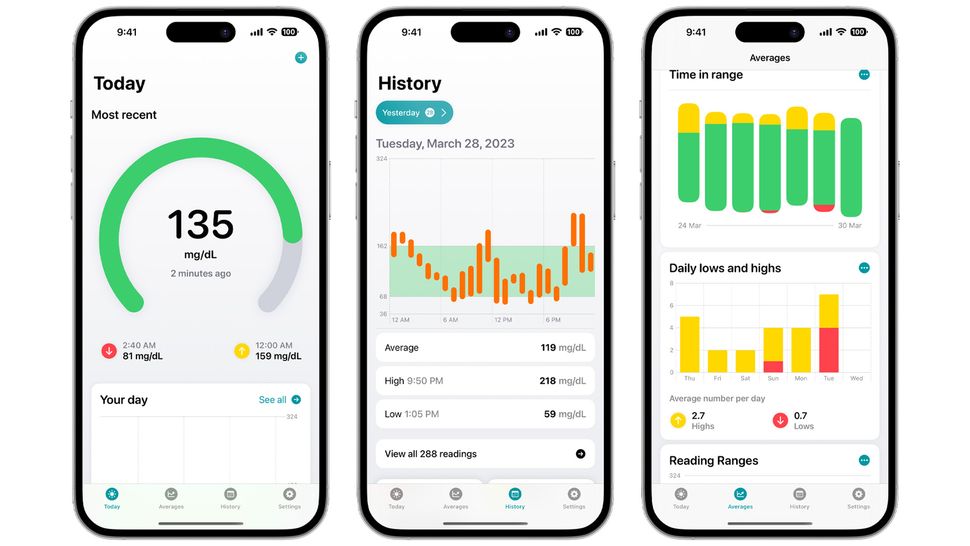 While Apple Watch Series 6 and up can measure your blood oxygen, an app by Zach Simone goes a few steps further, especially with a new update that launched with iOS 17.
Glucomate can help you log and track your blood glucose data, history, and trends across days, weeks, and months. In this new update, interactive widgets help you log these without going into the app, and there's a redesigned app for watchOS. Thanks to the Health app debuting with iPadOS 17, Glucomate has also arrived on Apple's tablet to help you log more data when you're not using your iPhone.
You can also subscribe to its Premium tier for $1.99 a month, $14.99 for the year, or a lifetime unlock at $59.99. This allows you to add unlimited readings to the Health app, change the appearance of your graphs and charts, and plenty more.
Music Tracker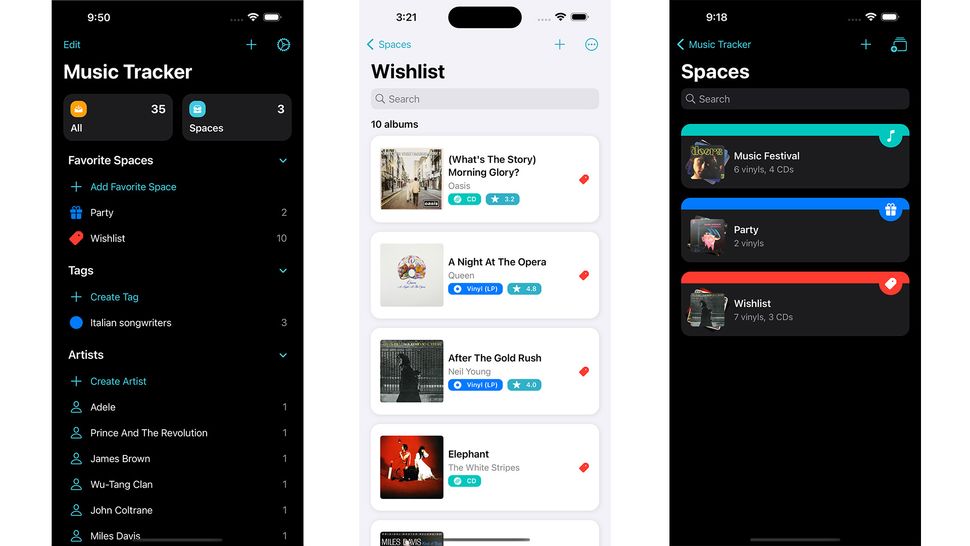 Instead of an update, developer Simone Montalto is bringing out an app that will help you manage your wishlist and collections of CD and vinyl records in iOS 17.
In recent years, there's been a renaissance of old music formats where many want to use something physical, instead of using apps like Apple Music and Spotify. Vendors like Data Discs and local music stores have appeared where buying vinyl with new and remastered music is now possible.
Available from today (September 18), Music Tracker helps you manage what you've bought, and what you hope to own soon. You can split these into 'Spaces', so creating wishlists and certain collections, such as specific genres, are possible with this app.
But as it's been built with iOS 17 in mind, you also get interactive widgets, StandBy mode compatibility, and more. It's also available on Mac and iPad, so iCloud will sync your collections across the devices you own as well.
Focused Work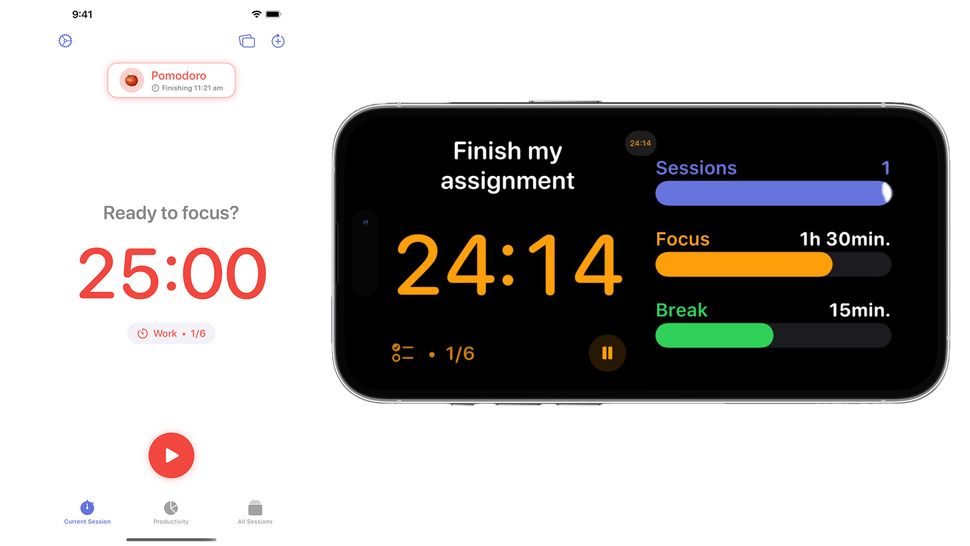 If you've felt that Apple's Focus modes haven't been helping you do what it says on the tin, a new update by developer Michael Tigas could help bolster your workflow in iOS 17.
Focused Work is inspired by the Pomodoro Technique, which is a time-management method of 25-minute sprints of focused work broken up by five-minute breaks in between. Tigas' app allows you to create timers for different sessions depending on what you're planning on doing for the day. It can also let you know when a break is coming up, thanks to notifications or widgets.
For iOS 17, Tigas has made the app work with StandBy mode. There are also interactive widgets, so you can start a session on your home screen without going into the app.
While it's a free download, you can also upgrade to Focused Work Pro for $4.99 a month, $29.99 for the year, or $59.99 as a one-off payment. This allows you to set up unlimited focus sessions, alongside much more.
Spark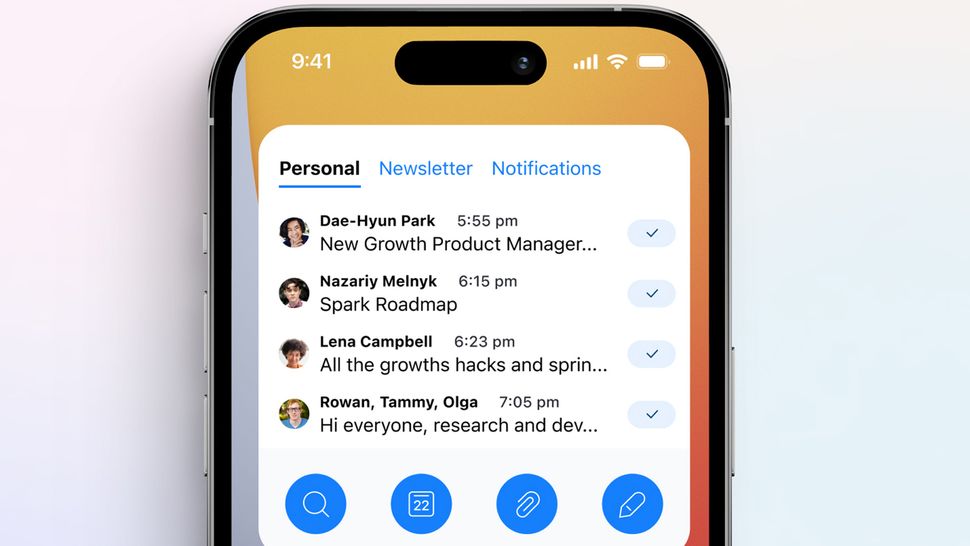 While Readdle is responsible for PDF Expert, Calendars, and more, it's Spark that's caught our attention for iOS 17. For those unaware, Spark is a great alternative to Apple's Mail app, where AI can be used to help manage your inbox, or could give you a summary of a long-threaded email thanks to an 'AI Summary' feature.
For iOS 17, interactive widgets are the headline feature in this new update. You can mark new mail as read, alongside being able to look at different categories in your mailbox, right on your home screen.
QuickScan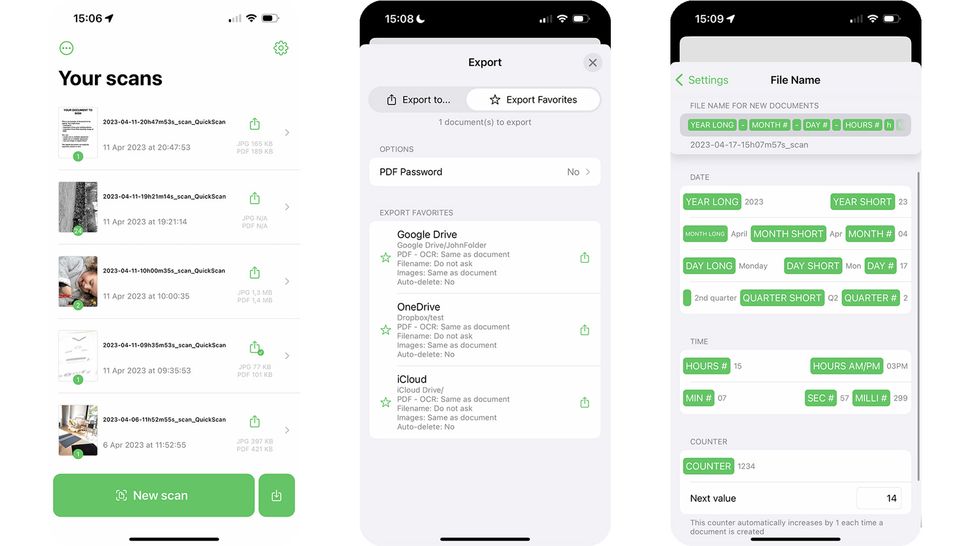 Sometimes, the best apps are the ones that focus on one feature alone, and QuickScan, developed by Jonathan Van den Schrieck, does exactly this.
The app lets you scan a document, followed by quickly sharing it as an email attachment, a PDF, and more in no more than three steps.
A new update for the free app just launched alongside iOS 17, which features interactive widgets. You have to configure where the scanned document will be saved first. But once you do this, it's a matter of pressing the new widget and scanning the document. After this, the saved file will be ready to share instantly.
This is going to make document scanning even faster and more convenient in iOS 17, especially if you're back at school and need to scan a lot of images quickly.
YT Tracker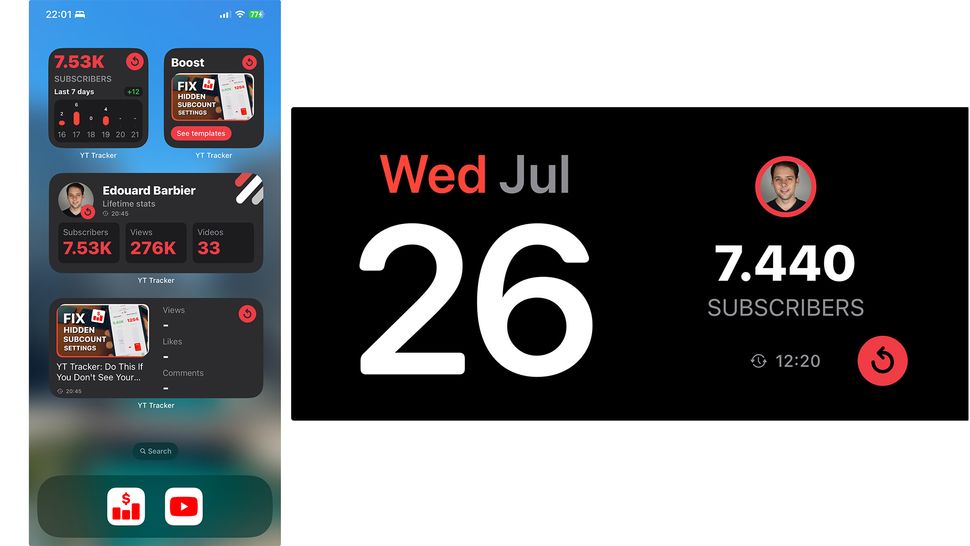 YouTube's own 'Studio' app for iOS has had a mixed reception since it debuted on the App Store in 2018. While it gives creators a basic overview of a channel and monetization options, it barely gives them the extra help to maintain and improve it.
This is where YT Tracker comes in, made by Edouard Barbier. This freemium alternative to YouTube Studio on iOS can help you track a bunch of factors. From your monetization statistics on published videos to performance reports, tracking competitors and trends, creating templates to help generate thumbnails for new videos, and much more.
For iOS 17, a big update arrives for the app where interactive widgets can be used. You can now get an instant overview of a channel's performance directly on your iPhone's home screen, such as new subscribers and the latest overall views on certain videos. You can also refresh the widget to see the latest subscriptions and views without opening the app.
Please Don't Rain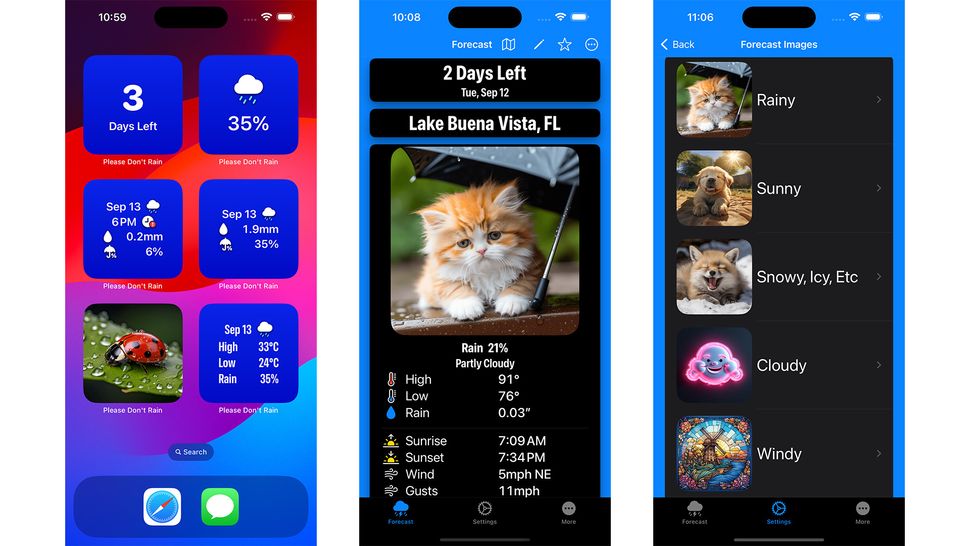 Yes, another weather app, but this one does things differently, especially for iOS 17. We've been in situations where we have something important to do for the day. And one of the first thoughts (at least in the UK), is to wonder if it's going to rain or not.
Created by Chris Wu, Please Don't Rain gets to the point and lets you know whether it will or not, getting rid of that anxious morning thought.
The design of it is simple, but fun. If there's a good chance that it will rain, a photo of a sad animal, such as a cat, will appear when you load the app up. But if it's not looking likely, a photo of a happy fox will appear instead.
In both cases, you'll be given an overview of the day's weather as well. But iOS 17 now helps the app further in helping you plan for the coming day with a new 2.4 update.
Widgets in StandBy mode will appear if you have your iPhone on your bedside table and you want to check the weather as you wake up for example. New themes such as Rabbits, Robots, Insects, and more are also ready to use, alongside searchable maps for where you may be heading on the day.
There's also an updated design across the app, plus you can look at some in-depth charts for chances of rain for the day.
While the app is a free download, these new features, and more, are available as a 'Pro' subscription feature. You can either pay $0.99 for three months, or $2.99 for a year.
Fin - Budget Tracker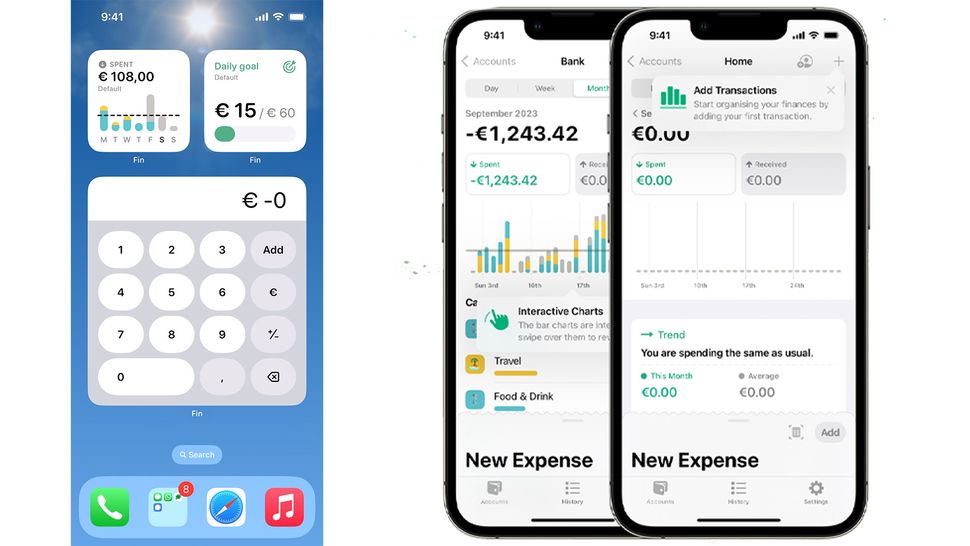 The cost of living is still a daily challenge for many, but developer Thomas Brandstätter has brought out a bunch of new updates to his budgeting app to help you work out what you can stretch across the coming weeks.
Fin - Budget Tracker is available as a free download with an optional subscription for $4.99 a month, or $39.99 for the year. You can track expenses, outgoings, incomings, create categories, and set goals for future purchases.
For its new update with iOS 17's launch, interactive widgets now allow you to check recent budgets and expenses without launching Fin. There's also a new Tips feature that has been placed across the app to help guide you through the bunch of features it offers.
Master your iPhone in minutes
iMore offers spot-on advice and guidance from our team of experts, with decades of Apple device experience to lean on. Learn more with iMore!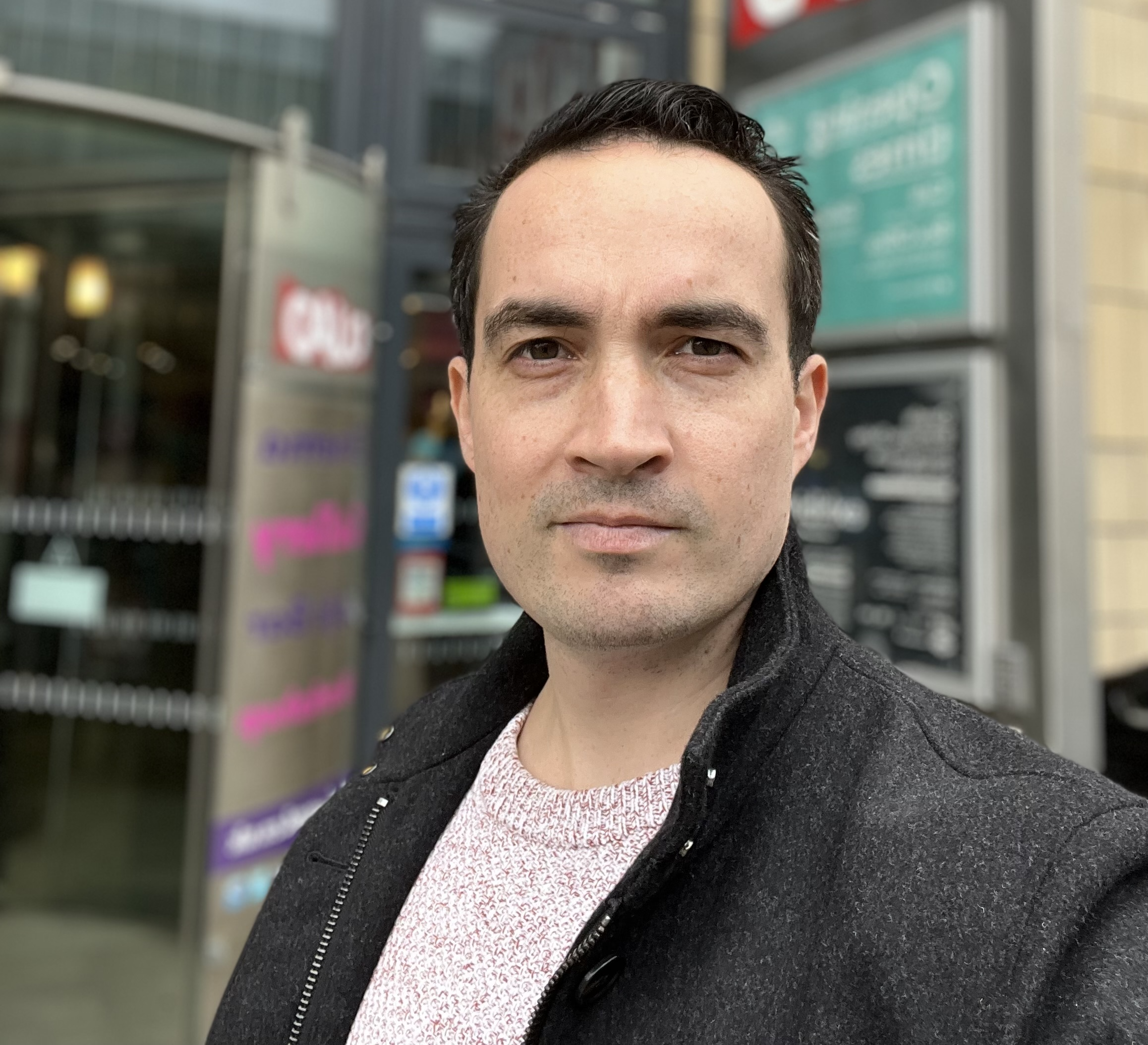 Daryl is iMore's Features Editor, overseeing long-form and in-depth articles and op-eds. Daryl loves using his experience as both a journalist and Apple fan to tell stories about Apple's products and its community, from the apps we use everyday to the products that have been long forgotten in the Cupertino archives.
Previously Software & Downloads Writer at TechRadar, and Deputy Editor at StealthOptional, he's also written a book, 'The Making of Tomb Raider', which tells the story of the beginnings of Lara Croft and the series' early development. He's also written for many other publications including WIRED, MacFormat, Bloody Disgusting, VGC, GamesRadar, Nintendo Life, VRV Blog, The Loop Magazine, SUPER JUMP, Gizmodo, Film Stories, TopTenReviews, Miketendo64 and Daily Star.