iPad 2018 (6th Gen): Everything you need to know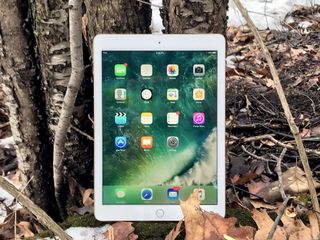 With Apple's March 2018 Education Event, the company introduced a new version of its baseline iPad. Here's what you need to know about this model for your own use, in education, and so much more!
Unboxing and hands-on
So what's this iPad all about?
Apple's latest tablet is the sixth generation of its 9.7-inch iPad. The big news with this model is that comes with Apple Pencil support! Apple's created a cool intro video for the iPad, as well:
Wait, Pencil support? I thought that was an iPad Pro feature!
Yep, Apple's new iPad brings Pencil support to the main iPad line; it supports the original Apple Pencil and all its features, including full tilt and pressure sensitivity. (ProMotion's faster refresh rate remains restricted to the newest 10.5-inch Pro model, however.) In addition, Apple is supporting a Logitech-built version of Apple Pencil with no pressure called the Crayon, which will be sold solely to educators for $49 in June.
How well is the Pencil going to work on the 2018 iPad?
Like the first-generation 12.9-inch iPad Pro and 9.7-inch iPad Pro, the Pencil will send a full 240Hz (240 positions a second of data) to your iPad. Also similarly to those devices, the 2018 iPad will only render 60 frames of that data a second, using its predictive line technology to "guess" what the line will look like until the screen catches up. (If you've ever drawn with Apple Pencil on an iPad Pro before and momentarily seen a weird-looking line while you're drawing quickly, you've caught a glimpse at that feature.)
What the 2018 iPad won't have is the second-generation 12.9-inch and 10.5-inch iPad Pro's ProMotion technology, which renders 120 positions per second of the Pencil's 240Hz input (essentially halving the stylus's lag time from 40ms to 20ms). You'll notice this difference most in sketching apps like Procreate (opens in new tab), whose brushes require significantly more computational power to render on screen.
I heard the iPad has a non-laminated screen — will that affect Pencil use?
Nope. While laminated screens do make the brain-trick of drawing "on" the screen easier, they don't aid in latency reduction. Where you'll notice the difference most is in outdoor and direct lighting use: The 2018 iPad has significantly more glare on the screen than its 10.5-inch cousin.
What about a Smart Connector? Can I connect a Smart Keyboard to this iPad?
Unfortunately, while Pencil support made the move down from the iPad Pro, the Smart Connector didn't. You're stuck with Bluetooth or rigging up a wired solution through one of Apple's adapters.
What about the speakers?
The 2018 iPad has the stereo speaker setup of the most recent iPad mini — two speakers at the bottom of the device. It does not have the iPad Pro's four-speaker audio.
What are the other specs of this new iPad? How does it compare?
The sixth-generation iPad is powered by Apple's A10 Fusion chip (first seen in the iPhone 7); that's an upgrade from the 2017 model's A9. It keeps the same 8MP iSight Camera (though the A10 chip does give it a nicer image signal processor for better low light) and first-generation Touch ID sensor, along with the standard 10 hours of battery life.
The sixth-generation iPad comes in either 32GB or 128GB of storage, and has 2GB of RAM.
How's iPad 6's Geekbench scores look?
Our 2018 review unit received a 3254 single-core score and 5857 for multi-core using Geekbench 4 (opens in new tab).
For single-core scores, that puts the 2018 6th-generation iPad squarely in the performance range of the iPhone 7 (which first. shipped with the A10 Fusion chip); its average Geekbench score, in contrast, is 3295. The iPad Pro (10.5) easily tops it with a 3904 single-core score, as does the second-gen 12.9-inch iPad Pro, but it beats both the original 12.9-inch iPad Pro (3012) and 9.7-inch iPad Pro (2930). It also easily bests the 2017 iPad (2523), and iPad Air 2 (1785).
On multi-core, again the 2018 iPad's closest to the iPhone 7 family, specifically the Plus (5411); it beats both the original 12.9-inch iPad Pro (4879) and the 9.7-inch iPad Pro (4750); same for the 2017 iPad (4377) and iPad Air 2 (3987). But the 10.5-inch iPad Pro and the 2017 iPhone family destroys it in multi-core performance: 9292 average for the 10.5-inch Pro, and 10108 for the iPhone X.
What does that mean for the iPad and multitasking?
All 9.7-inch iPads use the Compact size class when going into Split View: This means that after you set two apps into Split View, those apps will display iPhone-style UI when set side by side in a 50-50 split, and one iPad, one iPhone-style when in a 25-75 or 75-25 split.
Because of RAM limitations on these iPads, you can pull up a maximum of two Split View apps with both in focus; you can also pull up to two Split View apps, one Slide Over app, and a Picture-in-Picture video all on the same screen, but only the Slide Over app will be in focus.
What about the iPad's colors?
The iPad (6th generation) comes in three colors: Space Gray, Silver, and Gold.
What's the iPad 6's price?
The pricing for the iPad (6th generation) breaks down like this:
Wi-Fi only, 32GB: $329
Wi-Fi only, 128GB: $429
Wi-Fi + LTE, 32GB: $459
Wi-Fi + LTE, 128GB: $559
If you're an educator or student, you can grab the new sixth-generation iPad at the traditional education discount: starting at $309 (or $299 for schools).
What about AppleCare+ pricing?
If you want to buy AppleCare+ for the sixth-generation iPad, it'll run you $69; previously, AppleCare+ cost $99 for the base-model iPad. (The same price change is also now available for the iPad mini.)
When will the iPad 6 be available?
The sixth-generation iPad goes on sale Tuesday March 27, and will ship later this week. You can order yours now directly from Apple (opens in new tab) or Best Buy. Right now Best Buy is running a promo in which you get a free $25 gift card with your pre-order.
See at Apple (opens in new tab)
Updated March 28 2018: Updated with information about the 2018 iPad's Geekbench scores, RAM, and split view instancing.
Get More iPad
(opens in new tab)
Get the best of iMore in your inbox, every day!
Rene Ritchie is one of the most respected Apple analysts in the business, reaching a combined audience of over 40 million readers a month. His YouTube channel, Vector, has over 90 thousand subscribers and 14 million views and his podcasts, including Debug, have been downloaded over 20 million times. He also regularly co-hosts MacBreak Weekly for the TWiT network and co-hosted CES Live! and Talk Mobile. Based in Montreal, Rene is a former director of product marketing, web developer, and graphic designer. He's authored several books and appeared on numerous television and radio segments to discuss Apple and the technology industry. When not working, he likes to cook, grapple, and spend time with his friends and family.
Do we know when the iPad is going to be available in stores?

I'm impressed, this is very good news. Now I can upgrade from my Air 2

Definitely all in on this. I have a mini3 and have been waiting for an upgrade!

Surely memory will be 2GB, like its predecessor. A two year refresh cycle would suit the education market well, and would help margins in the second year. My iPad Air2 is still better in some ways, surprisingly. But the iPad 6 is a great offering for the money. The software will determine its success in education, not the hardware, I expect.

I was hoping for 3Gb but expecting at least 2Gb like last year's model, so only 1Gb would be very disappointing. I ordered one yesterday to replace my 6 year old iPad 3 and one of the main reasons was because it would be able to maintain more tabs in memory when browsing.

Eh oh el. An iPad. Just what the education sector does not need OR want. And Apple wonders why it's falling further and further behind Google and Microsoft in education.

Why would the education sector not want an iPad?

Purely because it is far easier to tailor the experience from Google or Microsoft to suit the experience that the school wants, when compared to Apple.

How's that been working so far? Nobody wants to have to constantly maintain a Google machine.

Windows is what needs the constant maintenance. Chromebooks are taking over in schools.

Not as far as I've heard. What are your sources on this?

This event was pure desperation on Apple's part. Schools and students have been soundly rejecting iPads in the classroom. https://www.recode.net/2018/3/27/17169624/apple-ipad-google-education-ev... They want laptops with real keyboards, ports for external storage and the list goes on.

What's the definition of a "real keyboard"? The iPad has a wide variety of keyboards for it. There are also a variety of external storage solutions as well

I know you have some pedantic need to defend Apple at all costs so I'll keep this short. There's a reason Macbook sold like wildfire in education the 00's. Why do you think that was? As far as external storage, iCloud doesn't cut it no matter HOW much "free" storage Apple offers.

There are physical external storage devices for the iPad, not just cloud services

You have to be the worlds WORST debater... you just keep asking more questions. "Why do you think that was?" I don't know, why don't you give me the ACTUAL analysis on that and cite your sources.

Danny, give it up. It is common knowledge that Chromebooks have taken over in education. The link provided by Narthalus is just one of many. I suggest you do some research before asking for "my" sources.

It depends what you consider "taking over". I have done my research, and yes currently there are more Chromebooks in schools than iPads, but iPads are on the rise. Maybe it won't happen, but I'd hardly say Chromebooks are "taking over"

Please cite a recent source that ipads are on the rise in the education sector.

http://commons.trincoll.edu/edreform/2017/05/past-present-attitudes-towa... (May 5, 2017) "In addition, studies between 2011 and 2016 have shown that the increase of iPads in the classroom has helped to increase student motivation and engagement in school." Maybe somewhat vague, but you can find many recent sources showing that iPads are on the rise in the education sector

"Maybe somewhat vague"? It's completely irrelevant to the discussion at hand. That article doesn't say that iPads are on the rise in the classroom whatsoever. It says that by adding iPads it's helped to increase student motivation. Nice attempt at deflection though.

…but you can find many recent sources showing that iPads are on the rise in the education sector. Do you want me to find several more for you? It's a quick Google.

The onus isn't on me to find something that disproves your claim that "iPads are on the rise", rather the onus is on you to prove your claim is true.

https://www.macobserver.com/analysis/apple-ipads-in-education-are-stronger/ https://techcrunch.com/2013/02/28/apple-has-sold-over-8m-ipads-direct-to... https://www.marketwatch.com/story/ipad-renaissance-in-schools-and-busine... The onus isn't on me, you're the one questioning facts. But I'm nice enough to provide you with the links that you couldn't be bothered to find (or didn't want to, as the case may be)

I'm digging that gold colour though.

So, I'm curious...how does one change the font to the Chalk-looking one (or any others), as it shows in the video preview, right above the Pencil Support section?

Sadly it's just artistic expression — not a real option. :(

I'm not even going to consider any Ipod until they put a GPS in the WiFi version.

They are probably never going to do that as it would leave much more expensive Cellular SKUs with very little to standout on. Money still needs to be made and the profit margins on Cellular versions must be pretty good. Licencing those 3G/4G/LTE radios does not cost anywhere near the premium they charge for them.

"The 2018 iPad has the stereo speaker setup of the most recent iPad mini — two speakers at the bottom of the device." That's strange, my mini 4 has speakers on the right side, where the home button is.

Bottom in portrait mode. :)

With this "lower powered" iPad, and the support for  pencil... I am REALLY hoping they roll out support for Pencil to at LEAST the flagship iPhone this fall...

I have my fingers crossed

Hey there
Just got my new iPad with iOS 11.3. Also have one HomePod speaker and the latest Apple TV.
It does not seem as the multi room audio is available.
Do you folks know anything about that?

A one-generation faster processor and pencil support on this "new" model iPad, that's it. Oh and access to faster LTE, a feature Android phones have had for quite a while now but Apple has refused to enable on either the iPhone or iPad for some unknown reason. The same screen they have had for years now instead of the newer tru-tone and MUCH less glare screen of the iPad Pro that they could have used. This is the same screen that is in my now-ancient iPad Air. This is a very minor update, so I guess I will start saving up for an iPad Pro instead. It will cost twice as much as this new model, but at least I will get actual new hardware I can see the benefits of.

It is the budget line, and is a great deal for the money. The Air was a lot more expensive, especially the 32/64/128GB versions, but the cheap iPad6 blows it out of the water (less so for the Air2). It would be nice to have the $49 Crayon as an option for everyone, as it seems more robust than the Pencil.
The iPad Air is still useable though, for modest requirements.

I'm still going to wait for next pro to replace my Air 2 since I plan to keep 3 or 4 years. Still a good price for this tech. Can't argue that.