Apple cedes top spot to China's Huawei as vital Apple market favors homegrown Android over iPhone 15
Huawei is picking up speed.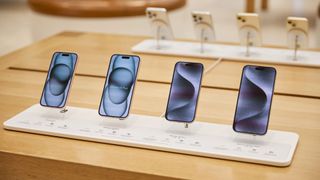 (Image credit: Apple)
If you are thinking of swapping your old iPhone for a brand new Huawei P60 Pro, you aren't the only one. Apple has reportedly lost its market foothold in China due to the rise of homegrown phones and this has resulted in poorer sales than otherwise imagined.
In a report by Jefferies shared by CNBC, analysts claim iPhone sales in China have seen a 'double–digit decline' and 'volume growth year over year has been negative since the iPhone 15 launched'. This is despite a 10% increase in preorders this year. Huawei has taken over the top spot for market share thanks to strong sales performance.
In that same report, an analyst said "We believe weak demand in China would eventually lead to lower-than-expected global shipments of iPhone 15 in 2023". This is just one part of a decline in China for the American tech manufacturer.
Some tension
Just this week, Tim Cook visited a Chengdu Apple Store in China to celebrate Honor of Kings, a game with 100m daily users. This happened just weeks after reports of an iPhone ban for Chinese government officials. To match this market shrink, iPhone 15 sales are 4.5% lower than the iPhone 14, an upgrade we saw as mostly irrelevant. The growth of Huawei as a brand also contributes to this decline.
However, given how well mobile games do in China, the advanced tech of the A17 Pro chip present in the iPhone 15 Pro and iPhone 15 Pro Max could be a sign of a larger push into gaming for Apple. Tim Cook recently boasted that iOS is the best platform for gaming and with on-board ray tracing, Cook's argument is a strong one.
China is Apple's second biggest market behind the US so a dip like this is worrisome for the company, though it is worth noting that the iPhone 14 was the number one phone during its launch last year. The iPhone 15 is still 10% above last year's phone in America so this decline is a manageable one, even if tensions between the Chinese government and Apple have continued to rise.
More from iMore
Master your iPhone in minutes
iMore offers spot-on advice and guidance from our team of experts, with decades of Apple device experience to lean on. Learn more with iMore!
James is a staff writer and general Jack of all trades at iMore. With news, features, reviews, and guides under his belt, he has always liked Apple for its unique branding and distinctive style. Originally buying a Macbook for music and video production, he has since gone on to join the Apple ecosystem with as many devices as he can fit on his person.
With a degree in Law and Media and being a little too young to move onto the next step of his law career, James started writing from his bedroom about games, movies, tech, and anything else he could think of. Within months, this turned into a fully-fledged career as a freelance journalist. Before joining iMore, he was a staff writer at Gfinity and saw himself published at sites like TechRadar, NME, and Eurogamer.
As his extensive portfolio implies, James was predominantly a games journalist before joining iMore and brings with him a unique perspective on Apple itself. When not working, he is trying to catch up with the movies and albums of the year, as well as finally finishing the Yakuza series. If you like Midwest emo music or pretentious indie games that will make you cry, he'll talk your ear off.
I call bs on Jeffries analysis.

It's way to early to talk about q3 and Supply chain checks seeing iPhone 15 pro and pro max increasing display shipments in the 4th quarter by 7 million units.

iPhone 15 series is a hit in India, South Korea, Thailand, Vietnam, Europe, North America, and Japan. It's still completely sold out even in China.



Reply