Possible Limera1n jailbreak coming in the near future?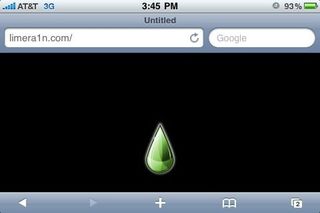 First there was blackra1n and who would have thought the next rain would bring limes? That's right, limera1n.com is now live - sort of as you will only see a green rain drop when visiting the page. And if this could come as a surprise the site is registered to one George Hotz. Those of you who follow iPhone hacker on Twitter may have noticed a few hints that he has been working on a major breakthrough on the jailbreak front.
While we can not say for certain what limera1n will bring, we do have our educated guesses - mainly a untethered jailbreak for 3.1.2, a iPhone OS 4 jailbreak, or the best of both worlds with a all in one jailbreak tool.
We will keep you updated as we learn more about this mysterious new ra1n. Until then, stop by our forums and speculate to your hearts content!
Get the best of iMore in your inbox, every day!
Your source for all things Apple
Limera1n is fake.
http://www.funkyspacemonkey.com/geohot-working-jailbreaking-tool-limera1...

Seeing how there was only one post in this thread, I'm so glad you didn't say first.

Check out the source code for limera1n. There's a comment saying . geohot has some humor after all =P

There a comment saying, "WTF, is lime even a color?"

I also read that on twitter he said it was a fakehttp://iphoneaddict.fr/wp-content/uploads/2010/04/twitter-Geohot-26-04-1...

Thank goodness. The ipad feels so crippled as it is. Aggravating without backgrounder and circuitous. Only serves to remind us how Apples choke hold hurts it's loyal users.

the limera1n already exists and is much better than greenpois0n

Geohot has finished developing Limera1n. Download it at www.limera1n.com. It works with windows and Mac.