This little Apple TV remote tweak with tvOS 13 was long overdue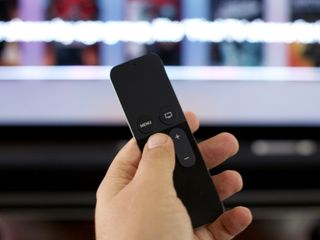 What you need to know
Apple made a small change to the Apple TV remote with tvOS 13 that is most welcome.
You can't turn on the Apple TV by pressing the touchpad on the Apple TV remote anymore.
The change eliminates accidentally turning on your Apple TV when you don't mean to.
With the rollout of tvOS 13, aside from adding new software features, Apple also made one big change to the Apple TV remote. You can't turn on your Apple TV by pressing the remote touchpad anymore.
This is an unexpected and long overdue change to the Apple TV remote.
The touchpad Apple TV remote has been polarizing to say the least. On the one hand, it looks really sleek with its aluminum and glass finish that is reminiscent of the iPhone. On the other, it's befuddling there is no dedicated power button. All in the sake of minimalism goes Apple's thinking.
Prior to tvOS 13, the "power button" was pressing any button that wasn't the volume toggle, including the touchpad. That meant if you grabbed the Apple TV remote and accidentally pressed the touchpad in the process, which isn't out of the question since it occupies 33% of the remote, you would turn on the Apple TV. This happened to me more times than I care to admit.
This was even more annoying to those of us who take advantage of HDMI-CEC, because when your Apple TV turns on, so does your TV. I can't tell you how many times I returned the remote to my TV stand at night only to accidentally press the Apple TV remote and be ungraciously greeted by the bright TV turning on.
That changed with tvOS 13. Pressing the touchpad doesn't turn on the Apple TV anymore. This little change is so welcomed, it seems weird that Apple didn't include it with the Apple TV touch remote from the get-go. It just makes sense.
I love the change though I'm still getting use to it. The muscle memory of turning on the Apple TV by pressing the touchpad is still there—I still attempt to turn it on by pressing on the touchpad—but I'll take the small learning curve as long as accidental Apple TV activations are a thing of the past.
Maybe nobody else ran into this issue. You can still accidentally turn on the Apple TV by just pressing the menu or home button, however, given those buttons are more tactile thereby alerting me when my fingers grace them, it was never an issue for me. Pressing on the touchpad was.
Thankfully tvOS 13 solves this issue. Did you suffer this annoyance too or was it just me? Let me know in the comments down below.
○ Apple TV 4K Review
○ Apple TV buyers guide
○ Apple TV users guide
○ Apple TV news
○ Apple TV discussion
○ Buy at Apple (opens in new tab)
○ Buy at Amazon (opens in new tab)

Good article! You should included a line about how you actually DO turn the remote on now, lol. (By pressing the menu button)
I initially thought something was wrong with my remote / Apple TV. (I also use HDMI-CEC, so I had to use the TV remote to turn on the tv & discovered the new tweak) Overall, a nice change....just wish I would've known about it!!

Best news I've received today. Can't tell you how many times my cat has turned on my Apple TV and my TV!

Definitely needed for sure. I must say though , prior to this there was nothing "polarizing" about it. The remote is almost universally despised. This helps some for sure.

A better 'little Apple TV remote tweak' would be a Mute button or double-click feature to mute the audio. These pesky 'First World Problems' drive us crazy.

Actually I saw that as a nice feature. I have never accidently turned on my apple TV. What I have done several times, that annoys the heck out of me is accidently turn on the voice over and having problems turning it off again

Yep, I had gotten used to waking my TV with the touchpad. After the tvOS update I thought my device was bricked the first time I tried to wake it.

Was going to say, it's just you, but apparently the comments show otherwise ;) Wasn't a problem for me as I just use my Harmony remote to run my Apple TV. Never touch Apple's unless I absolutely have to.

I'm honestly struggling to find any scenario or TV setup where accidentally turning on the AppleTV could cause a problem. It turns itself back off if you aren't using it. Someone help me out?

I don't have an Apple TV, but some HDMI-CEC devices will change the TV to that HDMI channel once they switch on. Quite a problem if you're at a really good part of a show or sports game, but I don't know if the Apple TV does this

I've had multiple HDMI switchers, and the one thing they've all had in common was that the Apple TV was the one device that WOULDN'T make them auto switch when it came on. If you have one that does, though, I can see the problem. But I agree with the commenter who said this is more like Apple taking AWAY a useful feature than improving our experience.

Maybe you should've also mentioned what you CAN do with the Apple Remote, instead of just gushing about what it no longer does. I'm happy for you. Truly, I am. It's just that this isn't much of a concern for me. I thought hitting the touchpad made sense. Clearly, this was a tragedy affecting a large portion of society.

This change has been a nuisance for me. The reason is that I rely on my TV remote to send signal through CEC to the appleTV. Prior to this change I could power on the appleTV by pressing the OK button on my TV remote. Now the only way to power the appleTV with my tv remote is to change the tv input away and then back again to the appleTV input (which requires me to hit input about 7 times to scroll through all the inputs until I get back to the correct one)
Get the best of iMore in in your inbox, every day!
Thank you for signing up to iMore. You will receive a verification email shortly.
There was a problem. Please refresh the page and try again.