How anyone can easily create a game on a Mac using Bitsy with these simple steps
Create playable adventures to share with friends and family.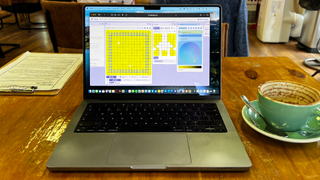 (Image credit: iMore)
When it comes to game development, you often picture a towering, all-powerful desktop PC as the gold standard tool for realizing your creative visions. However, the MacBook of Apple's Mac laptop line is a solid piece of game development kit in its own right, especially if you're a beginner (like me) looking to experiment.
It's a good time to start, in any case, as Apple certainly seems keen to shed the reputation that the Mac platform isn't gaming-friendly. Apple has recently doubled down on its pro-gaming push with macOS Sonoma and the introduction of a performance mode and game porting tool, which will be made available to devs and hobbyists alike.
Legendary developer Hideo Kojima even showed up at this WWDC 2023 to reveal the Mac port of Death Stranding Director's Cut, which is coming later this year, and signals the possibility of more AAA titles making their way to the platform.
Alas, for a game dev newbie such as myself, making a game meant starting a lot smaller than a hyperreal open-world game starring Norman Reedus. From finding an entry-level program to crafting my story and learning how to share my work, this guide will cover how anyone can use their Mac to create their first video game.
Finding a medium
The first step in the process of making a game on Mac is finding a program that works for you. In my case, as a total newcomer to development, this meant looking for something simple, approachable, and, most importantly, free. When considering all the criteria, there was no better offering than Bitsy, a web-based games editor from developer Adam Le Doux, that gives its users full reign over a chunky pixel world.
Bitsy is an open-source web tool that lets you quickly click, drag, and customize a space to realize your wildest dreams in a pixel world, making it perfect for beginners wanting to create intriguing story-driven adventures without having to learn code. However, if that side of development does tempt you, it's worth checking out Unity, Unreal, and Godot, more technical options to help you create expansive, graphically-intense experiences.
But if you just want to write, draw and play, then Bitsy will suit you down to the ground. It's a good place to prototype and riff on ideas. Within Bitsy, you will design and place two-dimensional square blocks to create vivid environments that you can fill with imagination. You'll also be able to write dialogue boxes for your pixel-art characters, throw in collectible items, compose music, and so much more.
If you're looking for inspiration, Itch.io features a great gallery of games you can try out that use Bitsy and Bitsy 3D. I would also recommend checking out a tutorial for Bitsy, as while the webpage is intuitive, there's a lot more than meets the eye. There are plenty of other web apps and programs that are great for beginners, like Twine, which is a wonderful tool for making interactive fiction.
Creating the story
Once I'd found the program I wanted to use and understood its limitations, I could start to design the world. I decided that I wanted my game to be a short horror narrative about a character who was endlessly hungry. As I experimented with the web app, this translated into the idea of making a series of spaces for the player to move through, finding lost souls and treats along the way.
To begin this process, it's essential to think logistically about how many rooms, characters, and items you want to include in your game. It helps to keep the scope in check. For this, I used a Google Doc and a simple table to track what I wanted to include. In this file, I outlined each level, what I wanted in it, and what characters and dialogue barks I wanted to fit in. Think of it like planning an essay, but you're building out a cute pixel world.
From afar, this kind of planning allows you to see how legible your story is on a broad scale. Within my game, I wanted to maintain a sense of humor whilst also making it clear there was something sinister going on, and referring to the table helped me keep my goals in check. This process also ensured I wasn't making things too complicated - it's a good idea to start small for your first game.
Think of something actionable in a few hours or a day or two. Finishing a project, getting it out there, and hearing feedback is more important than self-flagellating over your magnum opus. Starting small like this will likely propel you into more projects too, nurturing your creativity as you work towards that masterpiece.
If you're struggling with ideas, a great source of inspiration for game design and planning is the Game Maker's Toolkit YouTube channel, which goes in-depth on specific genres of games and how they're made.
Create and Share
Once the story was planned out, it was time to dive into Bitsy headfirst and create the game. For beginners, I would once again point to the extremely helpful documentation and tutorials, as they can help you turn basic scenes into realized spaces through the use of Bitsy's built-in tools.
For me, this still involved a good bit of trial and error, but it does get easier the more you practice. Referring to my table and rough plans for the story and systems, I got to work assembling each of my scenes, adding music, and designing characters within the small pixel boundaries.
Eventually, I had a sequential story that anyone could easily run through in a few minutes, with dialogue implemented and some nice environments to look at. It's not going to give Tears of the Kingdom a run for its money, but it filled me with pride to see my little game become playable from start to finish.
With that out of the way, it's time to share your creation. In my case, all I had to do was download the game file from Bitsy's handy download tab, and then I could send it to my friends and family, who could access it within their browsers. From there, you can also upload it to itch.io and let it loose on the indie scene.
---
You can't keep a good Mac down
While my little pixel horror game may not be the next God of War and Silent Hill, and I might not be the next Hideo Kojima, there is a joy to be found in starting small.
If you're a MacBook user new to game development and want to share a personal story, there are easy-to-use, Mac-friendly tools out there like Bitsy and Twine that you can achieve a whole lot with.
So, what are you waiting for? Provoke your imagination and make something interesting; you never know where it may lead you.
Master your iPhone in minutes
iMore offers spot-on advice and guidance from our team of experts, with decades of Apple device experience to lean on. Learn more with iMore!