Moment launches camera app for iOS and Android with tons of pro controls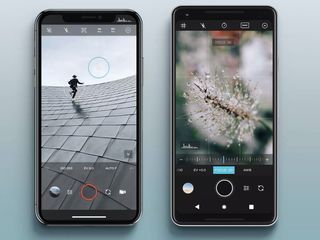 If you're big into mobile photography, chances are you're familiar with Moment. Moment's become quite popular over the last couple years with extensive camera lenses and cases for both iPhone X (opens in new tab) and previous iPhone models. Now, Moment's stepping away from the hardware game to release a pro camera app for iOS and Android.
Titled Moment - Pro Camera, the app is designed to replace the default camera app on your phone while giving you access to all of the pro controls you could ask for. You can shoot in RAW, control exposure/ISO/shutter speed/focus/white balance, analyze all of your photo metadata in a DSLR-like format, and see a real-time histogram to know exactly what your exposure is like.
Despite all of these controls, Moment's kept the UI for its app very clean and simplistic so that it's not too overwhelming for people looking to gradually up their photo game. There's also a section in the app where you can let it know you're using a Moment lens if you have one.
While all of that sounds great, Moment's Android app is lagging a bit behind. At the time of publishing this article, the Android version doesn't support video recording or the ability to switch between sensors if you've got a phone with dual rear cameras.
You can download the iOS app for free but you'll need to pay a one-time $2.99 in-app purchase to unlock the pro controls. The Android app, on the other hand, will set you back $1.99 on the Play Store.
Free (with IAP) - Download Now (opens in new tab)
Get the best of iMore in in your inbox, every day!
When Joe isn't acting as the News Editor for Android Central, he can be found helping out with articles here and there at iMore. He was last spotted at Starbucks surrounded by peppermint mochas. Have a tip? Send an email to joe.maring@mobilenations.com!
Thank you for signing up to iMore. You will receive a verification email shortly.
There was a problem. Please refresh the page and try again.