What to watch before Monarch: Legacy of Monsters hits Apple TV Plus: the Godzilla and King Kong movies that matter
There's a lot of ground to cover.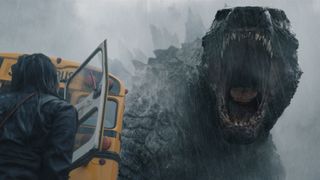 (Image credit: Apple TV Plus)
Monarch: Legacy of Monsters, the first live-action American Godzilla TV show, is set to air very soon on Apple TV Plus, giving you just enough time to catch up on almost 100 years of the mighty monster.
Despite the fact that it has never been easier to watch the latest shows, there are a lot of Godzilla projects out there, and not quite enough time to watch them all. There are quite a few reboots, remakes, and takes on Godzilla so not all of them are necessary to put together the story. If you're looking to start the new show, you can get caught up on all of Godzilla's lore in about a day.
This is how to watch Monarch: Legacy of Monsters and everything you should watch before starting the brand new Apple TV Plus series.
How to watch Monarch: Legacy of Monsters
If you already have Apple TV Plus, you can simply boot up the app and type in the name of the show to find it. The first two episodes are available to watch as of November 17th, with subsequent episodes releasing every week. All episodes of the first season will have aired by January 12th.
If, however, you don't already have it, there are a handful of ways to get Apple TV Plus for free and you can use the app on any Apple device or smart TV.
Monarch: Legacy of Monsters Watch Order
Everything here, apart from Netflix's Skull Island, can be found on Apple TV and is available to purchase. Unfortunately, they aren't included in your Apple TV Plus subscription. Given Monarch: Legacy of Monsters goes all the way back to Monarch's foundation, you can likely watch it as a standalone show but it will be made better with the broader context from . the films listed above.
These are just the necessary projects in the modern Monsterverse, a cinematic universe for huge monsters. For a little more context on the legacy of the genre, here are a handful of extras worth checking out :
Godzilla (1954), the first Godzilla movie
Godzilla vs. Mechagodzilla (1974), the franchise at its goofiest and most charming
Godzilla VS. Mothra (1992), a clash of two titans
Godzilla (1998), the first major American attempt to portray Godzilla
Godzilla vs. Destoroyah (1995), a beloved campy hit
Shin Godzilla (2016), a beloved reimagining
Godzilla: Planet of the Monsters (2017), a modern anime adaptation
One more thing… High budget Havoc
Though the idea of putting out a Godzilla TV show the same year one aired on Netflix is a bit strange, I'm glad Apple is funding it. With shows like Invasion and Foundation, the company is currently proving that no other streaming service is capable of the same bombastic effects and over-the-top disasters.
When I check my Apple TV Plus subscription, one of the things I value most is how varied and distinct Apple shows are. Apple seems quite willing to fund a second or third season of a show, and this makes me willing to commit to something I might not on a service like Netflix, which is quite fond of canceling shows quickly. Not only is this the case, but early trailers show interesting set pieces like cities crumbling down and huge fights. It feels like a show that really goes for the spectacle. I don't know if Monarch: Legacy of Monsters will be my kind of show, but I'm certainly willing to give it a try.
Master your iPhone in minutes
iMore offers spot-on advice and guidance from our team of experts, with decades of Apple device experience to lean on. Learn more with iMore!
James is a staff writer and general Jack of all trades at iMore. With news, features, reviews, and guides under his belt, he has always liked Apple for its unique branding and distinctive style. Originally buying a Macbook for music and video production, he has since gone on to join the Apple ecosystem with as many devices as he can fit on his person.
With a degree in Law and Media and being a little too young to move onto the next step of his law career, James started writing from his bedroom about games, movies, tech, and anything else he could think of. Within months, this turned into a fully-fledged career as a freelance journalist. Before joining iMore, he was a staff writer at Gfinity and saw himself published at sites like TechRadar, NME, and Eurogamer.
As his extensive portfolio implies, James was predominantly a games journalist before joining iMore and brings with him a unique perspective on Apple itself. When not working, he is trying to catch up with the movies and albums of the year, as well as finally finishing the Yakuza series. If you like Midwest emo music or pretentious indie games that will make you cry, he'll talk your ear off.