My 9.7 iPad (2018) review: Drawn, written, edited, and produced with an iPad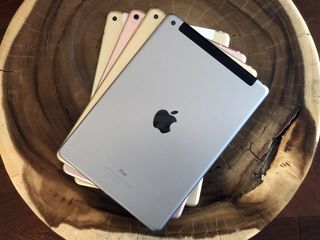 For about a year, I worked exclusively on an iPad Pro. During that time I learned a lot about the highs (and massive lows) of iPad productivity, fell in love with the Apple Pencil, and discovered how best to balance my iPad and Mac lifestyle.
It's no secret to say that the iPad has changed how I work and think on my devices. I use it for work, roller derby, casual sketching and idea generation, watching movies, and so much more. And it's why I've continually been bullish on the device, even when sales lagged and great multitasking was but a rumor on the road map.
To me, the 2018 base-model 9.7-inch iPad is a special beast: It hits a line drive right through the company's fabled intersection of technology and liberal arts — and at the right price point. The iPad Pro did it first, but at a cost unattainable for all but the tinkerers and serious artists, and without iOS 11's crucial multitasking features. At $329, the iPad offers a low-end tablet experience unlike any other on the market. Add an extra $99 for Apple Pencil, and Apple has created the best device for all-purpose education, period.
But it's easy to make that claim, and a whole other thing to explain why I believe it so whole-heartedly. As a result, I decided to try and prove it: Starting with a blank page in Procreate (opens in new tab), I created an entire iPad review video by just using my 2018 iPad, Apple Pencil, and third-party apps. My Mac came into play only once — when I uploaded my video to YouTube.
Here it is.
"Filming" my 9.7 iPad review on my iPad
Rene and I have filmed and edited reviews on Apple devices before, starting with the iPhone 6s review back in 2015. But this iPad review was a bit different: I shot only one piece of live-action footage (using my 10.5-inch iPad Pro to film me working on the 2018 iPad).
Instead, I used techniques I developed with my Linea review to "film" the screen of my iPad as I worked in apps and OS features across the device. I achieved this chiefly with iOS's built-in Screen Recorder, though I also used a few Procreate video replays of my line-drawings.
Screen Recorder will record pretty much anything save for copyrighted video, which makes it an incredible tool for making timelapses of drawings, workflows in Keynote, app experiences, and more. In total, I "filmed" in apps like:
To create timelapses of video, I used the excellent LumaFusion (opens in new tab) video editor, which lets you speed up clips to 6x their original speed. I'd import the videos, cut the areas I didn't need, and speed them up; if they still weren't fast enough, I'd export that clip, then re-import it into LumaFusion and re-layer the speed adjustment.
To import some of my found-footage, I used a web-based YouTube exporter to grab the direct URL of two YouTube videos (a section of Steve Jobs's 1985 speech on education at Lund University in Sweden and a small clip of Wired's incredible piece on preserving the personality of a dying family member inside a chatbot), then downloaded the video to GoodReader, where I was able to save it to the Files app.
I was also lucky to have access to some old digitized Hi8 footage of my childhood computers, courtesy my father, which were stored in Dropbox (opens in new tab) (and easily downloaded to Files).
I also used [Keynote](https://itunes.apple.com/us/app/keynote/id361285480?mt=8&at=10l3Vy&ct=UUimUdUnU46276's new Magic Move and Line Draw features to draw atop the Steve Jobs speech and some roller derby footage, and recorded the final animation using Screen Recording.
Once I had all my video clips, I primarily assembled them in iMovie (opens in new tab), with LumaFusion playing the part of a section editor — I'd edit a section of timelapsed footage in LumaFusion, then drop it in as a single chunk in iMovie so as to avoid too many moving pieces. (iOS still has many limitations when it comes to editing in a mobile environment, and I've had detached audio clips move too many times in a big project not to play it a bit safe.)
When I was ready to add music, I hopped into GarageBand (opens in new tab) and composed a few little ditties using the app's Toy Box Sound Library — it was my first time using GarageBand's sound library to make something, and I came away incredibly impressed with the technical ability of the app. (iMovie crew, take notes!) Even never having used it, I was able to compose something that didn't sound completely awful, and in under an hour, to boot. GarageBand even lets you export the resulting MP3s directly into an iMovie project, making my scoring process nice and easy.
The last thing I made — the review's opening and closing titles — were created using Screen Recorder and iOS 11's built-in Markup tool.
During the process, I sent Rene and a few friends some edits in progress by using Screen Recorder over iMovie's preview screen — it saved me from having to export an in-progress timeline, which at times had upwards of 45 minutes of unprocessed footage residing in it.
For the final movie, I exported it to Photos, then uploaded it to Google Drive — where my Mac took on its sole duty, uploading the video to YouTube. (I probably could have done this step via iPad, but I didn't want to risk the chance that the app would compress the video file during upload.)
Would I make another iPad review on an iPad again? Absolutely
This process took a few weeks of trial and error as I built — and rebuilt — my workflows and tried to figure out how exactly I wanted to showcase the iPad's myriad skill-sets. It's certainly the most involved project (short of designing my wedding) that I undertook on an iPad.
But here's the best part: With the exception of some of the video editing tools (seriously, iMovie team, you folks have work to do), everything I did on my iPad was much easier than it would have been to make this on a Mac. The Apple Pencil remains, to my mind, one of the best tools Apple has ever created — in a vacuum, it's a pretty decent stylus; when paired with the power of an iPad, however, it offers almost unlimited flexibility for writing, drawing, precision editing, strain-free navigation, and creativity.
(opens in new tab)
Yes, the iPad is more expensive than a Chromebook. Yes, it has a long way to go before it can be the perfect tool in the classroom.But I can't do a fifth of what I did on the 2018 iPad & Apple Pencil with any other $429 tablet — including Apple's older iPad models. This combination smokes the competition, and I've already seen it take root in people who had otherwise long put off getting an iPad. After bringing it to an art night with design friends last week, two of them went out and purchased 2018 iPads and Pencils.The price is right. The tools are superb. This is the tablet I've been wanting since Jobs came out in 2010 to introduce the original iPad: the true meeting of technology and liberal arts.And while there are things that could be better, and (many) tools Apple can still improve — there's momentum here for this product that I haven't seen before. And I can't wait to see where it goes.
Get More iPad
(opens in new tab)
Get the best of iMore in in your inbox, every day!
Serenity was formerly the Managing Editor at iMore, and now works for Apple. She's been talking, writing about, and tinkering with Apple products since she was old enough to double-click. In her spare time, she sketches, sings, and in her secret superhero life, plays roller derby. Follow her on Twitter @settern.
that was AMAZING.... good job! I loved every second of what you created there!

Bravo! Yes, education is long. Life Long.

This is amazing. Well done!

Very nice! Impressive. More reviews like this would be good to see.

Can't get work done on an iPad...my *** (OK, donkey). Beautifully done.

Incredible! Genius. You have patience far beyond me.

amazing review - really shows what's possible. I've been trying to use my iPad Mini4 as daily driver to see if I want to step up and pay the $s for a 9.7" Pro and getting closer to thinking it's possible. For me the missing piece was a really good email client - Nine is almost that - and I do still use Remote Desktop to drop back to a Windows machine in the cloud for some things. What frustrates me compared to macOS or Windows though is some of the pointless limitations that create an inconsistent experience - https://medium.com/@offbeatmammal/apple-are-a-design-company-so-why-is-i...

Great video Serenity, clear and concise thoughts wrapped in a beautiful presentation.

Very well done. Very artistic, loads of talent you have. It also made me realise that Tim Cook is a complete opposite to Steve Jobs.
I do prefer the 12.9in screen though.
But now I want a 15in iPad with mouse and trackpad support :)

I bought one for my wife three days ago, to replace her nine year old Mac Mini. It is clearly a brilliant machine and would probably do most of what I need my MacBook Pro for. Can't wait for Glasgow Schools to get all their iPads over the next two years. My classes will never need to print a page ever again.

Cool! Inspiring! Workflow sounds a little convoluted but I appreciate that you tried many different things for us to see the possibilities.

Oh yeah. I probably wouldn't use anything but Screen Recorder, Linea, GarageBand, and iMovie for a normal sketch production.

Hi Serenity What was happening with the globe early in the video? At about 56 seconds. Russ

Drawing the globe in keynote, then animating it. It's footage left over from an earlier idea.

Amazing. Probably one of the best and more importantly most useful reviews of an iPad and Pencil I've seen. Not to mention the plethora of third party apps used. Great work.

Super cool video. it's odd that you say that your video features videos from my pizza.com, wired.com and your own home movies - those groups all hold copyright. And also you mention youtube.com - a site that simply hosts movies, but doesn't hold copyright. I think you should be thanking the rights holders, and not the streaming site.

Agreed. The reason I cited YouTube was that the Steve Jobs speech is (to my knowledge) unavailable anywhere else, and it's unclear who holds the rights. You did remind me, though (and I'm doing it right now) to add the links to the show notes on YouTube.

That's a lovely video amazingly well done. My only reservation is that you give Mr. Cook's Apple too much credit. I think they've really lost their direction and any long term vision. All we have to rely on is decades old (but amazingly inspiring) Steve Jobs videos. That's Apple today.

Well, you're right somewhere, Tim Cook is not Steve Jobs, Steve is dead, that's life. But for the record, iPad Pro with Apple Pencil is the new team initiative...

True, but my point is that there isn't a comprehensive vision any more. Apple can come up with good ideas, but this iPad is hardly a solution to Apple's position in education at the moment. True it can do more than other devices, but that relies on the initiative of the user. Google is still going to beat Apple because it's solutions are practical and answer immediate needs. Which stinks, because I wish that weren't the case.

What I think is interesting about Apple's take is the company is not so much focused on day-to-day practicality as it is big picture/blue sky thinking. Google has the practicality locked up, but Apple is experimenting with processes and ideas for the future. They may all be dead ends, or one might sprout into something awesome. But I'm glad a multi billion dollar company is trying new stuff and seeing what sticks. It's a risky move, honestly — the safest thing would be to give educators exactly what they want and make a google classroom clone. (And they are doing a little bit of that with Schoolwork, to be fair.) but yeah. I think this discussion will be much more interesting 5-10 years down the line, when classrooms have evolved a bit.

Well, it seems though that the Apple attitude with education is not new, sometimes they care, sometimes not... I would believe that if even Tim Cook is not as charismatic as Steve... for a long shot :) ... I would be more wiling to believe that he is going to be more consistent than Steve Jobs in his engagement.

Steve actually had an easier job than Tim has. Now that Apple is one of the largest companies, rather than one of the smallest, it's much more difficult than the other way around. When Steve was there, the computer industry, and those of us using them, were much less sophisticated overall. The computers were pretty primitive, and performance left a lot to be desired. Now, in large part due to Apple, that's all reversed. We're all very cynical about it all, and rarely ever excited at new features. It's all a yawn, and it's hard to impress people. Price seems to be most of what people consider in a product. Apple has to work through all of that, and it's not easy.

The more product lines you have, the more difficult it is to fit them into a "vision". A company needs to expand as others do, or risk being left behind. This is particularly true in the area of technology. Apple has the best overall vision of any other company attempting to cover many different areas. It's often criticized by those who do t understand the difficulty of coming out with new breakthrough products and concepts. They think it should happen every few years. Most companies, and individuals have on good idea, or products and that it, according to some well known prognosticators. Apple has had numerous ones. Not everything works, and that's what happens when you take risks. We can be sure Apple is evaluating everything they do on a regular basis.

I really enjoyed the article and the video review! What a way to showcase this winning combo!

Great video. I kinda see this more as an opinion piece instead of a device review though.

Reviews are opinion pieces, to be fair. ;) Rene did our canonical review, which you can find on our site, so I wanted to look at it specifically as a tool for all-purpose education.

You know, I DID consider that ... That maybe your piece was more a "possibilities" type of review since Rene had already done the spec driven review. But when it started to get into Jobs' vision and all that, the whole liberal arts/tech crossroads thing, my view shifted to see this as your personal interpretation only. Not that that is a bad thing. I actually like the piece, your point of view and appreciate the work you put into it. Bravo to you either way.

Great review, I have my iPad Pro from the beginning with the pencil, obviously. After one year I bought the smart keyboard that is helpfull sometimes. This is the iPad I was waiting from the beginning :) And I love it, I use a lot GoodNotes, because not being an artist at all, my iPad is first like a digital notebook, taking note, thinking, searching for doc, collecting my different papers, book in iBook, learning/training myself, experimenting with Playground, doing some video with iMovie that is almost enough for me, even if I am playong with the idea to buy Luma Fusion. I use Halide on my iphone to take photo in Raw format and Afinity Photo is perfect to edit them, wonderfull app, superior to Pixelmator IMHO. Well for some time I help a podcast producer, derushing with GarageBand the different sounds piece from actors, and GarageBand is very good for the task, allowing me to play with all the tracks, listening, selecting, cuting... getting what is needed before exporting it in lossless format. Obviously the different tools are not perfect, and we wait too much time before the iOS 11 happening with a more dedicated iOS for iPad, qe could hope that Apple would be more aggressive on the software side. But at the end, the applications we can find in the App Store fill the gap often and makes the iPad Pro with a Pencil a wonderfull tool. I only truly miss a real Xcode for iPad app (I am a dev guy) PS: the comment tool side of this website is not fantastic, and would need some work ;)

Thanks for the feedback on the commenting system! I'll pass it along to our tech team :)

This was nothing short of amazing Serenity! I have wanted to learn to put presentations like this together for sometime but time has always been the rare commodity when it comes to learning things like this. Thank you for giving us the tools that you used to make this happen.

Serenity, I echo the 'AMAZING' comments and want YOU to be MY Aristotle!.

Great video. I can only imagine the effort you put into this. Nicely done!

that was terrific. I am in no way in the market for a 9.7", but the demo was magnetic. Thanks for all the good information on more and twit.tv.

Great review, insights and a lovely video.
I need to watch it multiple times. "What a great idea" I thought before getting so caught up with the content that I needed to watch again, and again to study the process. After getting this iPad and Pencil a few weeks ago, I fully agree that the Pencil is the true intersection. Can't wait to help my daughter with her homework!
Thank you for signing up to iMore. You will receive a verification email shortly.
There was a problem. Please refresh the page and try again.