My 9.7 iPad (2018) review: Drawn, written, edited, and produced with an iPad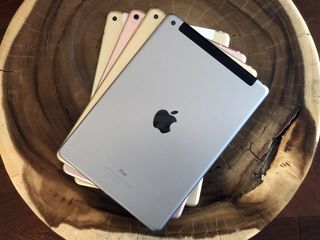 For about a year, I worked exclusively on an iPad Pro. During that time I learned a lot about the highs (and massive lows) of iPad productivity, fell in love with the Apple Pencil, and discovered how best to balance my iPad and Mac lifestyle.
It's no secret to say that the iPad has changed how I work and think on my devices. I use it for work, roller derby, casual sketching and idea generation, watching movies, and so much more. And it's why I've continually been bullish on the device, even when sales lagged and great multitasking was but a rumor on the road map.
To me, the 2018 base-model 9.7-inch iPad is a special beast: It hits a line drive right through the company's fabled intersection of technology and liberal arts — and at the right price point. The iPad Pro did it first, but at a cost unattainable for all but the tinkerers and serious artists, and without iOS 11's crucial multitasking features. At $329, the iPad offers a low-end tablet experience unlike any other on the market. Add an extra $99 for Apple Pencil, and Apple has created the best device for all-purpose education, period.
But it's easy to make that claim, and a whole other thing to explain why I believe it so whole-heartedly. As a result, I decided to try and prove it: Starting with a blank page in Procreate, I created an entire iPad review video by just using my 2018 iPad, Apple Pencil, and third-party apps. My Mac came into play only once — when I uploaded my video to YouTube.
Here it is.
"Filming" my 9.7 iPad review on my iPad
Rene and I have filmed and edited reviews on Apple devices before, starting with the iPhone 6s review back in 2015. But this iPad review was a bit different: I shot only one piece of live-action footage (using my 10.5-inch iPad Pro to film me working on the 2018 iPad).
Instead, I used techniques I developed with my Linea review to "film" the screen of my iPad as I worked in apps and OS features across the device. I achieved this chiefly with iOS's built-in Screen Recorder, though I also used a few Procreate video replays of my line-drawings.
Screen Recorder will record pretty much anything save for copyrighted video, which makes it an incredible tool for making timelapses of drawings, workflows in Keynote, app experiences, and more. In total, I "filmed" in apps like:
the aforementioned Procreate and Linea Sketch
Safari
iBooks
The App Store
To create timelapses of video, I used the excellent LumaFusion video editor, which lets you speed up clips to 6x their original speed. I'd import the videos, cut the areas I didn't need, and speed them up; if they still weren't fast enough, I'd export that clip, then re-import it into LumaFusion and re-layer the speed adjustment.
To import some of my found-footage, I used a web-based YouTube exporter to grab the direct URL of two YouTube videos (a section of Steve Jobs's 1985 speech on education at Lund University in Sweden and a small clip of Wired's incredible piece on preserving the personality of a dying family member inside a chatbot), then downloaded the video to GoodReader, where I was able to save it to the Files app.
I was also lucky to have access to some old digitized Hi8 footage of my childhood computers, courtesy my father, which were stored in Dropbox (and easily downloaded to Files).
I also used [Keynote](https://itunes.apple.com/us/app/keynote/id361285480?mt=8&at=10l3Vy&ct=UUimUdUnU46276's new Magic Move and Line Draw features to draw atop the Steve Jobs speech and some roller derby footage, and recorded the final animation using Screen Recording.
Once I had all my video clips, I primarily assembled them in iMovie, with LumaFusion playing the part of a section editor — I'd edit a section of timelapsed footage in LumaFusion, then drop it in as a single chunk in iMovie so as to avoid too many moving pieces. (iOS still has many limitations when it comes to editing in a mobile environment, and I've had detached audio clips move too many times in a big project not to play it a bit safe.)
When I was ready to add music, I hopped into GarageBand and composed a few little ditties using the app's Toy Box Sound Library — it was my first time using GarageBand's sound library to make something, and I came away incredibly impressed with the technical ability of the app. (iMovie crew, take notes!) Even never having used it, I was able to compose something that didn't sound completely awful, and in under an hour, to boot. GarageBand even lets you export the resulting MP3s directly into an iMovie project, making my scoring process nice and easy.
The last thing I made — the review's opening and closing titles — were created using Screen Recorder and iOS 11's built-in Markup tool.
During the process, I sent Rene and a few friends some edits in progress by using Screen Recorder over iMovie's preview screen — it saved me from having to export an in-progress timeline, which at times had upwards of 45 minutes of unprocessed footage residing in it.
For the final movie, I exported it to Photos, then uploaded it to Google Drive — where my Mac took on its sole duty, uploading the video to YouTube. (I probably could have done this step via iPad, but I didn't want to risk the chance that the app would compress the video file during upload.)
Would I make another iPad review on an iPad again? Absolutely
This process took a few weeks of trial and error as I built — and rebuilt — my workflows and tried to figure out how exactly I wanted to showcase the iPad's myriad skill-sets. It's certainly the most involved project (short of designing my wedding) that I undertook on an iPad.
But here's the best part: With the exception of some of the video editing tools (seriously, iMovie team, you folks have work to do), everything I did on my iPad was much easier than it would have been to make this on a Mac. The Apple Pencil remains, to my mind, one of the best tools Apple has ever created — in a vacuum, it's a pretty decent stylus; when paired with the power of an iPad, however, it offers almost unlimited flexibility for writing, drawing, precision editing, strain-free navigation, and creativity.
Yes, the iPad is more expensive than a Chromebook. Yes, it has a long way to go before it can be the perfect tool in the classroom.But I can't do a fifth of what I did on the 2018 iPad & Apple Pencil with any other $429 tablet — including Apple's older iPad models. This combination smokes the competition, and I've already seen it take root in people who had otherwise long put off getting an iPad. After bringing it to an art night with design friends last week, two of them went out and purchased 2018 iPads and Pencils.The price is right. The tools are superb. This is the tablet I've been wanting since Jobs came out in 2010 to introduce the original iPad: the true meeting of technology and liberal arts.And while there are things that could be better, and (many) tools Apple can still improve — there's momentum here for this product that I haven't seen before. And I can't wait to see where it goes.
Master your iPhone in minutes
iMore offers spot-on advice and guidance from our team of experts, with decades of Apple device experience to lean on. Learn more with iMore!
Serenity was formerly the Managing Editor at iMore, and now works for Apple. She's been talking, writing about, and tinkering with Apple products since she was old enough to double-click. In her spare time, she sketches, sings, and in her secret superhero life, plays roller derby. Follow her on Twitter @settern.