Pebble announces million-dollar fund to bring smartstrap ideas to life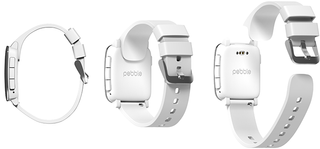 When the Pebble Time Steel was announced Pebble also announced smartstraps - an open hardware accessory platform. Since then there has been a lot of buzz in the developer community about smartstraps, which allow sensors to be added right into the bands. To help these ideas grow into actual products Pebble has just announced that they are putting 1 million dollars into funding the development and support of smartstraps.
Pebble will not be able to fund every single project that comes out, but they will be using their best judgement to distribute the available funds. A few companies have already caught the eye of Pebble with their ideas, the first being Spark.io. The concept presented here would allow you to be able to untether your Pebble and connect directly to a cellular network, allowing for your watch to remain connected at all times. Next up is SeeedStudio who looks to create a connector for their arduino-compatible Xadow modules which include GPS, NFC and Heart Rate Sensors.
The process of qualifying for funding from Pebble is outlined very simply. Get your team together and build a prototype, then put your idea on a crowdfunding platform, and finally get in touch with the Pebble team through Twitter or email. If you had any interest in building a smartstrap for the Pebble Time, this is definitely great motivation to get in gear and see if Pebble will support your ideas.
Press release:
Announcing our $1mm Pebble smartstrap fund
Earlier this month we announced Pebble smartstraps, our open hardware accessory platform. Since then, hundreds of developers, hackers and established brands have approached Pebble to take part.
Today we are pledging 1 million US dollars towards development and support of smartstrap projects.
If you have an idea and want to be part of the smartstrap revolution, this is your chance! Get a team together, build a prototype and then put your project up on a crowdfunding platform. Our team will work to help bring your ideas to life.
We monitor Kickstarter and other crowdfunding platforms for Pebble smartstrap-related projects, and we'll back the best of them. We truly understand the value of backing projects in their early state, having started that way ourselves. From there, we expect many projects to evolve into products fit for wider release. To make sure we get see your project you can tweet your projects @Pebble or get in touch with our developer experience team by emailing devsupport@getpebble.com.
Not every single project will get funding from Pebble, we'll use our best judgment to distribute funds. No specific terms are being published right now. Along with cash, we'll also promote some smartstrap projects through Kickstarter updates, on our website getpebble.com, and elsewhere.
Get the best of iMore in your inbox, every day!
Jared started off writing about mobile phones back when BlackBerry ruled the market, and Windows Mobile was kinda cool. Now, with a family, mortgage and other responsibilities he has no choice but to look for the best deals, and he's here to share them with you.
In regards the picture accompanying the article of the Pebble smart strap ... it looks like a very poor design to me. The strap obviously pivots on the pins as it uses standard watch pins like every other watch ever made, but the port is on the back of the watch. It seems clear that mechanically, this is far from an ideal situation. Any movement of the strap is likely to at least slightly f*ck with the port connector. I'm not interested in Pebble anyway because all they offer are notifications on an ugly selection of geek watches, but if I were an investor, I would be very leery of their design "talent." Everything they have shown lately is just concept renders anyway. I think they are misleading everyone by pretending that their new products are actually already designed when they are not. This is just the speculation and money-gathering stage.

You said everything you needed to say in your 3rd paragraph. Posted via the Android iMore App!

I dont think so. It might behave similarly to the galaxy gear version 1.0 where the strap that contained the camera was not as freely mobile, and thus conforming to the wrist on that side. If you dont like Pebble cool, but the engineering aspect of their design is not flawed. Im sure they have engineers with actual degrees who make up these designs and determine if these things can or cant be done mechanically speaking, before releasing them to the public. Personally Im not a big fan of pebble either but I welcome options in the small market that is smart watches as it increases competition and drives companies to release better products.

Well, I said it "looks like" a very poor design to me, I'd have to study it in action to know for sure of course. I would bet money that the eventual shipped product is different though. And I don't agree with your assertion that one has to have an engineering degree to see basic mechanical problems. Simple levers are something one learns about in grade 4 after all.

I didn't say you had to have a degree to see basic mechanical problems. My sentiment was simply to trust the professionals to know what they are doing before announcing something to the public.

RE: "Everything they have shown lately is just concept renders anyway. I think they are misleading everyone by pretending that their new products are actually already designed when they are not." Isn't that the same for 90% of the stuff found on crowd-funding/sourcing platforms?

Pebble who? HEHEHEHE. Only people going to be using that watch will be the Android family.

We Apple users often get a bad rep because of twats like you.

It's a interesting idea to make hardware modules for the watch, yet it seems with an emerging market like smart watches, it might be hard to get off the ground trying to convince people to add, potentially, more bulk to watches and features that you can probably get already with Android Wear, Samsung or Apple.

Love my pebble and preorder the pebble time! three reason why I prefer pebble over the apple watch! Waterproof , battery life and price! Maybe one more because I can use it with an android phone which I never get but never say never

But you can't reply to a message, email etc with the pebble. Communication is a one way street with pebble & iOS. My gen 1 has served me well, but without Siri built into the pebble time, I'll save up for the Apple Watch.
I always take my pebble off every night and put it on my nightstand anyhow, even though I only charge it once a week. I don't go swimming or diving. Price is a factory, but for gen 1 AW, I'll get the cheapest one I can stand.
To me at $99 (paid $150) with plastic, monochrome screen (that is unreadable with polarized sun glasses) and 1-way comms... Compared to $400 (42mm black sport) aluminum/glass, sharp color screen, Siri, activity monitoring, etc etc... $400 is worth it. Sent from the iMore App

Im down for innovation. Even though this specifically is a render, at least they are doing something to push the boundaries within the smartwatch ecosystem. Sure they could have just copied what Android wear and Apple were going to do with their second smarthwatch (in regards to adding heart rate monitors) but they realize there might be a market where people dont want that and instead went with a more modular design (similiar to project ARA with Android), where things can be added and subtracted as needed. Without ideas like this we will be left with the likes of the Apple watch, which simpy isnt innovative at all. Just a pebble smartwatch/android wear clone with Apple branding.