Pebble announces new limited edition smartwatches, Connectedly is giving one away!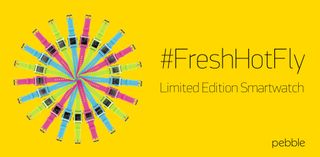 Today Pebble announced some funky new limited-edition smartwatches, available in Fresh Green, Hot Pink, and Fly Blue. They're just like the Pebble you know and love, only way cooler and much bolder. The new colors arrive on top of the original Jet Black, Cherry Red, Arctic White, Grey and Orange — now giving you plenty of options to find just the right Pebble. You can grab them all right now from getpebble.com (opens in new tab) for $150 — or if you're feeling lucky — you can head over to Connectedly and enter for your chance to win one.
We're all about spreading the smartwatch love, so here's your chance to win a brand new Fresh, Hot, or Fly limited-edition Pebble smartwatch. Just swing over to Connectedly and drop a comment on the contest post. You'll be entered to win so you can show off your love of tech to the world with a new Fresh Green, Hot Pink, or Fly Blue Pebble. The contest runs until Sunday August 10th at midnight PT. Good luck!
Enter to win a limited-edition Pebble from Connectedly
Get the best of iMore in your inbox, every day!
Editorial Director - High Yield
Getting his start writing about BlackBerry in 2008, Adam is the Editorial Director of High-Yield content at Future. Leading an outstanding team, he oversees many of the articles the publisher produces about subscriptions and services – VPN, TV streaming, and antivirus software. From buying guides and how to watch content, to deal news and in-depth reviews. Adam's work can be seen on numerous Future brands including TechRadar, Tom's Guide, T3, TTR, Android Central, iMore, and Real Homes.
Wow, those are bright! Cool contest but those are a bit too flashy for me to sport daily. Glad to see the giveaways rolling!

These things look like they are straight out of the 1990's. They are almost identical to the (popular at the time), "Swatch Watches" but overlaid with ugly little low res screens just like a "Palm Pilot." Do they have a Tamagotchi app? do they come with a stylus? Even the advertising is retro. "Fresh?" "Fly?" The 1990's wants it's bad slang back as well. Sadly, I don't think they are meant to appeal to retro gamers and ageing baby boomers. I think they are actually serious about this being a watch platform.

Would love the blue one!! I just wanted to pint this out, but these smarteatches would look BAD ASS with the blue, pink, & green iPhone 5c!!!!! Sent from the iMore App