Pebble's says new hardware, software coming in 2015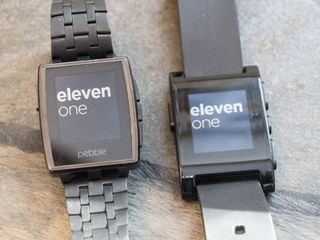 Pebble is planning new hardware and new software for 2015. That shouldn't come as a surprise to anyone, but given the Apple Watch slated for April and Android Wear-based already in production, Pebble fans will be glad to know the plucky independent isn't slowing down. Pebble CEO Eric Migicovsky, speaking to The Verge:
Migicovsky also revealed that Pebble's existing smartwatches had shipped over a million units to date. The bad news? We'll have to wait until later this year to find out the details of what's next.
Get the best of iMore in your inbox, every day!
I have been writing professionally about technology and gaming news for 14 years.
Pebble definitely has a chance to complete. One, because they're on both smartphone platforms, and two they have nice looking watches (the Blue Steel model). If they can compete on price they might have something.

I think I'd rather go with Pebble than Apple on the watch. Maybe after a couple of years, I might look to Apple. I really have no faith in the 1st, and maybe 2nd, version of the Apple Watch.

I'm glad Pebble is hanging in there. I've wanted a smart watch for a while but have held out waiting on Apple and trying to convince myself that I need it. Of everyone out there Pebble seams to focus on what I want most and that's notifications. I can't seem to feel or here my phone ringing my pocket so that may answer the need question. I'm up and down at work all day so half of the problem is just like Peter Cohen's: I haven't worn a watch in a decade and don't want my rMBP scrached to hell. I just don't see myself taking it on and off every time I get up and down. A Bluetooth headset works but though it's 2015 I still feel like a dork wearing it. Decisions decisions.

I say screw the Apple Watch.... Pebble all the way! Ever since I got my pebble smart watch I've been so happy not having to pull out my phone to see who's texting me or what notifications I got. Can't wait to see what pebble has in store this year

Pebble 2.0 can be exactly as 1.0 or 1.1, just add Siri. If they announce this before aWatch is released, I'll wait for the new Pebble. Sent from the iMore App

Apple Watch please! Sent from the iMore App