Philips officially adds HomeKit support for Hue lighting with the new Bridge 2.0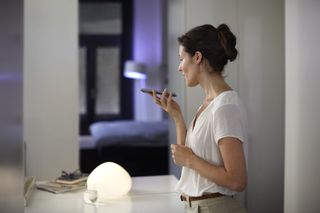 Should you be on the fence, holding out for Philips to implement support for Apple HomeKit, we're pleased to relay news that the wait is now finally over. Introducing the Hue Bridge 2.0, Philips now lets you control your Hue home lighting setup using Siri with the newly refreshed bridge and updated iOS app.
Both new and existing Philips Hue lights can be controlled through the assistant, so long as you pick up the new bridge and update the official app on your mobile device. There's more good news for existing owners of a Hue bridge as Philips will offer you a 33% discount on the new Bridge on the official online store if you're looking to upgrade. This offer will run from November 1 through December 31.
The original Bridge will continue to be updated through software updates, but Philips notes that it will not support HomeKit. The company also unveiled new Hue bulbs that are brighter than the current 600 lumens bulbs, bumping the brightness up to 800 lumens. Both the new Bridge and brighter bulbs will be available for purchase from October 6.
$59.95 from Amazon (opens in new tab)
The link provided at the bottom does not work. Sent from the iMore App

Trying to get the 33% upgrade discount mentioned in the article but I can't find anywhere to purchase at the Hue website. The only thing I could find was links to purchase online at other retailers. Sent from the iMore App

Yes, as someone who purchased a Hue setup like a week ago, this is almost unbelievably aggravating. Doubly so, as I've been spoiled by Apple: when THEY announce something like this, their web site is already updated and ready to go. It would really be nice to figure out how to get this discount, but Philips is really not on the ball.

I emailed the Phillips contact on the press release and they said you could find the upgrade info meethue site But I don't see it either. Sent from the iMore App

I picked up the new starter kit last night and installed the Hue update this morning.
FWIW, the Siri performance on the Apple Watch with the Hue is less than stellar, IMO.
It's about 5-8 seconds between your command and the lights turning on.
If you raise your watch within 20 seconds of turning the lights on, the watch screen is still telling you she turned the lights on. You can't raise your wrist to look at the watch face or give another command without pressing the crown until about 20 seconds after turing on the lights. How long does the watch need to tell me the lights are on? I"m right here. I see the light!
It's still a toy. I knew that going into it but I was hoping it would be a better performing toy.

"It's still a toy. I knew that going into it but I was hoping it would be a better performing toy." Are we talking about Apple Watch or Hue? lolol. Sorry, that was cruel.

It's a little of both for sure :)
I use the watch for a lot of things and it has great potential but it is so. damn. slow.

Phillips said they were working on this and would have it available "real soon." I've been holding off on trying these out until they were ready to confirm HomeKit compatibility. Just watching to see who will be next...

I don't have an Apple Watch but using Siri from my phone to control my Hue lights would be nice.
However, I currently control them with my Amazon Echo and it works great. So I don't see the need to upgrade my bridge at this point.

I feel sorry for all those who bought into Philips' gear as an early adopter. These guys were first on the market with a (hugely expensive) controllable lightbulb but since then, they've been completely eclipsed. Their prices are pretty outrageous considering what you get and their gear is clunky and poorly designed. The lightbulbs should be more like five bucks and the hub shouldn't be necessary at all. Buying this hub is a classic "throwing good money after bad" thing IMO.
Thank you for signing up to iMore. You will receive a verification email shortly.
There was a problem. Please refresh the page and try again.