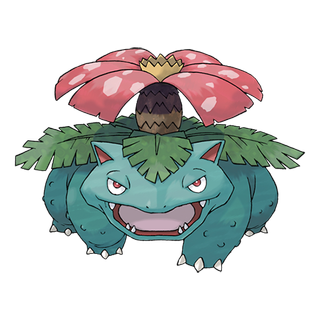 (Image credit: The Pokémon Company)
Name: Venusaur (Japanese: フシギバナ Fushigibana)
Classification: Seed Pokémon
Type: Grass/Poison
Generation: Gen I Kanto Region
Gender Ratio: 87.5% Male to 12.5% Female
Height:
6' 7" (Venusaur)
7' 10" (Mega Venusaur)
??? (Gigantamax Venusaur)
Weight:
220.5 lbs (Venusaur)
342.8 lbs (Mega Venusaur)
??? lbs (Gigantamax Venusaur)
Evolution:
Evolves from Ivysaur at level 32.
Evolves from Ivysaur with 100 Candies in Pokémon Go.
Mega Evolves into Mega Venusaur with Venusaurite.
Alternate Formes:
How to catch in Sword/Shield:
How to catch in Go:
Description: Much larger than Bulbasaur or Ivysaur, Venusaur's dinosaur body is colored similarly, a blueish-green but without any spots. The plant on its back has sprouted and grown into a tree, topped with a large, pink flower. There are several white spots on the flower and, if the Venusaur is female, there is also a seed at the center of the flower. Surrounding the plan are several green fronds that cover the majority of its back. Capable of Mega evolution, Mega Venusaur sprouts two more pink flowers, one atop its head and the other on its lower back. Several more fronds surround the base of the plant and it has vines now supporting the weight of it's massive plant. Dark markings decorate its forehead, beneath the flower.
The plant on Venusaur's back is a strong indicator of its health, becoming more vibrant the healthier Venusaur is. It emits a soothing scent that draws in other Pokémon and calms them. Rain enhances this scent allowing Venusaur to draw in Pokémon from very far away. Venusaur are extremely rare in the wild, but a few can be found in grasslands and valleys where they have been known to encourage many Bulbasaur and Ivysaur to evolve in special rituals.
Venusaur is also capable of Gigantamaxing. Gigantamax Venusaur is massive and it's flower covers most of its enormous body. Little else is known about Gigantamax Venusaur except that it will be introduced with either the Isle of Armor expansion DLC due out in June, 2020, or the Crown Tundra DLC due out in Fall of 2020.
Core Games
Venusaur in the core games
Sword Pokédex: Its plant blooms when it is absorbing solar energy. It stays on the move to seek sunlight.
Shield Pokédex: A bewitching aroma wafts from its flower. The fragrance becalms those engaged in a battle.
Base Stats
80 HP
82 Attack
83 Defense
100 Sp. Attack
100 Sp. Defense
80 Speed
525 Total
Mega Venusaur
Let's Go, Pikachu! & Let's Go, Eevee! Pokédex: In order to support its flower, which has grown larger due to Mega Evolution, its back and legs have become stronger.
Base Stats
80 HP
100 Attack
123 Defense
122 Sp. Attack
120 Sp. Defense
80 Speed
625 Total
Moves by Level
Petal Blizzard (lv 1)
Petal Dance (lv 1)
Tackle (lv 1)
Growl (lv 1)
Vine Whip (lv 1)
Growth (lv 1)
Petal Blizzard (Evo)
Leech Seed (lv 9)
Razor Leaf (lv 12)
Poison Powder (lv 15)
Sleep Powder (lv 15)
Seed Bomb (lv 20)
Take Down (lv 25)
Sweet Scent (lv 30)
Synthesis (lv 37)
Worry Seed (lv 44)
Double-Edge (lv 51)
Solar Beam (lv 58)
Moves by TM/TR
TM08 Hyper Beam
TM09 Giga Impact
TM10 Magical Leaf
TM11 Solar Beam
TM17 Light Screen
TM19 Safeguard
TM21 Rest
TM24 Snore
TM25 Protect
TM28 Giga Drain
TM29 Charm
TM31 Attract
TM34 Sunny Day
TM39 Facade
TM41 Helping Hand
TM46 Weather Ball
TM50 Bullet Seed
TM74 Venoshock
TM76 Round
TM81 Bulldoze
TM88 Grassy Terrain
TM94 False Swipe
TM98 Stomping Tantrum
TR00 Swords Dance
TR01 Body Slam
TR10 Earthquake
TR17 Amnesia
TR20 Substitute
TR22 Sludge Bomb
TR24 Outrage
TR26 Endure
TR27 Sleep Talk
TR59 Seed Bomb
TR65 Energy Ball
TR67 Earth Power
TR71 Leaf Storm
TR72 Power Whip
TR77 Grass Knot
TR85 Work Up
Moves by Breeding
Curse
Ingrain
Nature Power
Petal Dance
Skull Bash
Toxic
Moves by Tutoring
Damaged normally by
Venusaur
Normal 1×
Poison 1×
Ground 1×
Rock 1×
Bug 1×
Ghost 1×
Steel 1×
Dragon 1×
Dark 1×
Weak to
Flying 2×
Fire 2×
Psychic 2×
Ice 2×
Immune to
Resistant to
Fighting ½×
Water ½×
Grass ¼×
Electric ½×
Fairy ½×
Damaged normally by
Mega Venusaur
Normal 1×
Poison 1×
Ground 1×
Rock 1×
Bug 1×
Ghost 1×
Steel 1×
Fire 1×
Ice 1×
Dragon 1×
Dark 1×
Weak to
Immune to
Resistant to
Fighting ½×
Water ½×
Grass ¼×
Electric ½×
Fairy ½×
Gigantamax
Pokémon Go
Pokédex: There is a large flower on Venusaur's back. The flower is said to take on vivid colors if it gets plenty of nutrition and sunlight. The flower's aroma soothes the emotions of people.
Egg Distance: N/A
Buddy Distance: 3 KM
Base Stats
190 Stamina
198 Attack
189 Defense
Moves
Fast Attacks: Razor Leaf, Vine Whip
Charged Attacks: Sludge Bomb, Petal Blizzard, Solar Beam, Frenzy Plant*, Frustration*, Return*
Shiny: Yes
More information
Get the best of iMore in your inbox, every day!
Casian Holly has been writing about gaming at iMore since 2019, but their real passion is Pokémon. From the games to the anime, cards and toys, they eat, sleep, and breathe all things Pokémon. You can check out their many Pokémon Go and Pokémon Sword and Shield guides and coverage here on iMore.