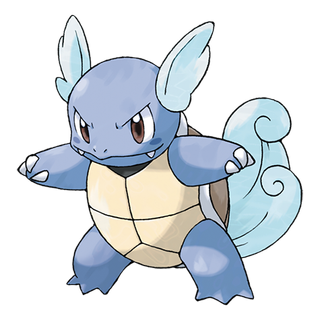 (Image credit: The Pokémon Company)
Name: Wartortle (Japanese: カメール Kameil)
Classification: Turtle Pokémon
Type: Water
Generation: Gen I Kanto Region
Gender Ratio: 87.5% Male to 12.5% Female
Height: 3' 3"
Weight: 49.6 lbs
Evolution:
Evolves from Squirtle at level 16.
Evolves into Blastoise at level 36.
Evolves from Squirtle with 25 Candies in Pokémon Go.
Evolves into Blastoise with 100 Candies in Pokémon Go.
Alternate Formes:
Costumed, one variant (Pokémon Go)
How to catch in Sword/Shield:
How to catch in Go:
Evolve Squirtle
Spawns
Nests
Eggs
Raids
Description: A pale blue, bipedal turtle, Wartortle is the first evolution of the Kanto Water Starter, Squirtle. Wartortle have very light blue, feather-shaped ears, and a thick, wavy tail in the same color. Their shells are lighter than both Squirtle and Blastoise and are often scarred and covered in algae as Wartortle age.
Wartortle cannot pull its tail entirely inside its shell and cannot move about on land as easily as Squirtles. However, in the water, its ears and tail help it maintain balance and course while swimming at high speeds. It is also capable of storing air internally to allow for extended diving. Wartortle tails are considered a symbol of longevity and so this Pokémon is very popular among the elderly. While there are occasionaly colonies of Wartortle on islands without people, they are rare in the wild. Most can be found in the company of Trainers.
Core Games
Wartortle in the core games
Sword Pokédex: It is recognized as a symbol of longevity. If its shell has algae on it, that Wartortle is very old.
Shield Pokédex: It cleverly controls its furry ears and tail to maintain its balance while swimming.
Base Stats
59 HP
63 Attack
80 Defense
65 Sp. Attack
80 Sp. Defense
58 Speed
405 Total
Moves by Level
Tackle (lv 1)
Tail Whip (lv 1)
Water Gun (lv 1)
Withdraw (lv 1)
Rapid Spin (lv 9)
Bite (lv 12)
Water Pulse (lv 15)
Protect (lv 20)
Rain Dance (lv 25)
Aqua Tail (lv 30)
Shell Smash (lv 35)
Iron Defense (lv 40)
Hydro Pump (lv 45)
Skull Bash (lv 50)
Moves by TM/TR
TM00 Mega Punch
TM01 Mega Kick
TM04 Ice Punch
TM15 Dig
TM21 Rest
TM24 Snore
TM25 Protect
TM27 Icy Wind
TM31 Attract
TM33 Rain Dance
TM35 Hail
TM36 Whirlpool
TM39 Facade
TM41 Helping Hand
TM43 Brick Break
TM45 Dive
TM46 Weather Ball
TM48 Rock Tomb
TM55 Brine
TM59 Fling
TM76 Round
TM94 False Swipe
TR01 Body Slam
TR03 Hydro Pump
TR04 Surf
TR05 Ice Beam
TR06 Blizzard
TR16 Waterfall
TR20 Substitute
TR26 Endure
TR27 Sleep Talk
TR31 Iron Tail
TR45 Muddy Water
TR46 Iron Defense
TR52 Gyro Ball
TR56 Aura Sphere
TR62 Dragon Pulse
TR69 Zen Headbutt
TR84 Scald
TR85 Work Up
Moves by Breeding
Aqua Jet
Aqua Ring
Fake Out
Flail
Haze
Life Dew
Mirror Coat
Mist
Water Spout
Yawn
Moves by Tutoring
Damaged normally by
Normal 1×
Fighting 1×
Flying 1×
Poison 1×
Ground 1×
Rock 1×
Bug 1×
Ghost 1×
Psychic 1×
Dragon 1×
Dark 1×
Fairy 1×
Weak to
Immune to
Resistant to
Steel ½×
Fire ½×
Water ½×
Ice ½×
Pokémon Go
Pokédex: Its tail is large and covered with a rich, thick fur. The tail becomes increasingly deeper in color as Wartortle ages. The scratches on its shell are evidence of this Pokémon's toughness as a battler.
Egg Distance: N/A
Buddy Distance: 3 KM
Base Stats
153 Stamina
126 Attack
155 Defense
Moves
Fast Attacks: Water Gun, Bite
Charged Attacks: Aqua Jet, Ice Beam, Hydro Pump, Frustration*, Return*
Shiny: Yes
More information
Master your iPhone in minutes
iMore offers spot-on advice and guidance from our team of experts, with decades of Apple device experience to lean on. Learn more with iMore!
Casian Holly has been writing about gaming at iMore since 2019, but their real passion is Pokémon. From the games to the anime, cards and toys, they eat, sleep, and breathe all things Pokémon. You can check out their many Pokémon Go and Pokémon Sword and Shield guides and coverage here on iMore.