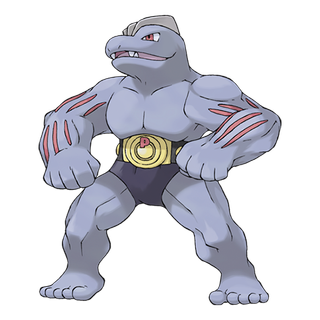 (Image credit: The Pokémon Company)
Name: Machoke (Japanese: ゴーリキー Goriky)
Classification: Superpower Pokémon
Type: Fighting
Generation: Gen I Kanto Region
Gender Ratio: 75% Male to 25% Female
Height: 4' 11"
Weight: 155.4 lbs
Evolution:
Evolves from Machop at level 28.
Evolves from Machop with 25 Candies in Pokémon Go.
Evolves into Machamp when traded.
Evolves into Machamp with 100 Candies in Pokémon Go.
Evolves into Machamp for free when Traded in Pokémon Go.
Alternate Formes: None
How to catch in Sword/Shield:
Giant's Mirror
Dusty Bowl
North Lake Miloch
Rolling Fields
South Lake Miloch
Stony Wilderness
Max Raid Battles
How to catch in Go:
Description: Much like Machop, Machoke is a grey skinned, humanoid Pokémon with a muscles as hard as steel. Its eyes are still bright red and it still has the bone ridges it had in its previous stage, but it also has dark red stripes going down its arms and black markings that look like wrestling briefs. Machoke also have a gold and black champion belt that regulates its incredible strength. When facing an exceptionally strong opponent, Machoke will remove the belt and completely let loose.
Machoke can lift extremely heavy objects with a single finger; however, they're very modest. They will help humans and Pokémon alike with manual labor. While often found among humans, Machoke can be found in the wild in mountanous regions.
Core Games
Machoke in the core games
Sword Pokédex: Its muscular body is so powerful, it must wear a power-save belt to be able to regulate its motions.
Shield Pokédex: Its formidable body never gets tired. It helps people by doing work such as the moving of heavy goods.
Base Stats
80 HP
100 Attack
70 Defense
50 Sp. Attack
60 Sp. Defense
45 Speed
405 Total
Moves by Level
Low Kick (lv 1)
Leer (lv 1)
Focus Energy (lv 1)
Revenge (lv 1)
Low Sweep (lv 12)
Knock Off (lv 16)
Scary Face (lv 20)
Vital Throw (lv 24)
Strength (lv 31)
Dual Chop (lv 36)
Bulk Up (lv 42)
Seismic Toss (lv 48)
Dynamic Punch (lv 54)
Cross Chop (lv 60)
Double-Edge (lv 66)
Moves by TM/TR
TM00 Mega Punch
TM01 Mega Kick
TM03 Fire Punch
TM04 Ice Punch
TM05 Thunder Punch
TM15 Dig
TM17 Light Screen
TM21 Rest
TM22 Rock Slide
TM23 Thief
TM24 Snore
TM25 Protect
TM26 Scary Face
TM31 Attract
TM33 Rain Dance
TM34 Sunny Day
TM39 Facade
TM41 Helping Hand
TM42 Revenge
TM43 Brick Break
TM48 Rock Tomb
TM57 Payback
TM59 Fling
TM75 Low Sweep
TM76 Round
TM79 Retaliate
TM81 Bulldoze
TM98 Stomping Tantrum
TR01 Body Slam
TR02 Flamethrower
TR07 Low Kick
TR10 Earthquake
TR13 Focus Energy
TR14 Metronome
TR15 Fire Blast
TR20 Substitute
TR21 Reversal
TR26 Endure
TR27 Sleep Talk
TR30 Encore
TR39 Superpower
TR48 Bulk Up
TR53 Close Combat
TR57 Poison Jab
TR64 Focus Blast
TR79 Heavy Slam
TR85 Work Up
Moves by Breeding
Bullet Punch
Counter
Quick Guard
Submission
Tickle
Damaged normally by
Normal 1×
Fighting 1×
Poison 1×
Ground 1×
Ghost 1×
Steel 1×
Fire 1×
Water 1×
Grass 1×
Electric 1×
Ice 1×
Dragon 1×
Weak to
Flying 2×
Psychic 2×
Fairy 2×
Immune to
Resistant to
Pokémon Go
Pokédex: Machoke undertakes bodybuilding every day even as it helps people with tough, physically demanding labor. On its days off, this Pokémon heads to the fields and mountains to exercise and train.
Egg Distance: N/A
Buddy Distance: 3 KM
Base Stats
160 Stamina
177 Attack
130 Defense
Moves
Fast Attacks: Low Kick, Karate Chop
Charged Attacks: Submission, Brick Break, Cross Chop*, Dynamic Punch
Shiny: Yes
More information
Get the best of iMore in in your inbox, every day!
Casian Holly has been writing about gaming at iMore since 2019, but their real passion is Pokémon. From the games to the anime, cards and toys, they eat, sleep, and breathe all things Pokémon. You can check out their many Pokémon Go and Pokémon Sword and Shield guides and coverage here on iMore.
Thank you for signing up to iMore. You will receive a verification email shortly.
There was a problem. Please refresh the page and try again.