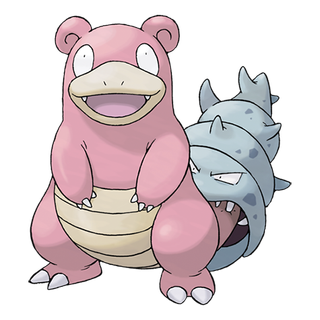 (Image credit: The Pokémon Company)
Name: Slowbro (Japanese: ヤドラン Yadoran)
Classification: Hermit Crab Pokémon
Type: Water/Psychic
Generation: Gen I Kanto Region
Gender Ratio: 50% Male to 50% Female
Height:
5' 3" (Kanto)
6' 7" (Mega Slowbro)
??? (Galar)
Weight:
173.1 lbs (Kanto)
264.6 lbs (Mega Slowbro)
??? (Galar)
Evolution:
Evolves from Slowpoke at level 37.
Evolves from Slowpoke with 50 Candies in Pokémon Go.
Regional Variant evolves from Galarain Slowpoke with unknown item found on the Isle of Armor in Pokémon Sword and Shield.
Alternate Formes:
Mega Slowbro
Galarian Slowbro
How to catch in Sword/Shield:
Regional Variant will be able to be evolved from Galarian Slowpoke with an unknown item found on the Isle of Armor in Pokémon Sword and Shield.
How to catch in Go:
Evolve from Slowpoke.
Raids.
Description: Having been bit on the tail by a Shellder, Slowpoke evolved into Slowbro. It is still very slow, but can no longer feel any pain due to Shellder's poison. It stands on its hind legs and the Shellder on its tail has changed too, growing a spiral, spiked shell. Because of the Shellder's presence, Slowbro can no longer use its tail to fish and must dive into the water to hunt its food. It shares the scraps with Shellder in a symbiotic relationship. It is capable of extremely powerful psychic attacks, but Slowbro prefer to live peacefully near lakes, ponds, or seashores. Although some of its Pokédex entries suggest that Slowbro can devolve if the Shellder on its tail falls off, this has never been witnessed in the games or shows.
Slowbro is capable of Mega Evolution, during which the Shellder grows larger and engulfs most of its body. The Shellder provides impregnable defense, while little changes about the Slowpoke inside. Within Pokémon Go, Slowbro is good for defending Gyms but not much else.
Slowbro has a regional variant in the Galar region but not much is known about it. It is evolved using an unknown item found on the Isle of Armor and does not have a shell on its tail.
Core Games
Slowbro in the core games
Sword Pokédex: Not Available Yet
Shield Pokédex: Not Available Yet
Let's Go, Pikachu! & Let's Go, Eevee! Pokédex: Lives lazily by the sea. If the Shellder on its tail comes off, it becomes a Slowpoke again.
Base Stats
95 HP
75 Attack
110 Defense
100 Sp. Attack
80 Sp. Defense
30 Speed
490 Total
Mega Slowbro
Let's Go, Pikachu! & Let's Go, Eevee! Pokédex: Under the influence of Shellder's digestive fluids, Slowpoke has awakened, gaining a great deal of power–and a little motivation to boot.
Base Stats
95 HP
75 Attack
180 Defense
130 Sp. Attack
80 Sp. Defense
30 Speed
590 Total
Galarian Slowbro
Base Stats
??? HP
??? Attack
??? Defense
??? Sp. Attack
??? Sp. Defense
??? Speed
??? Total
Moves by Level
Withdraw (lv 1)
Heal Pulse (lv 1)
Curse (lv 1)
Yawn (lv 1)
Tackle (lv 1)
Growl (lv 1)
Withdraw (Evo)
Growl (lv 5)
Water Gun (lv 9)
Confusion (lv 14)
Disable (lv 19)
Headbutt (lv 23)
Water Pulse (lv 28)
Zen Headbutt (lv 32)
Slack Off (lv 36)
Amnesia (lv 43)
Psychic (lv 49)
Rain Dance (lv 55)
Psych Up (lv 62)
Heal Pulse (lv 68)
Moves by TM/TR
TM03 Psyshock
TM04 Calm Mind
TM06 Toxic
TM07 Hail
TM10 Hidden Power
TM11 Sunny Day
TM13 Ice Beam
TM14 Blizzard
TM15 Hyper Beam
TM16 Light Screen
TM17 Protect
TM18 Rain Dance
TM20 Safeguard
TM21 Frustration
TM26 Earthquake
TM27 Return
TM29 Psychic
TM30 Shadow Ball
TM31 Brick Break
TM32 Double Team
TM35 Flamethrower
TM38 Fire Blast
TM40 Aerial Ace
TM42 Facade
TM44 Rest
TM45 Attract
TM48 Round
TM49 Echoed Voice
TM52 Focus Blast
TM55 Scald
TM56 Fling
TM68 Giga Impact
TM73 Thunder Wave
TM77 Psych Up
TM78 Bulldoze
TM85 Dream Eater
TM86 Grass Knot
TM87 Swagger
TM88 Sleep Talk
TM90 Substitute
TM92 Trick Room
TM94 Surf
TM100 Confide
Moves by Breeding
Belch
Belly Drum
Block
Future Sight
Me First
Mud Sport
Sleep Talk
Snore
Stomp
Wonder Room
Zen Headbutt
Moves by Tutoring
After You
Aqua Tail
Block
Drain Punch
Focus Punch
Foul Play
Ice Punch
Icy Wind
Iron Defense
Iron Tail
Magic Coat
Recycle
Signal Beam
Skill Swap
Snore
Telekinesis
Trick
Water Pulse
Wonder Room
Zen Headbutt
Damaged normally by
Normal 1×
Flying 1×
Poison 1×
Ground 1×
Rock 1×
Dragon 1×
Fairy 1×
Weak to
Bug 2×
Ghost 2×
Grass 2×
Electric 2×
Dark 2×
Immune to
Resistant to
Fighting ½×
Steel ½×
Fire ½×
Water ½×
Psychic ½×
Ice ½×
Pokémon Go
Pokédex: Slowbro's tail has a Shellder firmly attached with a bite. As a result, the tail can't be used for fishing anymore. This causes Slowbro to grudgingly swim and catch prey instead.
Egg Distance: N/A
Buddy Distance: 3 KM
Base Stats
216 Stamina
177 Attack
180 Defense
Moves
Fast Attacks: Water Gun, Confusion
Charged Attacks: Water Pulse, Psychic, Ice Beam
Shiny: Not Available Yet
More information
Master your iPhone in minutes
iMore offers spot-on advice and guidance from our team of experts, with decades of Apple device experience to lean on. Learn more with iMore!
Casian Holly has been writing about gaming at iMore since 2019, but their real passion is Pokémon. From the games to the anime, cards and toys, they eat, sleep, and breathe all things Pokémon. You can check out their many Pokémon Go and Pokémon Sword and Shield guides and coverage here on iMore.