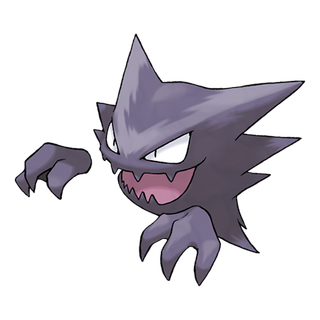 (Image credit: The Pokémon Company)
Name: Haunter (Japanese: ゴースト Ghost)
Classification: Gas Pokémon
Type: Ghost/Poison
Generation: Gen I Kanto Region
Gender Ratio: 50% Male to 50% Female
Height: 5' 3"
Weight: 0.2 lbs
Evolution:
Evolves from Gastly at level 25.
Evolves from Gastly with 25 Candies in Pokémon Go.
Evolves into Gengar when Traded.
Evolves into Gengar with 100 Candies oin Pokémon Go.
Evolves into Gengar for free when Traded in Pokémon Go.
Alternate Formes: None
How to catch in Sword/Shield:
Route 8
Giant's Seat
Rolling Fields
Watchtower Ruins
Giant's Cap
Giant's Mirror
Hammerlocke Hills
Motostoke Riverbank,
outh Lake Miloch
Stony Wilderness
Max Raid Battles
How to catch in Go:
Rare spawns, especially during Foggy weather
Evolve from Gastly
Halloween Event
Description: Comprised entirely of toxic gas, Haunter appears to be nothing more than a purple, spiky head with a pair of disembodied, clawed hands. It has large eyes with no irises, and a wide, grinning mouth. Haunter are both pranksters and incredibly dangerous. Known to stalk their victims and beckon them to come closer, one lick from a Haunter can cause severe convulsions and even death. However, these Ghosts are also know for their unwavering loyalty, remaining true to their Trainer even in death. They can be found in caves and other dark places, but are afraid of the light. In Pokémon Go, Haunter occasionally spawn during foggy weather, but their numbers increase during the weeks surrounding Halloween.
Core Games
Haunter in the core games
Sword Pokédex: Its tongue is made of gas. If licked, its victim starts shaking constantly until death eventually comes.
Shield Pokédex: If you get the feeling of being watched in darkness when nobody is around, Haunter is there.
Base Stats
45 HP
50 Attack
45 Defense
115 Sp. Attack
55 Sp. Defense
95 Speed
405 Total
Moves by Level
Shadow Punch (Evo)
Lick (lv 1)
Confuse Ray (lv 1)
Hypnosis (lv 1)
Mean Look (lv 1)
Payback (lv 12)
Spite (lv 16)
Curse (lv 20)
Hex Ghost (lv 24)
Night Shade (lv 30)
Sucker Punch (lv 36)
Dark Pulse (lv 42)
Shadow Ball (lv 48)
Destiny Bond (lv 54)
Dream Eater (lv 60)
Moves by TM/TR
TM03 Fire Punch
TM04 Ice Punch
TM05 Thunder Punch
TM20 Self-Destruct
TM21 Rest
TM23 Thief
TM24 Snore
TM25 Protect
TM26 Scary Face
TM27 Icy Wind
TM28 Giga Drain
TM31 Attract
TM33 Rain Dance
TM34 Sunny Day
TM38 Will-O-Wisp
TM39 Facade
TM57 Payback
TM59 Fling
TM65 Shadow Claw
TM70 Trick Room
TM71 Wonder Room
TM74 Venoshock
TM76 Round
TM77 Hex
TR08 Thunderbolt
TR11 Psychic
TR20 Substitute
TR22 Sludge Bomb
TR26 Endure
TR27 Sleep Talk
TR30 Encore
TR33 Shadow Ball
TR35 Uproar
TR37 Taunt
TR38 Trick
TR40 Skill Swap
TR57 Poison Jab
TR58 Dark Pulse
TR65 Energy Ball
TR78 Sludge Wave
TR81 Foul Play
TR83 Ally Switch
TR92 Dazzling Gleam
Moves by Breeding
Astonish
Clear Smog
Disable
Grudge
Haze
Perish Song
Reflect Type
Smog
Toxic
Damaged normally by
Flying 1×
Rock 1×
Steel 1×
Fire 1×
Water 1×
Electric 1×
Ice 1×
Dragon 1×
Weak to
Ghost 2×
Psychic 2×
Dark 2×
Immune to
Resistant to
Poison ¼×
Bug ¼×
Grass ½×
Fairy ½×
Pokémon Go
Pokédex: Haunter is a dangerous Pokémon. If one beckons you while floating in darkness, you must never approach it. This Pokémon will try to lick you with its tongue and steal your life away.
Egg Distance: N/A
Buddy Distance: 3 KM
Base Stats
90 Stamina
223 Attack
112 Defense
Moves
Fast Attacks: Shadow Claw, Lick*, Astonish
Charged Attacks: Shadow Ball*, Shadow Punch, Dark Pulse, Sludge Bomb
Shiny: Yes
More information
Get the best of iMore in in your inbox, every day!
Casian Holly has been writing about gaming at iMore since 2019, but their real passion is Pokémon. From the games to the anime, cards and toys, they eat, sleep, and breathe all things Pokémon. You can check out their many Pokémon Go and Pokémon Sword and Shield guides and coverage here on iMore.
Thank you for signing up to iMore. You will receive a verification email shortly.
There was a problem. Please refresh the page and try again.