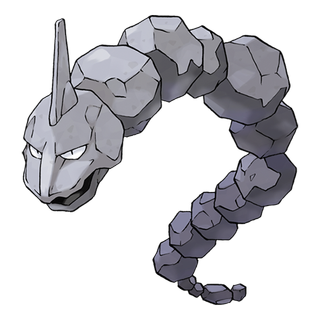 (Image credit: The Pokémon Company)
Name: Onix (Japanese: イワーク Iwark)
Classification: Rock Snake Pokémon
Type: Rock/Ground
Generation: Gen I Kanto Region
Gender Ratio: 50% Male to 50% Female
Height: 28' 10"
Weight: 463 lbs
Evolution:
Evolves into Steelix when Traded while holding a Metal Coat
Evolves into Steelix with a Metal Coat and 50 Candies in Pokémon Go.
Alternate Formes: None
How to catch in Sword/Shield:
East Lake Axewell
Giant's Seat
Motostoke Riverbank
Rolling Fields
How to catch in Go:
Description: A massive snake made of living Rocks, Onix is the tallest Rock type Pokémon and in the top ten for tallest Pokémon over all (not counting Gigantimax Pokémon.) It's large, black eyes are the only external part that isn't comprised of Rocks. On top of its head, it has a sharp spike that is gradually worn down over the course of its life until it is eventually as hard as diamonds. Internally, Onix's brain is made of a magnet that helps the Pokémon navigate even when it cannot see. This is especially useful as Onix tend to live underground where they can burrow up to 50 miles per hour.
Onix burrowing beneath the ground causes tremors that can be heard and felt from very far off. They are capable of absorbing rocks and other object in their way, growing harder and harder the more they burrow. Onix also eat rocks as they travel beneath the ground. The tunnels they leave behind serve as homes for Diglett and other Pokémon. When not tunnelling, Onix can be found in caves and mountains.
Core Games
Sword Pokédex: As it digs through the ground, it absorbs many hard objects. This is what makes its body so solid.
Shield Pokédex: It rapidly bores through the ground at 50 mph by squirming and twisting its massive, rugged body.
Base Stats
35 HP
45 Attack
160 Defense
30 Sp. Attack
45 Sp. Defense
70 Speed
385 Total
Moves by Level
Tackle (lv 1)
Harden (lv 1)
Bind (lv 1)
Rock Throw (lv 1)
Smack Down (lv 4)
Rock Polish (lv 8)
Dragon Breath (lv 12)
Curse (lv 16)
Rock Slide (lv 20)
Screech (lv 24)
Sand Tomb (lv 28)
Stealth Rock (lv 32)
Slam (lv 36)
Sandstorm (lv 40)
Dig (lv 44)
Iron Tail (lv 48)
Stone Edge (lv 52)
Double-Edge (lv 56)
Moves by TM/TR
TM15 Dig
TM16 Screech
TM20 Self-Destruct
TM21 Rest
TM22 Rock Slide
TM24 Snore
TM25 Protect
TM26 Scary Face
TM31 Attract
TM32 Sandstorm
TM34 Sunny Day
TM39 Facade
TM48 Rock Tomb
TM49 Sand Tomb
TM54 Rock Blast
TM57 Payback
TM76 Round
TM81 Bulldoze
TM97 Brutal Swing
TM98 Stomping Tantrum
TM99 Breaking Swipe
TR01 Body Slam
TR10 Earthquake
TR20 Substitute
TR26 Endure
TR27 Sleep Talk
TR31 Iron Tail
TR37 Taunt
TR51 Dragon Dance
TR52 Gyro Ball
TR62 Dragon Pulse
TR67 Earth Power
TR70 Flash Cannon
TR74 Iron Head
TR75 Stone Edge
TR76 Stealth Rock
TR79 Heavy Slam
TR87 Drill Run
TR94 High Horsepower
TR99 Body Press
Moves by Breeding
Block
Defense Curl
Dragon Tail
Flail
Head Smash
Rollout
Wide Guard
Damaged normally by
Bug 1×
Ghost 1×
Psychic 1×
Dragon 1×
Dark 1×
Fairy 1×
Weak to
Fighting 2×
Ground 2×
Steel 2×
Water 4×
Grass 4×
Ice 2×
Immune to
Resistant to
Normal ½×
Flying ½×
Poison ¼×
Rock ½×
Fire ½×
Pokémon Go
Pokédex: Onix has a magnet in its brain. It acts as a compass so that this Pokémon does not lose direction while it is tunneling. As it grows older, its body becomes increasingly rounder and smoother.
Egg Distance: 5 KM
Buddy Distance: 5 KM
Base Stats
111 Stamina
85 Attack
232 Defense
Moves
Fast Attacks: Rock Throw, Tackle
Charged Attacks: Sand Tomb, Stone Edge, Heavy Slam, Rock Slide*, Iron Head*
Shiny: Yes
More information
Master your iPhone in minutes
iMore offers spot-on advice and guidance from our team of experts, with decades of Apple device experience to lean on. Learn more with iMore!
Casian Holly has been writing about gaming at iMore since 2019, but their real passion is Pokémon. From the games to the anime, cards and toys, they eat, sleep, and breathe all things Pokémon. You can check out their many Pokémon Go and Pokémon Sword and Shield guides and coverage here on iMore.