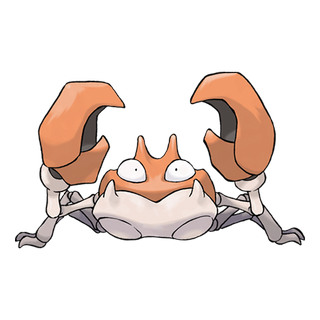 (Image credit: The Pokémon Company)
Name: Krabby (Japanese: クラブ Crab)
Classification: River Crab Pokémon
Type: Water
Generation: Gen I Kanto Region
Gender Ratio: 50% Male to 50% Female
Height: 1' 4"
Weight: 14.3 lbs
Evolution:
Evolves into Kingler at level 28.
Evolves into Kingler with 50 Candies in Pokémon Go.
Alternate Formes: None
How to catch in Sword/Shield:
West Lake Axewell
South Lake Miloch
Giant's Cap
How to catch in Go:
Spawns, especially near water
Raids
Eggs
Description: A small crab-like Pokémon, Krabby is red on top and light tan on the bottom. It has two spikes atop its head, four, long, spindly legs, and a pair of large claws at the ends of its arms. It sometimes loses a claw in battle, but Krabby is capable of regenerating from those injuries. Krabby can be found near both fresh water and salt water, but prefer to live in the sand nearby, as opposed to in the water itself. Krabby produce large amounts of foam which they use to hide their small size from opponents.
Core Games
Sword Pokédex: It can be found near the sea. The large pincers grow back if they are torn out of their sockets.
Shield Pokédex: If it senses danger approaching, it cloaks itself with bubbles from its mouth so it will look bigger.
Base Stats
30 HP
105 Attack
90 Defense
25 Sp. Attack
25 Sp. Defense
50 Speed
325 Total
Moves by Level
Water Gun (lv 1)
Leer (lv 1)
Harden (lv 4)
Metal Claw (lv 8)
Mud Shot (lv 12)
Protect (lv 16)
Bubble Beam (lv 20)
Stomp (lv 24)
Flail (lv 29)
Razor Shell (lv 32)
Slam (lv 36)
Swords Dance (lv 40)
Crabhammer (lv 44)
Guillotine (lv 48)
Moves by TM/TR
TM15 Dig
TM21 Rest
TM22 Rock Slide
TM23 Thief
TM24 Snore
TM25 Protect
TM27 Icy Wind
TM31 Attract
TM33 Rain Dance
TM35 Hail
TM36 Whirlpool
TM39 Facade
TM43 Brick Break
TM45 Dive
TM48 Rock Tomb
TM53 Mud Shot
TM55 Brine
TM59 Fling
TM76 Round
TM83 Razor Shell
TM94 False Swipe
TR00 Swords Dance
TR01 Body Slam
TR04 Surf
TR05 Ice Beam
TR06 Blizzard
TR12 Agility
TR17 Amnesia
TR20 Substitute
TR26 Endure
TR27 Sleep Talk
TR39 Superpower
TR46 Iron Defense
TR60 X-Scissor
TR83 Ally Switch
TR84 Scald
TR98 Liquidation
Moves by Breeding
Ancient Power
Hammer Arm
Knock Off
Night Slash
Slash
Damaged normally by
Normal 1×
Fighting 1×
Flying 1×
Poison 1×
Ground 1×
Rock 1×
Bug 1×
Ghost 1×
Psychic 1×
Dragon 1×
Dark 1×
Fairy 1×
Weak to
Immune to
Resistant to
Steel ½×
Fire ½×
Water ½×
Ice ½×
Pokémon Go
Pokédex: Krabby live on beaches, burrowed inside holes dug into the sand. On sandy beaches with little in the way of food, these Pokémon can be seen squabbling with each other over territory.
Egg Distance: 2 KM
Buddy Distance: 3 KM
Base Stats
102 Stamina
181 Attack
124 Defense
Moves
Fast Attacks: Bubble, Mud Shot
Charged Attacks: Vise Grip, Bubble Beam, Water Pulse
Shiny: Yes
More information
Casian Holly has been writing about gaming at iMore since 2019, but their real passion is Pokémon. From the games to the anime, cards and toys, they eat, sleep, and breathe all things Pokémon. You can check out their many Pokémon Go and Pokémon Sword and Shield guides and coverage here on iMore.
Get the best of iMore in in your inbox, every day!
Thank you for signing up to iMore. You will receive a verification email shortly.
There was a problem. Please refresh the page and try again.