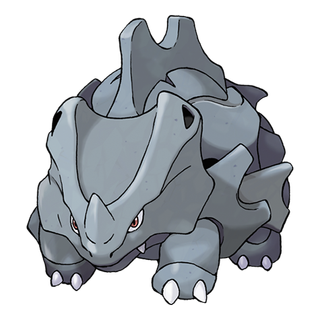 (Image credit: The Pokémon Company)
Name: Rhyhorn (Japanese: サイホーン Sihorn)
Classification: Spikes Pokémon
Type: Ground/Rock
Generation: Gen I Kanto Region
Gender Ratio: 50% Male to 50% Female
Height: 3' 3"
Weight: 253.5 lbs
Evolution:
Evolves into Rhydon at level 42.
Evolves into Rhydon with 25 Candies in Pokémon Go
Alternate Formes:
How to catch in Sword/Shield:
Route 8
Bridge Field
Giant's Cap
Giant's Mirror
Motostoke Riverbank
Stony Wilderness
Rolling Fields
Stony Wilderness
Max Raid Battles
How to catch in Go:
Description: A rhinoceros-like Pokémon covered in rocky plates, Rhyhorn is short and stocky. While both have horns, male Rhyhorns have larger horns than females. Between its rocky hide and bones that are a thousand times denser than human bones, Rhyhorn is capable of barrelling through just about anything. It has a tiny brain and a very one track mind. Once a Rhyhorn starts running, it will quickly forget why it started, and continue its stampede until it hits something it cannot break through or it falls asleep. Its short and stocky legs make turning very difficult, so Rhyhorn generally run in straight lines. Often it will not feel the pain of its collisions until the next day.
Core Games
Rhyhorn in the core games
Sword Pokédex: Strong, but not too bright, this Pokémon can shatter even a skyscraper with its charging tackles.
Shield Pokédex: It can remember only one thing at a time. Once it starts rushing, it forgets why it started.
Base Stats
80 HP
85 Attack
95 Defense
30 Sp. Attack
30 Sp. Defense
25 Speed
345 Total
Moves by Level
Tackle (lv 1)
Tail Whip (lv 1)
Smack Down (lv 5)
Bulldoze (lv 10)
Horn Attack (lv 15)
Scary Face (lv 20)
Stomp (lv 25)
Rock Blast (lv 30)
Drill Run (lv 35)
Take Down (lv 40)
Earthquake (lv 45)
Stone Edge (lv 50)
Megahorn (lv 55)
Horn Drill (lv 60)
Moves by TM/TR
TM15 Dig
TM21 Rest
TM22 Rock Slide
TM23 Thief
TM24 Snore
TM25 Protect
TM26 Scary Face
TM27 Icy Wind
TM31 Attract
TM32 Sandstorm
TM33 Rain Dance
TM34 Sunny Day
TM39 Facade
TM48 Rock Tomb
TM53 Mud Shot
TM54 Rock Blast
TM57 Payback
TM66 Thunder Fang
TM67 Ice Fang
TM68 Fire Fang
TM76 Round
TM81 Bulldoze
TM96 Smart Strike
TM98 Stomping Tantrum
TR00 Swords Dance
TR01 Body Slam
TR02 Flamethrower
TR05 Ice Beam
TR06 Blizzard
TR08 Thunderbolt
TR09 Thunder
TR10 Earthquake
TR15 Fire Blast
TR20 Substitute
TR21 Reversal
TR26 Endure
TR27 Sleep Talk
TR28 Megahorn
TR31 Iron Tail
TR32 Crunch
TR35 Uproar
TR39 Superpower
TR57 Poison Jab
TR62 Dragon Pulse
TR67 Earth Power
TR75 Stone Edge
TR76 Stealth Rock
TR87 Drill Run
TR94 High Horsepower
Moves by Breeding
Counter
Curse
Dragon Rush
Guard Split
Metal Burst
Rock Polish
Skull Bash
Damaged normally by
Bug 1×
Ghost 1×
Psychic 1×
Dragon 1×
Dark 1×
Fairy 1×
Weak to
Fighting 2×
Ground 2×
Steel 2×
Water 4×
Grass 4×
Ice 2×
Immune to
Resistant to
Normal ½×
Flying ½×
Poison ¼×
Rock ½×
Fire ½×
Pokémon Go
Pokédex: Rhyhorn's brain is very small. It is so dense, while on a run it forgets why it started running in the first place. It apparently remembers sometimes if it demolishes something.
Egg Distance: 5 KM
Buddy Distance: 3 KM
Base Stats
160 Stamina
140 Attack
157 Defense
Moves
Fast Attacks: Mud-Slap, Rock Smash
Charged Attacks: Bulldoze, Horn Attack, Stomp
Shiny: Not Available Yet
More information
Get the best of iMore in in your inbox, every day!
Casian Holly has been writing about gaming at iMore since 2019, but their real passion is Pokémon. From the games to the anime, cards and toys, they eat, sleep, and breathe all things Pokémon. You can check out their many Pokémon Go and Pokémon Sword and Shield guides and coverage here on iMore.
Thank you for signing up to iMore. You will receive a verification email shortly.
There was a problem. Please refresh the page and try again.