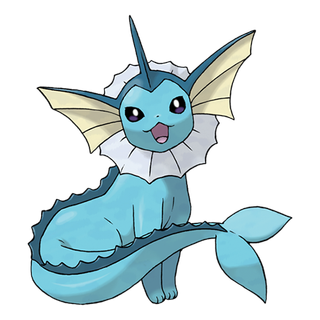 (Image credit: The Pokémon Company)
Name: Vaporeon (Japanese: シャワーズ Showers)
Classification: Bubble Jet Pokémon
Type: Water
Generation: Gen I Kanto Region
Gender Ratio: 87.5% Male to 12.5% Female
Height: 3' 3"
Weight: 63.9 lbs
Evolution:
Evolves from Eevee with Water Stone.
Evolves from Eevee with 25 Candies in Pokémon Go.
Evolves from Eevee with 25 Candies and the nickname Rainer in Pokémon Go.
Alternate Formes:
Costumed, one variant (Pokémon Go)
How to catch in Sword/Shield:
Lake of Outrage (Overworld)
Giant's Mirror (Max Raid Battles)
Evolve from Eevee
How to catch in Go:
Evolve from Eevee
Raids
Rare spawn, more often near water
Description: After exposure to a Water Stone, Vaporeon is one of the many evolutions (or Eeveelutions if you will) of Eevee. Colored in light and dark blues, white and cream, Vaporeon has sprouted a long tail that has often been mistook for a mermaid, dark blue spine ridges, and fins surrounding its face and ears, as well as fully functional gills. Vaporeon can live perfectly happy lives on land or in fresh water lakes, though they are rarely found in the wild.
Vaporeon can detect increasing moisture in the air and will vibrate their fins to signal oncoming rain. It is also capable of altering its cellular structure to match water, allowing it to simply melt into water and blend in perfectly. The widespread availability of Eevees in Pokémon Go along with its speed and impressive attacks made Vaporeon one of the best Pokémon to have when the game first released. While there are better options now, it still remains one of the easier to acquire and an excellent choice for a pure Water type attacker.
Core Games
Vaporeon in the core games
Sword Pokédex: When Vaporeon's fins begin to vibrate, it is a sign that rain will come within a few hours.
Shield Pokédex: Its body's cellular structure is similar to the molecular composition of water. It can melt invisibly in water.
Base Stats
130 HP
65 Attack
60 Defense
110 Sp. Attack
95 Sp. Defense
65 Speed
525 Total
Moves by Level
Water Gun (lv 1)
Covet (lv 1)
Swift (lv 1)
Bite (lv 1)
Copycat (lv 1)
Baton Pass (lv 1)
Take Down (lv 1)
Charm (lv 1)
Double-Edge (lv 1)
Helping Hand (lv 1)
Tackle (lv 1)
Growl (lv 1)
Tail Whip (lv 1)
Water Gun (evo)
Sand Attack (lv 5)
Quick Attack (lv 10)
Baby-Doll Eyes (lv 15)
Haze (lv 20)
Water Pulse (lv 25)
Aurora Beam (lv 30)
Aqua Ring (lv 35)
Muddy Water (lv 40)
Acid Armor (lv 45)
Hydro Pump (lv 50)
Last Resort (lv 55)
Moves by TM/TR
TM02 Pay Day
TM08 Hyper Beam
TM09 Giga Impact
TM15 Dig Ground
TM21 Rest
TM24 Snore
TM25 Protect
TM27 Icy Wind
TM29 Charm
TM31 Attract
TM33 Rain Dance
TM34 Sunny Day
TM35 Hail
TM36 Whirlpool
TM39 Facade
TM40 Swift
TM41 Helping Hand
TM45 Dive
TM46 Weather Ball
TM47 Fake Tears
TM55 Brine
TM76 Round
TM79 Retaliate
TR01 Body Slam
TR03 Hydro Pump
TR04 Surf Water
TR05 Ice Beam
TR06 Blizzard
TR13 Focus Energy
TR16 Waterfall
TR20 Substitute
TR26 Endure
TR27 Sleep Talk
TR29 Baton Pass
TR31 Iron Tail
TR33 Shadow Ball
TR42 Hyper Voice
TR45 Muddy Water
TR82 Stored Power
TR84 Scald
TR85 Work Up
TR98 Liquidation
Moves by Breeding
Curse
Detect
Double Kick
Flail
Mud-Slap
Tickle
Wish
Yawn
Damaged normally by
Normal 1×
Fighting 1×
Flying 1×
Poison 1×
Ground 1×
Rock 1×
Bug 1×
Ghost 1×
Psychic 1×
Dragon 1×
Dark 1×
Fairy 1×
Weak to
Immune to
Resistant to
Steel ½×
Fire ½×
Water ½×
Ice ½×
Pokémon Go
Pokédex: Vaporeon underwent a spontaneous mutation and grew fins and gills that allow it to live underwater. This Pokémon has the ability to freely control water.
Egg Distance: N/A
Buddy Distance: 5 KM
Base Stats
277 Stamina
205 Attack
161 Defense
Moves
Fast Attacks: Water Gun
Charged Attacks: Water Pulse, Hydro Pump, Aqua Tail, Last Resort*
Shiny: Yes
More information
Get the best of iMore in in your inbox, every day!
Casian Holly has been writing about gaming at iMore since 2019, but their real passion is Pokémon. From the games to the anime, cards and toys, they eat, sleep, and breathe all things Pokémon. You can check out their many Pokémon Go and Pokémon Sword and Shield guides and coverage here on iMore.
Thank you for signing up to iMore. You will receive a verification email shortly.
There was a problem. Please refresh the page and try again.