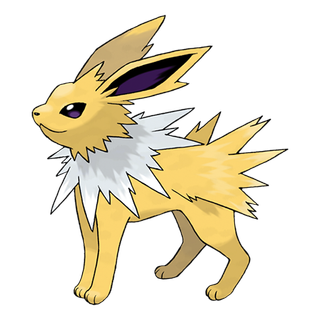 (Image credit: The Pokémon Company)
Name: Jolteon (Japanese: サンダース Thunders)
Classification: Lightning Pokémon
Type: Electric
Generation: Gen I Kanto Region
Gender Ratio: 87.5% Male to 12.5% Female
Height: 2' 7"
Weight: 54 lbs
Evolution:
Evolves from Eevee with Thunder Stone.
Evolves from Eevee with 25 Candies in Pokémon Go.
Evolves from Eevee with 25 Candies and the nickname Sparky in Pokémon Go.
Alternate Formes:
Costumed, one variant (Pokémon Go)
How to catch in Sword/Shield:
Lake of Outrage (Overworld)
Giant's Mirror (Max Raid Battles)
Evolve from Eevee
How to catch in Go:
Description: After exposure to a Thunder Stone, Jolteon is one of the many evolutions (or Eeveelutions if you will) of Eevee. Covered in spiky, yellow fur with a collar of similarly spiky white fur, Jolteon shares Eevee's large, pointed ears and basic shape. Its fur is comprised of millions of electrically charged needles which it can fire at enemies. Every step Jolteon takes generates more electricity allowing it to discharge up to 10,000 volt lightning bolts!
Rare in the wild, Jolteon are most often found in cities and towns with their trainers. However, they can be particularly moody and difficult to train. In Pokémon Go, the prevelance of Eevee made Jolteon a prime choice for Electric type attackers from day one. While more powerful Electric types have come along, it remains one of the easiest to acquire and so still a great choice for many trainers.
Core Games
Jolteon in the core games
Sword Pokédex: If it is angered or startled, the fur all over its body bristles like sharp needles that pierce foes.
Shield Pokédex: It accumulates negative ions in the atmosphere to blast out 10,000-volt lightning bolts.
Base Stats
65 HP
65 Attack
60 Defense
110 Sp. Attack
95 Sp. Defense
130 Speed
525 Total
Moves by Level
Thunder Shock (lv 1)
Covet (lv 1)
Swift (lv 1)
Bite (lv 1)
Copycat (lv 1)
Baton Pass (lv 1)
Take Down (lv 1)
Charm (lv 1)
Double-Edge (lv 1)
Helping Hand (lv 1)
Tackle (lv 1)
Growl (lv 1)
Tail Whip (lv 1)
Thunder Shock (Evo)
Sand Attack (lv 5)
Quick Attack (lv 10)
Baby-Doll Eyes (lv 15)
Thunder Wave (lv 20)
Double Kick (lv 25)
Thunder Fang (lv 30)
Pin Missile (lv 35)
Discharge (lv 40)
Agility (lv 45)
Thunder (lv 50)
Last Resort (lv 55)
Moves by TM/TR
TM02 Pay Day
TM07 Pin Missile
TM08 Hyper Beam
TM09 Giga Impact
TM14 Thunder Wave
TM15 Dig Ground
TM17 Light Screen
TM21 Rest
TM24 Snore
TM25 Protect
TM29 Charm
TM31 Attract
TM33 Rain Dance
TM34 Sunny Day
TM39 Facade
TM40 Swift
TM41 Helping Hand
TM46 Weather Ball
TM47 Fake Tears
TM66 Thunder Fang
TM76 Round
TM79 Retaliate
TM80 Volt Switch
TR01 Body Slam
TR08 Thunderbolt
TR09 Thunder
TR12 Agility
TR13 Focus Energy
TR20 Substitute
TR26 Endure
TR27 Sleep Talk
TR29 Baton Pass
TR31 Iron Tail
TR33 Shadow Ball
TR42 Hyper Voice
TR80 Electro Ball
TR82 Stored Power
TR85 Work Up
TR86 Wild Charge
Moves by Breeding
Curse
Detect
Double Kick
Flail
Mud-Slap
Tickle
Wish
Yawn
Damaged normally by
Normal 1×
Fighting 1×
Poison 1×
Rock 1×
Bug 1×
Ghost 1×
Fire 1×
Water 1×
Grass 1×
Psychic 1×
Ice 1×
Dragon 1×
Dark 1×
Fairy 1×
Weak to
Immune to
Resistant to
Flying ½×
Steel ½×
Electric ½×
Pokémon Go
Pokédex: It concentrates the weak electric charges emitted by its cells and launches wicked lightning bolts.
Egg Distance: N/A
Buddy Distance: 5 KM
Base Stats
163 Stamina
232 Attack
182 Defense
Moves
Fast Attacks: Thunder Shock, Volt Switch
Charged Attacks: Discharge, Thunderbolt, Thunder, Last Resort*
Shiny: Yes
More information
Master your iPhone in minutes
iMore offers spot-on advice and guidance from our team of experts, with decades of Apple device experience to lean on. Learn more with iMore!
Casian Holly has been writing about gaming at iMore since 2019, but their real passion is Pokémon. From the games to the anime, cards and toys, they eat, sleep, and breathe all things Pokémon. You can check out their many Pokémon Go and Pokémon Sword and Shield guides and coverage here on iMore.