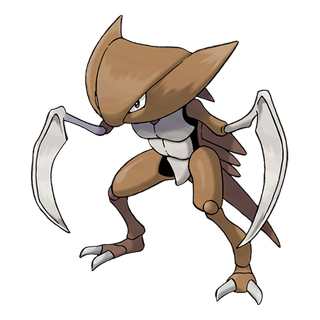 (Image credit: The Pokémon Company)
Name: Kabutops (Japanese: カブトプス Kabutops)
Classification: Shellfish Pokémon
Type: Rock/Water
Generation: Gen I Kanto Region
Gender Ratio: 87.5% Male to 12.5% Female
Height: 4' 3"
Weight: 89.3 lbs
Evolution:
Evolves from Kabuto at level 40.
Evolves from Kabuto with 50 Candies in Pokémon Go.
Alternate Formes: None
How to catch in Sword/Shield: Not Available Yet
How to catch in Go:
Description: A prehistoric Pokémon brought into the moderna era through science, Kabutops is the evolved form of Kabuto. Its skeletal body is mostly brown save for its white torso and metallic scythes. It walks on two legs and its arms end in scythes which it uses to slice open its prey. Its legs and gills suggest that Kabutops was in the process of evolving from a sea dwelling creature, into a land dwelling one. Despite this, Kabutops could swim over 30 MPH.
Core Games
Kabutops in the core games
Sword Pokédex: Not Available Yet
Shield Pokédex: Not Available Yet
Let's Go, Pikachu! & Let's Go, Eevee! Pokédex: A slim and fast swimmer. It sliced its prey with its sharp sickles and drank the body fluids.
Base Stats
60 HP
115 Attack
105 Defense
65 Sp. Attack
70 Sp. Defense
80 Speed
495 Total
Moves by Level
Night Slash (lv 1)
Feint (lv 1)
Scratch (lv 1)
Harden (lv 1)
Absorb (lv 1)
Leer (lv 1)
Slash (Evo)
Absorb (lv 6)
Leer (lv 11)
Mud Shot (lv 16)
Sand Attack (lv 21)
Endure (lv 26)
Aqua Jet (lv 31)
Mega Drain (lv 36)
Metal Sound (lv 45)
Ancient Power (lv 54)
Wring Out (lv 63)
Night Slash (lv 72)
Moves by TM/TR
TM06 Toxic Poison
TM07 Hail
TM10 Hidden Power
TM13 Ice Beam
TM14 Blizzard
TM15 Hyper Beam
TM17 Protect
TM18 Rain Dance
TM21 Frustration
TM23 Smack Down
TM27 Return
TM31 Brick Break
TM32 Double Team
TM37 Sandstorm
TM39 Rock Tomb
TM40 Aerial Ace
TM42 Facade
TM44 Rest
TM45 Attract
TM46 Thief
TM48 Round
TM55 Scald
TM68 Giga Impact
TM69 Rock Polish
TM71 Stone Edge
TM75 Swords Dance
TM80 Rock Slide
TM81 X-Scissor
TM87 Swagger
TM88 Sleep Talk
TM90 Substitute
TM94 Surf
TM96 Nature Power
TM98 Waterfall
TM100 Confide
Moves by Breeding
Aurora Beam
Bubble Beam
Confuse Ray
Flail
Foresight
Giga Drain
Icy Wind
Knock Off
Mud Shot
Rapid Spin
Screech
Take Down
Moves by Tutoring
Aqua Tail
Earth Power
Giga Drain
Icy Wind
Iron Defense
Knock Off
Liquidation
Low Kick
Snore
Stealth Rock
Superpower
Water Pulse
Damaged normally by
Rock 1×
Bug 1×
Ghost 1×
Steel 1×
Water 1×
Psychic 1×
Dragon 1×
Dark 1×
Fairy 1×
Weak to
Fighting 2×
Ground 2×
Grass 4×
Electric 2×
Immune to
Resistant to
Normal ½×
Flying ½×
Poison ½×
Fire ¼×
Ice ½×
Pokémon Go
Pokédex: Kabutops swam underwater to hunt for its prey in ancient times. The Pokémon was apparently evolving from being a water dweller to living on land as evident from the beginnings of change in its gills and legs.
Egg Distance: N/A
Buddy Distance: 5 KM
Base Stats
155 Stamina
220 Attack
186 Defense
Moves
Fast Attacks: Mud Shot, Rock Smash, Waterfall, Fury Cutter*
Charged Attacks: Ancient Power, Water Pulse, Stone Edge
Shiny: Yes
More information
Casian Holly has been writing about gaming at iMore since 2019, but their real passion is Pokémon. From the games to the anime, cards and toys, they eat, sleep, and breathe all things Pokémon. You can check out their many Pokémon Go and Pokémon Sword and Shield guides and coverage here on iMore.
Get the best of iMore in in your inbox, every day!
Thank you for signing up to iMore. You will receive a verification email shortly.
There was a problem. Please refresh the page and try again.