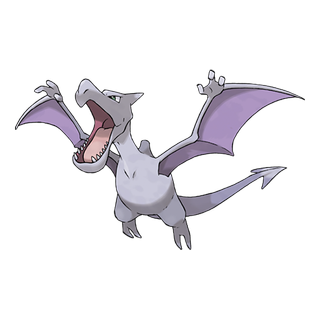 (Image credit: The Pokémon Company)
Name: Aerodactyl (Japanese: プテラ Ptera)
Classification: Fossil Pokémon
Type: Rock/Flying
Generation: Gen I Kanto Region
Gender Ratio: 87.5% Male to 12.5% Female
Height:
5' 11" (Aerodactyl)
6' 11" (Mega Aerodactyl)
Weight:
130.1 lbs (Aerodactyl)
174.2 lbs (Mega Aerodactyl)
Evolution:
Mega Evolves into Mega Aerodactyl with Aerodactylite.
Alternate Formes:
How to catch in Sword/Shield: Not Available Yet
How to catch in Go:
Description: Resurrected using DNA found in Old Amber, Aerodactyl resembles a pterandon. It has smooth, greyish, purple skin and massive, purple mebranous wings. Although it is capable of walking, Aerodactyl is a much stronger flyer and prefers that form of movement over walking. Its numerous, sharp teeth indicate that it was an obligate carnivore; however, those resurrected through science have shown a fondness for fruits and vegetation as well.
Capable of Mega Evolution, Pokémon experts believe that Mega Aerodactyl looks closer to what Aerodactyl from prehistoric times looked like. It is significantly larger and covered with incredibly sharp rocks. Its hands have been replaced with five, sharp rocks. Rocky plates cover its chest and face. Mega Aerodactyl are even more vicious than standard Aerodactyl and are easily angered.
Core Games
Aerodactyl in the core games
Sword Pokédex: Not Available Yet
Shield Pokédex: Not Available Yet
Let's Go, Pikachu! & Let's Go, Eevee! Pokédex: A savage Pokémon that died out in ancient times. It was resurrected using DNA taken from amber.
Base Stats
80 HP
105 Attack
65 Defense
60 Sp. Attack
75 Sp. Defense
130 Speed
515 Total
Mega Aerodactyl
Sword Pokédex: Not Available Yet
Shield Pokédex: Not Available Yet
Let's Go, Pikachu! & Let's Go, Eevee! Pokédex: The power of Mega Evolution has completely restored its genes. The rocks on its body are harder than diamond.
Base Stats
80 HP
135 Attack
85 Defense
70 Sp. Attack
95 Sp. Defense
150 Speed
615 Total
Moves by Level
Iron Head (lv 1)
Ice Fang (lv 1)
Fire Fang (lv 1)
Thunder Fang (lv 1)
Wing Attack (lv 1)
Supersonic (lv 1)
Bite (lv 1)
Scary Face (lv 1)
Roar (lv 9)
Agility (lv 17)
Ancient Power (lv 25)
Crunch (lv 33)
Take Down (lv 41)
Sky Drop (lv 49)
Iron Head (lv 57)
Hyper Beam (lv 65)
Rock Slide (lv 73)
Giga Impact (lv 81)
Moves by TM/TR
TM02 Dragon Claw
TM05 Roar
TM06 Toxic
TM10 Hidden Power
TM11 Sunny Day
TM12 Taunt
TM15 Hyper Beam
TM17 Protect
TM18 Rain Dance
TM19 Roost
TM21 Frustration
TM23 Smack Down
TM26 Earthquake
TM27 Return
TM32 Double Team
TM35 Flamethrower
TM37 Sandstorm
TM38 Fire Blast
TM39 Rock Tomb
TM40 Aerial Ace
TM41 Torment
TM42 Facade
TM44 Rest
TM45 Attract
TM46 Thief
TM48 Round
TM51 Steel Wing
TM58 Sky Drop
TM59 Brutal Swing
TM66 Payback
TM68 Giga Impact
TM69 Rock Polish
TM71 Stone Edge
TM76 Fly
TM78 Bulldoze
TM80 Rock Slide
TM87 Swagger
TM88 Sleep Talk
TM90 Substitute
TM100 Confide
Moves by Breeding
Assurance
Curse
Dragon Breath
Foresight
Pursuit
Roost
Steel Wing
Tailwind
Whirlwind
Wide Guard
Moves by Tutoring
Aqua Tail
Defog
Dragon Pulse
Earth Power
Heat Wave
Iron Head
Iron Tail
Laser Focus
Sky Attack
Snore
Stealth Rock
Tailwind
Damaged normally by
Fighting 1×
Ghost 1×
Grass 1×
Psychic 1×
Dragon 1×
Dark 1×
Fairy 1×
Weak to
Rock 2×
Steel 2×
Water 2×
Electric 2×
Ice 2×
Immune to
Resistant to
Normal ½×
Flying ½×
Poison ½×
Bug ½×
Fire ½×
Pokémon Go
Pokédex: Aerodactyl is a Pokémon from the age of dinosaurs. It was regenerated from genetic material extracted from amber. It is imagined to have been the king of the skies in ancient times.
Egg Distance: 7 Km
Buddy Distance: 5 KM
Base Stats
190 Stamina
221 Attack
159 Defense
Moves
Fast Attacks:
Charged Attacks: Ancient Power, Iron Head, Hyper Beam, Rock Slide, Earth Power
Shiny: Yes
More information
Casian Holly has been writing about gaming at iMore since 2019, but their real passion is Pokémon. From the games to the anime, cards and toys, they eat, sleep, and breathe all things Pokémon. You can check out their many Pokémon Go and Pokémon Sword and Shield guides and coverage here on iMore.
Thank you for signing up to iMore. You will receive a verification email shortly.
There was a problem. Please refresh the page and try again.