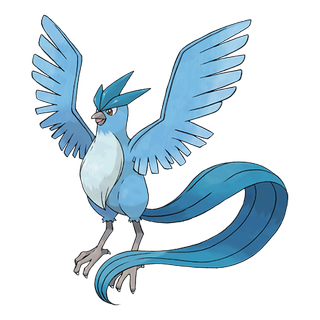 (Image credit: The Pokémon Company)
Name: Articuno (Japanese: フリーザー Freezer)
Classification: Freeze Pokémon
Type: Ice/Flying
Generation: Gen I Kanto Region
Gender Ratio: Genderless
Height: 5' 7"
Weight: 122.1 lbs
Evolution: None
Alternate Formes: None
How to catch in Sword/Shield: Not Available Yet
How to catch in Go:
Research Breakthrough Rewards
Description: A massive bird whose feathers come in three different shades of icy blue, Articuno is the first Legendary Pokémon in the Pokédex. It's bright red eyes and icy demeanor may seem off-putting at first but this legend will appear before lost travelers in frigid areas and guide them back to safety. It prefers to live in isolation in the coldest parts of the world where it can create snow just by flapping its wings. This Legendary Pokémon is also the mascot for Team Mystic in Pokémon Go.
Core Games
Articuno in the core games
Sword Pokédex: Not available
Shield Pokédex: Not available
Let's Go, Pikachu & Let's Go Eevee Pokédex: A legendary bird Pokémon. It freezes water that is contained in winter air and makes it snow.
Base Stats
90 HP
85 Attack
100 Defense
95 Sp. Attack
125 Sp. Defense
85 Speed
580 Total
Moves by Level
Gust (lv 1)
Powder Snow (lv 1)
Mist (lv 8)
Ice Shard (lv 15)
Mind Reader (lv 22)
Ancient Power (lv 29)
Agility (lv 36)
Freeze-Dry (lv 43)
Reflect (lv 50)
Hail (lv 57)
Tailwind (lv 64)
Ice Beam (lv 71)
Blizzard (lv 78)
Roost (lv 85)
Hurricane (lv 92)
Sheer (lv 99)
Moves by TM/TR
TM05 Roar
TM06 Toxic
TM07 Hail
TM10 Hidden Power
TM11 Sunny Day
TM13 Ice Beam
TM14 Blizzard
TM15 Hyper Beam
TM17 Protect
TM18 Rain Dance
TM19 Roost
TM21 Frustration
TM27 Return
TM32 Double Team
TM33 Reflect
TM37 Sandstorm
TM40 Aerial Ace
TM42 Facade
TM44 Rest
TM48 Round
TM51 Steel Wing
TM58 Sky Drop
TM68 Giga Impact
TM70 Aurora Veil
TM76 Fly
TM79 Frost Breath
TM87 Swagger
TM88 Sleep Talk
TM89 U-turn
TM90 Substitute
TM100 Confide
Moves by Tutoring
Defog
Icy Wind
Laser Focus
Signal Beam
Sky Attack
Snore
Tailwind
Water Pulse
Damaged normally by
Normal 1×
Fighting 1×
Flying 1×
Poison 1×
Ghost 1×
Water 1×
Psychic 1×
Ice 1×
Dragon 1×
Dark 1×
Fairy 1×
Weak to
Rock 4×
Steel 2×
Fire 2×
Electric 2×
Immune to
Resistant to
Pokémon Go
Pokédex: Articuno is a Legendary Pokémon that can control ice. The flapping of its wings chills the air. As a result, it is said that when this Pokémon flies, snow will fall.
Egg Distance: N/A
Buddy Distance: 20 KM
Base Stats
207 Stamina
192 Attack
236 Defense
Moves
Fast Attacks: Frost Breath, Ice Shard*
Charged Attacks: Ice Beam, Icy Wind, Blizzard, Ancient Power*, Hurricane*
Shiny: Yes
More information
Master your iPhone in minutes
iMore offers spot-on advice and guidance from our team of experts, with decades of Apple device experience to lean on. Learn more with iMore!
Casian Holly has been writing about gaming at iMore since 2019, but their real passion is Pokémon. From the games to the anime, cards and toys, they eat, sleep, and breathe all things Pokémon. You can check out their many Pokémon Go and Pokémon Sword and Shield guides and coverage here on iMore.