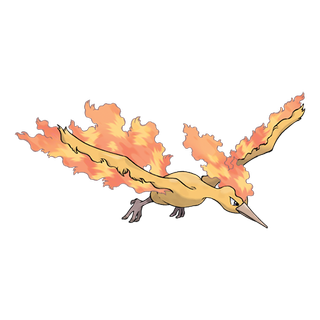 (Image credit: The Pokémon Company)
Name: Moltres (Japanese: ファイヤー Fire)
Classification: Flame Pokémon
Type: Fire/Flying
Generation: Gen I Kanto Region
Gender Ratio: Genderless
Height: 6' 7"
Weight: 132.3 lbs
Evolution: None
Alternate Formes: None
How to catch in Sword/Shield: Not Available Yet
How to catch in Go:
Research Breakthrough Rewards
Description: The largest of the Legendary bird trio, Moltres is on fire. Literally. The crest atop its head, its wings, and its tail are all made up of massive red, orange, and yellow flames. The rest of its body is covered with golden yellow feathers and each flap of its wings sheds embers. Legends tell that Moltres' migration brings springtime and that it can heal itself by bathing in the magma of active volcanos.
Core Games
Moltres in the core games
Sword Pokédex: Not available
Shield Pokédex: Not available
Let's Go, Pikachu! & Let's Go, Eevee! Pokédex: A legendary bird Pokémon. As it flaps its flaming wings, even the night sky will turn red.
Base Stats
90 HP
100 Attack
90 Defense
125 Sp. Attack
85 Sp. Defense
90 Speed
580 Total
Moves by Level
Wing Attack (lv 1)
Ember (lv 1)
Fire Spin (lv 8)
Agility (lv 15)
Endure (lv 22)
Ancient Power (lv 29)
Flamethrower (lv 36)
Safeguard (lv 43)
Air Slash (lv 50)
Sunny Day (lv 57)
Heat Wave (lv 64)
Solar Beam (lv 71)
Sky Attack (lv 78)
Roost (lv 85)
Hurricane (lv 92)
Burn Up (lv 99)
Moves by TM/TR
TM05 Roar
TM06 Toxic
TM10 Hidden Power
TM11 Sunny Day
TM15 Hyper Beam
TM17 Protect
TM18 Rain Dance
TM19 Roost
TM20 Safeguard
TM21 Frustration
TM22 Solar Beam
TM27 Return
TM32 Double Team
TM35 Flamethrower
TM37 Sandstorm
TM38 Fire Blast
TM40 Aerial Ace
TM42 Facade
TM43 Flame Charge
TM44 Rest
TM48 Round
TM50 Overheat
TM51 Steel Wing
TM58 Sky Drop
TM61 Will-O-Wisp
TM68 Giga Impact
TM76 Fly
TM87 Swagger
TM88 Sleep Talk
TM89 U-turn
TM90 Substitute
TM100 Confide
Moves by Tutoring
Defog
Heat Wave
Laser Focus
Sky Attack
Snore
Tailwind
Damaged normally by
Normal 1×
Flying 1×
Poison 1×
Ghost 1×
Psychic 1×
Ice 1×
Dragon 1×
Dark 1×
Weak to
Rock 4×
Water 2×
Electric 2×
Immune to
Resistant to
Fighting ½×
Bug ¼×
Steel ½×
Fire ½×
Grass ¼×
Fairy ½×
Pokémon Go
Pokédex: Moltres is a Legendary Pokémon that has the ability to control fire. If this Pokémon is injured, it is said to dip its body in the molten magma of a volcano to burn and heal itself.
Egg Distance: N/A
Buddy Distance: 20 KM
Base Stats
207 Stamina
251 Attack
181 Defense
Moves
Fast Attacks: Fire Spin, Wing Attack*
Charged Attacks: Fire Blast, Heat Wave, Overheat, Ancient Power*, Sky Attack*
Shiny: Yes
More information
Master your iPhone in minutes
iMore offers spot-on advice and guidance from our team of experts, with decades of Apple device experience to lean on. Learn more with iMore!
Casian Holly has been writing about gaming at iMore since 2019, but their real passion is Pokémon. From the games to the anime, cards and toys, they eat, sleep, and breathe all things Pokémon. You can check out their many Pokémon Go and Pokémon Sword and Shield guides and coverage here on iMore.