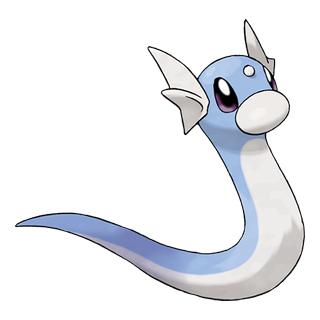 (Image credit: The Pokémon Company)
Name: Dratini (Japanese: ミニリュウ Miniryu)
Classification: Dragon Pokémon
Type: Dragon
Generation: Gen I Kanto Region
Gender Ratio: 50% Male to 50% Female
Height: 5' 11"
Weight: 7.3 lbs
Evolution:
Evolves into Dragonair at level 30.
Evolves into Dragonair with 25 Candies in Pokémon Go.
Alternate Formes:
How to catch in Sword/Shield: Not Available Yet
How to catch in Go:
Spawns, especially near water
Eggs
Special Research
Description: Shaped like an eel, Dratini is a long, blue and white Dragon Pokémon. It has whit, three-pronged fins on either side of its head and a white bump at the center of its forehead. Its snout and belly are also white and it has very large purple eyes. As its life energy builds, Dratini continue to grow, reaching lengths over six foot before evolving. They are incredibly rare, so much so that they were once considered to be a myth; however, in recent years, an underwater Dratini colony was discovered. While Dratini will surface occasionally, they tend to spend most of their lives at the bottom of whatever body of water they inhabit.
In Pokémon Go, they are far more common, often appearing near water, as well as beign part of their own Special Research line. They're so common that Team GO Rocket has captured and corrupted quite a few of them. The resulting Shadow Dratini can be purified or even evolved to make Shadow Dragonair or Shadow Dragonite.
Core Games
Dratini in the core games
Sword Pokédex: Not Available Yet
Shield Pokédex: Not Available Yet
Let's Go, Pikachu! & Let's Go, Eevee! Pokédex: Long thought to be a myth, this Pokémon's existence was only recently confirmed by a fisherman who caught one.
Base Stats
41 HP
64 Attack
45 Defense
50 Sp. Attack
50 Sp. Defense
50 Speed
300 Total
Moves by Level
Wrap (lv 1)
Leer (lv 1)
Thunder Wave (lv 5)
Twister (lv 11)
Dragon Rage (lv 15)
Slam (lv 21)
Agility (lv 25)
Dragon Tail (lv 31)
Aqua Tail (lv 35)
Dragon Rush (lv 41)
Safeguard (lv 45)
Dragon Dance (lv 51)
Outrage (lv 55)
Hyper Beam (lv 61)
Moves by TM/TR
TM06 Toxic
TM07 Hail
TM10 Hidden Power
TM11 Sunny Day
TM13 Ice Beam
TM14 Blizzard
TM15 Hyper Beam
TM16 Light Screen
TM17 Protect
TM18 Rain Dance
TM20 Safeguard
TM21 Frustration
TM24 Thunderbolt
TM25 Thunder
TM27 Return
TM32 Double Team
TM35 Flamethrower
TM38 Fire Blast
TM42 Facade
TM44 Rest
TM45 Attract
TM48 Round
TM59 Brutal Swing
TM73 Thunder Wave
TM82 Dragon Tail
TM87 Swagger
TM88 Sleep Talk
TM90 Substitute
TM94 Surf
TM98 Waterfall
TM100 Confide
Moves by Breeding
Aqua Jet
Dragon Breath
Dragon Dance
Dragon Pulse
Dragon Rush
Extreme Speed
Haze
Iron Tail
Mist
Supersonic
Water Pulse
Moves by Tutoring
Aqua Tail
Bind
Draco Meteor
Dragon Pulse
Icy Wind
Iron Tail
Outrage
Shock Wave
Snore
Water Pulse
Damaged normally by
Normal 1×
Fighting 1×
Flying 1×
Poison 1×
Ground 1×
Rock 1×
Bug 1×
Ghost 1×
Steel 1×
Psychic 1×
Dark 1×
Weak to
Immune to
Resistant to
Fire ½×
Water ½×
Grass ½×
Electric ½×
Pokémon Go
Pokédex: Dratini continually molts and sloughs off its old skin. It does so because the life energy within its body steadily builds to reach uncontrollable levels.
Egg Distance: 10 KM
Buddy Distance: 5 KM
Base Stats
121 Stamina
119 Attack
91 Defense
Moves
Fast Attacks: Dragon Breath, Iron Tail
Charged Attacks: Wrap, Twister, Aqua Tail, Frustration*, Return*
Shiny: Yes
More information
Casian Holly has been writing about gaming at iMore since 2019, but their real passion is Pokémon. From the games to the anime, cards and toys, they eat, sleep, and breathe all things Pokémon. You can check out their many Pokémon Go and Pokémon Sword and Shield guides and coverage here on iMore.
Thank you for signing up to iMore. You will receive a verification email shortly.
There was a problem. Please refresh the page and try again.