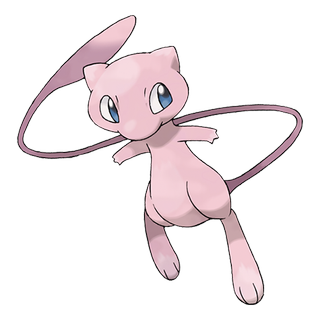 (Image credit: The Pokémon Company)
Name: Mew (Japanese: ミュウ Mew)
Classification: New Species Pokémon
Type: Psychic
Generation: Gen I Kanto Region
Gender Ratio: Genderless
Height: 1' 4"
Weight: 8.8 lbs
Evolution: None
Alternate Formes: No
How to catch in Sword/Shield: Poké Ball Plus, Trade
How to catch in Go: Complete Special Reasearch A Mythical Discovery
Description: A pink, cat-like Pokémon, Mew has massive hindpaws and tiny hand-like forepaws, as well as a very long tail. It floats in the air, rather than using its paws and uses its tail to interact with objects, people, and other Pokémon. Mew is the first mythical Pokémon and is said to contain the DNA of every other species of Pokémon. It is extremely curious and playful, but also quite powerful. Capable of learning almost every single move, Mew is the most versatile Pokémon around. It was used by Giovanni to create the Legendary Pokémon Mewtwo.
Core Games
Sword Pokédex: It's very intelligent and can use an incredible variety of moves. Many believe that all other Pokémon are descendants of this one.
Shield Pokédex: This mythical Pokémon is said to be extinct, but sightings of it are still being reported to this day.
Base Stats
100 HP
100 Attack
100 Defense
100 Sp. Attack
100 Sp. Defense
100 Speed
600 Total
Moves by Level
Pound (lv 1)
Reflect (lv 1)
Amnesia (lv 10)
Baton Pass (lv 20)
Ancient Power (lv 30)
Life Dew (lv 40)
Nasty Plot (lv 50)
Metronome (lv 60)
Imprison (lv 70)
Transform (lv 80)
Aura Sphere (lv 90)
Psychic (lv 100)
Moves by TM/TR
TM00 Mega Punch
TM01 Mega Kick
TM02 Pay Day
TM03 Fire Punch
TM04 Ice Punch Ice
TM05 Thunder Punch Electric
TM06 Fly Flying
TM07 Pin Missile
TM08 Hyper Beam
TM09 Giga Impact
TM10 Magical Leaf
TM11 Solar Beam
TM12 Solar Blade
TM13 Fire Spin
TM14 Thunder Wave
TM15 Dig
TM16 Screech
TM17 Light Screen
TM18 Reflect
TM19 Safeguard
TM20 Self-Destruct
TM21 Rest Psychic
TM22 Rock Slide
TM23 Thief
TM24 Snore
TM25 Protect
TM26 Scary Face
TM27 Icy Wind
TM28 Giga Drain
TM29 Charm
TM30 Steel Wing
TM31 Attract
TM32 Sandstorm
TM33 Rain Dance
TM34 Sunny Day
TM35 Hail
TM36 Whirlpool
TM37 Beat Up
TM38 Will-O-Wisp
TM39 Facade
TM40 Swift
TM41 Helping Hand
TM42 Revenge
TM43 Brick Break
TM44 Imprison
TM45 Dive
TM46 Weather Ball
TM47 Fake Tears
TM48 Rock Tomb
TM49 Sand Tomb
TM50 Bullet Seed
TM51 Icicle Spear
TM52 Bounce
TM53 Mud Shot
TM54 Rock Blast
TM55 Brine
TM56 U-turn
TM57 Payback
TM58 Assurance
TM59 Fling
TM60 Power Swap
TM61 Guard Swap
TM62 Speed Swap
TM63 Drain Punch
TM64 Avalanche
TM65 Shadow Claw
TM66 Thunder Fang
TM67 Ice Fang
TM68 Fire Fang
TM69 Psycho Cut
TM70 Trick Room
TM71 Wonder Room
TM72 Magic Room
TM73 Cross Poison
TM74 Venoshock
TM75 Low Sweep
TM76 Round
TM77 Hex
TM78 Acrobatics
TM79 Retaliate
TM80 Volt Switch
TM81 Bulldoze
TM82 Electroweb
TM83 Razor Shell
TM84 Tail Slap
TM85 Snarl
TM86 Phantom Force
TM87 Draining Kiss
TM88 Grassy Terrain
TM89 Misty Terrain
TM90 Electric Terrain
TM91 Psychic Terrain
TM92 Mystical Fire
TM93 Eerie Impulse
TM94 False Swipe
TM95 Air Slash
TM96 Smart Strike
TM97 Brutal Swing
TM98 Stomping Tantrum
TM99 Breaking Swipe
TR00 Swords Dance
TR01 Body Slam
TR02 Flamethrower
TR03 Hydro Pump
TR04 Surf
TR05 Ice Beam
TR06 Blizzard
TR07 Low Kick
TR08 Thunderbolt
TR09 Thunder
TR10 Earthquake
TR11 Psychic
TR12 Agility
TR13 Focus Energy
TR14 Metronome
TR15 Fire Blast
TR16 Waterfall
TR17 Amnesia
TR18 Leech Life
TR19 Tri Attack
TR20 Substitute
TR21 Reversal
TR22 Sludge Bomb
TR23 Spikes
TR24 Outrage
TR25 Psyshock
TR26 Endure
TR27 Sleep Talk
TR28 Megahorn
TR29 Baton Pass
TR30 Encore
TR31 Iron Tail
TR32 Crunch
TR33 Shadow Ball
TR34 Future Sight
TR35 Uproar
TR36 Heat Wave
TR37 Taunt
TR38 Trick
TR39 Superpower
TR40 Skill Swap
TR41 Blaze Kick
TR42 Hyper Voice
TR43 Overheat
TR44 Cosmic Power
TR45 Muddy Water
TR46 Iron Defense
TR47 Dragon Claw
TR48 Bulk Up
TR49 Calm Mind
TR50 Leaf Blade
TR51 Dragon Dance
TR52 Gyro Ball
TR53 Close Combat
TR54 Toxic Spikes
TR55 Flare Blitz
TR56 Aura Sphere
TR57 Poison Jab
TR58 Dark Pulse
TR59 Seed Bomb
TR60 X-Scissor
TR61 Bug Buzz
TR62 Dragon Pulse
TR63 Power Gem
TR64 Focus Blast
TR65 Energy Ball
TR66 Brave Bird
TR67 Earth Power
TR68 Nasty Plot
TR69 Zen Headbutt
TR70 Flash Cannon
TR71 Leaf Storm
TR72 Power Whip
TR73 Gunk Shot
TR74 Iron Head
TR75 Stone Edge
TR76 Stealth Rock
TR77 Grass Knot
TR78 Sludge Wave
TR79 Heavy Slam
TR80 Electro Ball
TR81 Foul Play
TR82 Stored Power
TR83 Ally Switch
TR84 Scald
TR85 Work Up
TR86 Wild Charge
TR87 Drill Run
TR88 Heat Crash
TR89 Hurricane
TR90 Play
TR91 Venom Drench
TR92 Dazzling Gleam
TR93 Darkest Lariat
TR94 High Horsepower
TR95 Throat Chop
TR96 Pollen Puff
TR97 Psychic Fangs
TR98 Liquidation
TR99 Body Press
Damaged normally by:
Normal 1×
Flying 1×
Poison 1×
Ground 1×
Rock 1×
Steel 1×
Fire 1×
Water 1×
Grass 1×
Electric 1×
Ice 1×
Dragon 1×
Fairy 1×
Weak to:
Immune to:
Resistant to:
Pokémon Go
Pokédex: Mew is said to possess the genetic composition of all Pokémon. It is capable of making itself invisible at will, so it entirely avoids notice even if it approaches people.
Egg Distance: N/A
Buddy Distance: 5 KM
Base Stats Go
225 Stamina
210 Attack
210 Defense
Moves in Go
Fast Attacks Pound, Steel Wing, Charge Beam, Shadow Claw, Volt Switch, Struggle Bug, Frost Breath, Dragon Tail, Infestation, Poison Jab, Rock Smash, Snarl, Cut, Waterfall
Charged Attacks Psychic, Ancient Power, Dragon Claw, Psyshock, Ice Beam, Blizzard, Hyper Beam, Solar Beam, Thunderbolt, Thunder, Flame Charge, Low Sweep, Overheat, Focus Blast, Energy Ball, Stone Edge, Gyro Ball, Bulldoze, Rock Slide, Grass Knot, Flash Cannon, Wild Charge, Dark Pulse, Dazzling Gleam, Surf
Shiny: Not yet available
More Information
Master your iPhone in minutes
iMore offers spot-on advice and guidance from our team of experts, with decades of Apple device experience to lean on. Learn more with iMore!
Casian Holly has been writing about gaming at iMore since 2019, but their real passion is Pokémon. From the games to the anime, cards and toys, they eat, sleep, and breathe all things Pokémon. You can check out their many Pokémon Go and Pokémon Sword and Shield guides and coverage here on iMore.