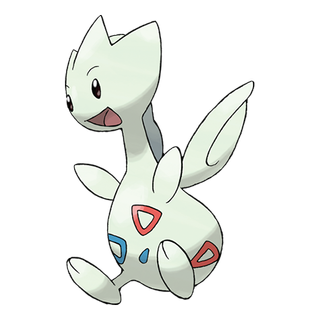 (Image credit: The Pokémon Company)
Name: Togetic (Japanese: トゲチック Togechick)
Classification: Happiness Pokémon
Type: Fairy/Flying
Generation: Gen II Johto Region
Gender Ratio: 87.5% Male to 12.5% Female
Height: 2'
Weight: 7.1 lbs
Evolution:
Evolves from Togepi when leveled up with high Friendship.
Evolves from Togepi with 25 Candies in Pokémon Go.
Evolves into Togekiss with a Shiny Stone.
Evolves into Togekiss with 100 Candies and a Sinnoh Stone in Pokémon Go.
Alternate Formes: None
How to catch in Sword/Shield:
Evolve Togepi
Stony Wilderness
Bridge Field
Hammerlocke Hills
Lake of Outrage
Rolling Fields
Max Raid Battles
How to catch in Go:
Description: The first evolution of Togepi, Togetic has an almost angelic appearance. The shell it once wore has now fused with its body leaving red and blue shapes on its torso. It has long legs, a long neck, and tiny wings, but otherwise looks quite similar to its previous stage. Togetic seek out pure-hearted people and Pokémon to shower in their glowing down feathers, aptly nicknamed "joy dust". Togetic will travel all around the world to find such people and to spread happiness. If a Togetic cannot find pure hearts, it will grow despondent and weak. Although rare in the wild, some Togetic make their homes in forests.
Core Games
Togetic in the core games
Sword Pokédex: They say that it will appear before kindhearted, caring people and shower them with happiness.
Shield Pokédex: It grows dispirited if it is not with kind people. It can float in midair without moving its wings.
Base Stats
55 HP
40 Attack
85 Defense
80 Sp. Attack
105 Sp. Defense
40 Speed
405 Total
Moves by Level
Fairy Wind (Evo)
Growl (lv 1)
Pound (lv 1)
Sweet Kiss (lv 1)
Life Dew (lv 1)
Charm (lv 12)
Ancient Power (lv 16)
Yawn (lv 20)
Metronome (lv 24)
After You (lv 28)
Double-Edge (lv 32)
Safeguard (lv 36)
Follow Me (lv 40)
Baton Pass (lv 44)
Last Resort (lv 48)
Wish (lv 52)
Moves by TM/TR
TM00 Mega Punch
TM01 Mega Kick
TM06 Fly
TM08 Hyper Beam
TM09 Giga Impact
TM10 Magical Leaf
TM11 Solar Beam
TM14 Thunder Wave
TM17 Light Screen
TM18 Reflect
TM19 Safeguard
TM21 Rest
TM24 Snore
TM25 Protect
TM29 Charm
TM30 Steel Wing
TM31 Attract
TM33 Rain Dance
TM34 Sunny Day
TM39 Facade
TM40 Swift
TM41 Helping Hand
TM43 Brick Break
TM44 Imprison
TM59 Fling
TM63 Drain Punch
TM76 Round
TM79 Retaliate
TM87 Draining Kiss
TM92 Mystical Fire
TM96 Smart Strike
TR01 Body Slam
TR02 Flamethrower
TR11 Psychic
TR14 Metronome
TR15 Fire Blast
TR19 Tri Attack
TR20 Substitute
TR25 Psyshock
TR26 Endure
TR27 Sleep Talk
TR29 Baton Pass
TR30 Encore
TR33 Shadow Ball
TR34 Future Sight
TR35 Uproar
TR36 Heat Wave
TR38 Trick
TR42 Hyper Voice
TR68 Nasty Plot
TR69 Zen Headbutt
TR77 Grass Knot
TR82 Stored Power
TR85 Work Up
TR90 Play Rough
TR92 Dazzling Gleam
Moves by Breeding
Aerial Ace
Extrasensory
Morning Sun
Peck
Present
Psycho Shift
Damaged normally by
Normal 1×
Flying 1×
Ghost 1×
Fire 1×
Water 1×
Psychic 1×
Fairy 1×
Weak to
Poison 2×
Rock 2×
Steel 2×
Electric 2×
Ice 2×
Immune to
Resistant to
Fighting ¼×
Bug ¼×
Grass ½×
Dark ½×
Pokémon Go
Pokédex: Togetic is said to be a Pokémon that brings good fortune. When the Pokémon spots someone who is pure of heart, it is said to appear and share its happiness with that person.
Egg Distance: N/A
Buddy Distance: 3 KM
Base Stats
146 Stamina
139 Attack
181 Defense
Moves
Fast Attacks: Extrasensory, Hidden Power, Zen Headbutt*, Steel Wing*
Charged Attacks: Ancient Power, Dazzling Gleam, Aerial Ace
Shiny: Yes
More information
Master your iPhone in minutes
iMore offers spot-on advice and guidance from our team of experts, with decades of Apple device experience to lean on. Learn more with iMore!
Casian Holly has been writing about gaming at iMore since 2019, but their real passion is Pokémon. From the games to the anime, cards and toys, they eat, sleep, and breathe all things Pokémon. You can check out their many Pokémon Go and Pokémon Sword and Shield guides and coverage here on iMore.