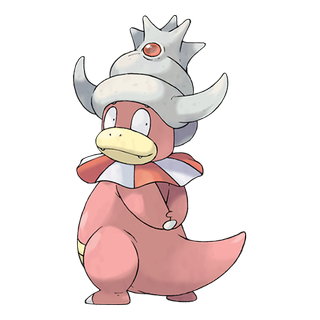 (Image credit: The Pokémon Company)
Name: Slowking (Japanese: ヤドキング Yadoking)
Classification: Royal Pokémon
Type: Water/Psychic
Generation: Gen Region
Gender Ratio: 50% Male to 50% Female
Height: 6' 7"
Weight: 175.3 lbs
Evolution:
Evolves from Slowpoke when traded while holding a King's Rock.
Evolves from Slowpoke with 50 Candies and a King's Rock in Pokémon Go.
Regional Variant evolves from Galarain Slowpoke with unknown item found in the Crown Tundra in Pokémon Sword and Shield.
Alternate Formes:
How to catch in Sword/Shield:
Regional Variant will be able to be evolved from Galarian Slowpoke with an unknown item found in the Crown Tundra in Pokémon Sword and Shield.
How to catch in Go:
Evolve from Slowpoke.
Raids.
Description: Much like Slowbro is a Slowpoke with a Shellder latched onto its tail, Slowking is Slowpoke with a Shellder latched onto its head. It also stands on two legs, but has a red and white ruffle around its neck and a red gem at the center of the Shellder atop its head. Instead of venom seeping into its tail, the Shellder's venom seeps into Slowking's head. This greatly enhances Slowking's intellect and Psychic powers. This enhanced intellect makes it one of very few Pokémon capable of human speech. It, along with Slowbro, is also one of the only Pokémon believed to be able to devolve. Although devolution is not possible in the games or ever been seen on the show, Pokédex entries suggest that if the Shellder fell off Slowking's head it would revert to a Slowpoke and forget everything it had learned.
Slowking has a regional variant in the Galar region but not much is known about it. It is evolved using an unknown item found in the Crown Tundra.
Core Games
Slowking in the core games
Sword Pokédex: Not Available Yet
Shield Pokédex: Not Available Yet
Ultra Sun Pokédex (Kanto): It's constantly coming up with new ideas that would change the world, but as soon as it hits upon a new idea, it forgets it.
Ultra Moon Pokédex (Kanto): It's called "the sage of the sea." It engages in battles of wits with Oranguru, but the result is usually a draw.
Base Stats
95 HP
75 Attack
80 Defense
100 Sp. Attack
110 Sp. Defense
30 Speed
490 Total
Moves by Level
Heal Pulse (lv 1)
Power Gem (lv 1)
Hidden Power (lv 1)
Curse (lv 1)
Yawn (lv 1)
Tackle (lv 1)
Growl (lv 5)
Water Gun (lv 9)
Confusion (lv 14)
Disable (lv 19)
Headbutt (lv 23)
Water Pulse (lv 28)
Zen Headbutt (lv 32)
Nasty Plot (lv 36)
Swagger (lv 41)
Psychic (lv 45)
Trump Card (lv 49)
Psych Up (lv 54)
Heal Pulse (lv 58)
Moves by TM/TR
TM03 Psyshock
TM04 Calm Mind
TM06 Toxic
TM07 Hail
TM10 Hidden Power
TM11 Sunny Day
TM13 Ice Beam
TM14 Blizzard
TM15 Hyper Beam
TM16 Light Screen
TM17 Protect
TM18 Rain Dance
TM20 Safeguard
TM21 Frustration
TM26 Earthquake
TM27 Return
TM29 Psychic
TM30 Shadow Ball
TM31 Brick Break
TM32 Double Team
TM35 Flamethrower
TM38 Fire Blast
TM42 Facade
TM44 Rest
TM45 Attract
TM48 Round
TM49 Echoed Voice
TM52 Focus Blast
TM55 Scald Water
TM56 Fling
TM60 Quash
TM68 Giga Impact
TM73 Thunder Wave
TM77 Psych Up
TM78 Bulldoze
TM82 Dragon Tail
TM85 Dream Eater
TM86 Grass Knot
TM87 Swagger
TM88 Sleep Talk
TM90 Substitute
TM92 Trick Room
TM94 Surf
TM100 Confide
Moves by Breeding
Belch
Belly Drum
Block
Future Sight
Me First
Mud Sport
Sleep Talk
Snore
Stomp
Wonder Room
Zen Headbutt
Moves by Tutoring
After You
Ally Switch
Aqua Tail
Block
Drain Punch
Focus Punch
Foul Play
Ice Punch
Icy Wind
Iron Defense
Iron Tail
Laser Focus
Magic Coat
Recycle
Signal Beam
Skill Swap
Snore
Telekinesis
Trick
Water Pulse
Wonder Room
Zen Headbutt
Damaged normally by
Normal 1×
Flying 1×
Poison 1×
Ground 1×
Rock 1×
Dragon 1×
Fairy 1×
Weak to
Bug 2×
Ghost 2×
Grass 2×
Electric 2×
Dark 2×
Immune to
Resistant to
Fighting ½×
Steel ½×
Fire ½×
Water ½×
Psychic ½×
Ice ½×
Pokémon Go
Pokédex: Slowking undertakes research every day in an effort to solve the mysteries of the world. However, this Pokémon apparently forgets everything it has learned if the Shellder on its head comes off.
Egg Distance: N/A
Buddy Distance: 3 KM
Base Stats
190 Stamina
177 Attack
194 Defense
Moves
Fast Attacks: Water Gun, Confusion
Charged Attacks: Blizzard, Psychic, Fire Blast
Shiny: Not Available Yet
More information
Master your iPhone in minutes
iMore offers spot-on advice and guidance from our team of experts, with decades of Apple device experience to lean on. Learn more with iMore!
Casian Holly has been writing about gaming at iMore since 2019, but their real passion is Pokémon. From the games to the anime, cards and toys, they eat, sleep, and breathe all things Pokémon. You can check out their many Pokémon Go and Pokémon Sword and Shield guides and coverage here on iMore.