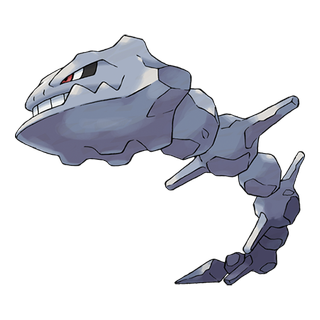 (Image credit: The Pokémon Company)
Name: Steelix (Japanese: )
Classification: Iron Snake Pokémon
Type: Steel/Ground
Generation: Gen II Johto Region
Gender Ratio: 50% Male to 50% Female
Height:
30' 2" (Steelix)
34' 5" (Mega Steelix)
Weight:
881.8 lbs (Steelix)
1631.4 lbs (Mega Steelix)
Evolution:
Evolves from Onix when Traded while holding a Metal Coat.
Evolves from Onix with a Metal coat and 50 Candies in Pokémon Go.
Mega Evolves into Mega Steelix with Steelixite.
Alternate Formes:
How to catch in Sword/Shield:
Evolve from Onix
Giant's Mirror
Giant's Seat
How to catch in Go:
Description: Upon Evolving from Onix, Steelix is bigger, taller, and shines with a silvery sheen. It no longer has the spike on its head but instead has three pairs of spikes on alternating segments of its body. Its tail ends in a sharp point, and its head is bulkier with external ridges along its bottom lip that resemble canines. Male and female Steelix can be told apart by the number of ridges, with males having two pairs and females having a single pair.
Capable of Mega Evolution, Mega Steelix have nearly twice the mass as Steelix. Its spikes and tail have transformed into sparkling, rainbow crystals and clusters of metal float in a circle around the back of its head and the first segment of its body. Bright blue hexagons decorate the smaller segments of its body and its head has taken much sharper edges, with six regtangular outcroppings set around its jaw.
Steelix make their home in mountains and caves, often tunneling more than half a mile underground. They can eat even the hardest of rocks and can see in the dark. Their bodies have grown significantly harder than diamongs from the intense pressure during their time underground.
Core Games
Steelix in the core games
Sword Pokédex: It is said that if an Onix lives for over 100 years, its composition changes to become diamond-like.
Shield Pokédex: It is thought its body transformed as a result of iron accumulating internally from swallowing soil.
Base Stats
75 HP
85 Attack
200 Defense
55 Sp. Attack
65 Sp. Defense
30 Speed
510 Total
Mega Steelix
Base Stats
75 HP
125 Attack
230 Defense
55 Sp. Attack
95 Sp. Defense
30 Speed
610 Total
Moves by Level
Crunch (lv 1)
Thunder Fang (lv 1)
Ice Fang (lv 1)
Fire Fang (lv 1)
Rock Polish (lv 1)
Tackle (lv 1)
Harden (lv 1)
Bind (lv 1)
Rock Throw (lv 1)
Smack Down (lv 4)
Autotomize (lv 8)
Dragon Breath (lv 12)
Curse (lv 16)
Rock Slide (lv 20)
Screech (lv 24)
Sand Tomb (lv 28)
Stealth Rock (lv 32)
Slam (lv 36)
Sandstorm (lv 40)
Dig (lv 44)
Iron Tail (lv 48)
Stone Edge (lv 52)
Double-Edge (lv 56)
Magnet Rise (lv 60)
Moves by TM/TR
TM08 Hyper Beam
TM09 Giga Impact
TM15 Dig
TM16 Screech
TM20 Self-Destruct
TM21 Rest
TM22 Rock Slide
TM24 Snore
TM25 Protect
TM26 Scary Face
TM31 Attract
TM32 Sandstorm
TM34 Sunny Day
TM39 Facade
TM48 Rock Tomb
TM49 Sand Tomb
TM54 Rock Blast
TM57 Payback
TM66 Thunder Fang
TM67 Ice Fang
TM68 Fire Fang
TM76 Round
TM81 Bulldoze
TM97 Brutal Swing
TM98 Stomping Tantrum
TM99 Breaking Swipe
TR01 Body Slam
TR10 Earthquake
TR20 Substitute
TR26 Endure
TR27 Sleep Talk
TR31 Iron Tail
TR32 Crunch
TR37 Taunt
TR46 Iron Defense
TR51 Dragon Dance
TR52 Gyro Ball
TR58 Dark Pulse
TR62 Dragon Pulse
TR67 Earth Power
TR70 Flash Cannon
TR74 Iron Head
TR75 Stone Edge
TR76 Stealth Rock
TR79 Heavy Slam
TR87 Drill Run
TR94 High Horsepower
TR97 Psychic Fangs
TR99 Body Press
Moves by Breeding
Block
Defense Curl
Dragon Tail
Flail
Head Smash
Rollout
Wide Guard
Moves by Tutoring
Damaged normally by
Ghost 1×
Grass 1×
Ice 1×
Dark 1×
Weak to
Fighting 2×
Ground 2×
Fire 2×
Water 2×
Immune to
Resistant to
Normal ½×
Flying ½×
Rock ¼×
Bug ½×
Steel ½×
Psychic ½×
Dragon ½×
Fairy ½×
Pokémon Go
Pokédex: Steelix lives even further underground than Onix. This Pokémon is known to dig toward the earth's core. There are records of this Pokémon reaching a depth of over six-tenths of a mile underground.
Egg Distance: N/A
Buddy Distance: 5 KM
Base Stats
181 Stamina
148 Attack
272 Defense
Moves
Fast Attacks: Iron Tail, Dragon Tail, Thunder Fang
Charged Attacks: Earthquake, Heavy Slam, Crunch
Shiny: Yes
Source: Niantic
More information
Get the best of iMore in in your inbox, every day!
Casian Holly has been writing about gaming at iMore since 2019, but their real passion is Pokémon. From the games to the anime, cards and toys, they eat, sleep, and breathe all things Pokémon. You can check out their many Pokémon Go and Pokémon Sword and Shield guides and coverage here on iMore.
Thank you for signing up to iMore. You will receive a verification email shortly.
There was a problem. Please refresh the page and try again.