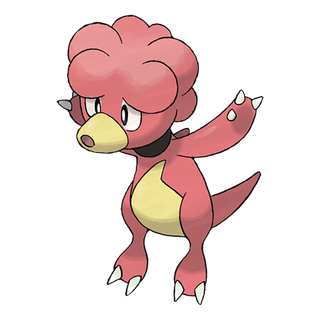 (Image credit: The Pokémon Company)
Name: Magby (Japanese: ブビィ Buby)
Classification: Live Coal Pokémon
Type: Fire
Generation: Gen II Johto Region
Gender Ratio: 75% Male to 25% Female
Height: 2'4"
Weight: 47.2 lbs
Evolution:
Evolves into Magmar at level 30
Evolves into Magmar with 25 Candies in Pokémon Go
Alternate Formes: None
How to catch in Sword/Shield:
Pokémon HOME
Trade
Breed from Magmar
Slippery Slope
Frostpoint Field
Giant's Bed
Old Cemetery
Snowslide Slope
Giant's Foot
Three-Point Pass
Ballimere Lake
How to catch in Go:
Description: A small, bipedal Pokémon, Magby is mostly red, save for a yellow belly and a yellow beak. It has lumps on its head, a single spide on its back, and a black cuff around its collar. Its arms end with three claws each and it has two claws on each foot. Magby's breath can reach 1,100° F and embers are constantly falling from its mouth. When excited or scared, flames leak from its mouth and when it gets sick, flames will leak from its nose. The color of Magby's flames are a good indicator of its health. Much like Magmar, Magby rest in lava to rejuvenate.
Core Games
Sword Pokédex: This Pokémon is still small and timid. Whenever Magby gets excited or surprised, flames leak from its mouth and its nose.
Shield Pokédex: This Pokémon makes its home near volcanoes. At the end of the day, Magby soaks in magma, resting and recovering from the day's fatigue.
Base Stats
45 HP
75 Attack
37 Defense
70 Sp. Attack
55 Sp. Defense
83 Speed
365 Total
Moves by Level
Smog (lv 1)
Leer (lv 1)
Ember (lv 4)
Smokescreen (lv 8)
Clear Smog (lv 12)
Flame Wheel (lv 16)
Confuse Ray (lv 20)
Scary Face (lv 24)
Fire Punch (lv 28)
Lava Plume (lv 32)
Low Kick (lv 36)
Flamethrower (lv 40)
Sunny Day (lv 44)
Fire Blast (lv 48)
Moves by TM/TR
TM00 Mega Punch
TM01 Mega Kick
TM03 Fire Punch
TM05 Thunder Punch
TM13 Fire Spin
TM16 Screech
TM21 Rest
TM23 Thief
TM24 Snore
TM25 Protect
TM26 Scary Face
TM31 Attract
TM34 Sunny Day
TM38 Will-O-Wisp
TM39 Facade
TM41 Helping Hand
TM43 Brick Break
TM59 Fling
TM60 Power Swap
TM76 Round
TR01 Body Slam
TR02 Flamethrower
TR07 Low Kick
TR11 Psychic
TR13 Focus Energy
TR15 Fire Blast
TR20 Substitute
TR26 Endure
TR27 Sleep Talk
TR31 Iron Tail
TR35 Uproar
TR36 Heat Wave
TR43 Overheat
TR55 Flare Blitz
Moves by Breeding
Belch
Cross Chop
Dynamic Punch
Focus Punch
Mach Punch
Damaged normally by
Normal 1×
Fighting 1×
Flying 1×
Poison 1×
Ghost 1×
Electric 1×
Psychic 1×
Dragon 1×
Dark 1×
Weak to
Immune to
Resistant to
Bug ½×
Steel ½×
Fire ½×
Grass ½×
Ice ½×
Fairy ½×
Pokémon Go
Pokédex: Magby's state of health is determined by observing the fire it breathes. If the Pokémon is spouting yellow flames from its mouth, it is in good health. When it is fatigued, black smoke will be mixed in with the flames.
Egg Distance: 2, 5, 7, and 10 KM
Buddy Distance: 5 KM
Base Stats
128 Stamina
151 Attack
99 Defense
Moves
Fast Attacks: Ember, Karate Chop
Charged Attacks: Brick Break, Fire Punch, Flame Punch, Flamethrower*
Shiny:
More information
Casian Holly has been writing about gaming at iMore since 2019, but their real passion is Pokémon. From the games to the anime, cards and toys, they eat, sleep, and breathe all things Pokémon. You can check out their many Pokémon Go and Pokémon Sword and Shield guides and coverage here on iMore.
Thank you for signing up to iMore. You will receive a verification email shortly.
There was a problem. Please refresh the page and try again.