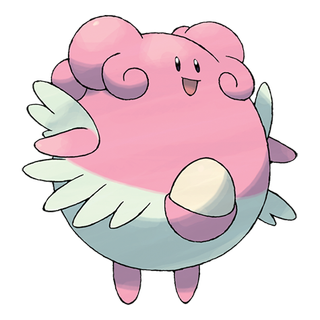 (Image credit: The Pokémon Company)
Name: Blissey (Japanese: ハピナス Happinas)
Classification: Happiness Pokémon
Type: Normal
Generation: Gen II Johto Region
Gender Ratio: 100% Female
Height: 4' 11"
Weight: 103.2 lbs
Evolution:
Evolves from Chansey when leveled up with high Friendship.
Evolves from Chansey with 50 Candies in Pokémon Go.
Alternate Formes: N/A
How to catch in Sword/Shield: Not Available Yet
How to catch in Go:
Description: A large, egg shaped Pokémon, Blissey is best known as the Pokémon assistant of many Nurse Joy's throughout the Pokémon world, as well as running the Pokémon Nurse School where Chansey go to learn how to work at the Pokémon Centers. Blissey is mostly pink, but has a white "skirt" and winged sleeves. She also has curls of pink hair on either side of her face. Like Chansey before her, Blissey are all female and produce many nutritious eggs a day. Blissey's eggs, however, will also make whoever eats them happy and satisfied.
With extreme stats, Blissey has both the highest base HP of all known Pokémon (excluding Eternatus while in its Eternamax state), and the lowest base Attack and Defense of all fully evolved Pokémon. Blissey are capable of sensing sadness and illness, and are instinctively driven to cheer up the downtrodden and nurse the sick back to health.
Core Games
Blissey in the core games
Sword Pokédex: Not Available Yet
Shield Pokédex: Not Available Yet
Ultra Sun Pokédex: Their eggs are such a delicacy that some say eating one will bring you happiness. These eggs fetch the highest prices on the market.
Ultra Moon Pokédex: This Pokémon is overflowing with love. Only Chansey that share a strong bond with their Trainer can evolve, so people say.
Base Stats
225 HP
10 Attack
10 Defense
75 Sp. Attack
135 Sp. Defense
55 Speed
540 Total
Moves by Level
Defense Curl (lv 1)
Double-Edge (lv 1)
Growl (lv 1)
Pound (lv 1)
Tail Whip (lv 5)
Refresh (lv 9)
Double Slap (lv 12)
Soft-Boiled (lv 16)
Bestow (lv 20)
Minimize (lv 23)
Take Down (lv 27)
Sing (lv 31)
Fling (lv 34)
Heal Pulse (lv 39)
Egg Bomb (lv 44)
Light Screen (lv 50)
Healing Wish (lv 57)
Double-Edge (lv 65)
Moves by TM/TR
TM01 Work Up
TM04 Calm Mind
TM06 Toxic
TM07 Hail
TM10 Hidden Power
TM11 Sunny Day
TM13 Ice Beam
TM14 Blizzard
TM15 Hyper Beam
TM16 Light Screen
TM17 Protect
TM18 Rain Dance
TM20 Safeguard
TM21 Frustration
TM22 Solar Beam
TM24 Thunderbolt
TM25 Thunder
TM26 Earthquake
TM27 Return
TM29 Psychic
TM30 Shadow Ball
TM31 Brick Break
TM32 Double Team
TM35 Flamethrower
TM37 Sandstorm
TM38 Fire Blast
TM39 Rock Tomb
TM42 Facade
TM44 Rest
TM45 Attract
TM48 Round
TM49 Echoed Voice
TM52 Focus Blast
TM56 Fling
TM57 Charge Beam
TM68 Giga Impact
TM73 Thunder Wave
TM77 Psych Up
TM78 Bulldoze
TM80 Rock Slide
TM85 Dream Eater
TM86 Grass Knot
TM87 Swagger
TM88 Sleep Talk
TM90 Substitute
TM93 Wild Charge
TM99 Dazzling Gleam
TM100 Confide
Moves by Breeding
Aromatherapy
Counter
Endure
Gravity
Heal Bell
Helping Hand
Last Resort
Metronome
Mud Bomb
Natural Gift
Present
Seismic Toss
Moves by Tutoring
Ally Switch
Block
Covet
Drain Punch
Endeavor
Fire Punch
Focus Punch
Gravity
Heal Bell
Helping Hand
Hyper Voice
Ice Punch
Icy Wind
Iron Tail
Laser Focus
Last Resort
Recycle
Shock Wave
Skill Swap
Snatch
Snore
Stealth Rock
Stomping Tantrum
Telekinesis
Thunder Punch
Water Pulse
Zen Headbutt
Moves by a Prior Evolution
Charm
Copycat
Sweet Kiss
Uproar
Damaged normally by
Normal 1×
Flying 1×
Poison 1×
Ground 1×
Rock 1×
Bug 1×
Steel 1×
Fire 1×
Water 1×
Grass 1×
Electric 1×
Psychic 1×
Ice 1×
Dragon 1×
Dark 1×
Fairy 1×
Weak to
Immune to
Resistant to
Pokémon Go
Pokédex: Blissey senses sadness with its fluffy coat of fur. If it does so, this Pokémon will rush over to a sad person, no matter how far away, to share a Lucky Egg that brings a smile to any face.
Egg Distance: N/A
Buddy Distance: 5 KM
Base Stats
496 Stamina
129 Attack
169 Defense
Moves
Fast Attacks: Pound, Zen Headbutt
Charged Attacks: Psychic, Hyper Beam, Dazzling Gleam
Shiny: Yes
More information
Get the best of iMore in your inbox, every day!
Casian Holly has been writing about gaming at iMore since 2019, but their real passion is Pokémon. From the games to the anime, cards and toys, they eat, sleep, and breathe all things Pokémon. You can check out their many Pokémon Go and Pokémon Sword and Shield guides and coverage here on iMore.