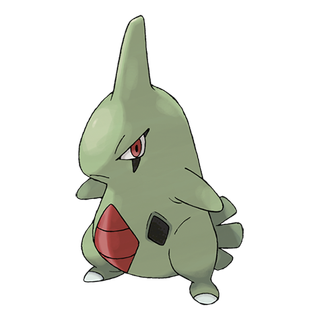 (Image credit: The Pokémon Company)
Name: Larvitar (Japanese: ヨーギラス Yogiras)
Classification: Rock Skin Pokémon
Type: Rock/Ground
Generation: Gen II Johto Region
Gender Ratio: 50% Male to 50% Female
Height: 2'
Weight: 158.7 lbs
Evolution:
Evolves into Pupitar at level 30.
Evolves into Pupitar with 25 Candies in Pokémon Go.
Alternate Formes: None
How to catch in Sword/Shield:
Trade only for Sword
Lake of Outrage
Max Raid Battles
Giant's Seat
Rolling Fields
Stony Wilderness
How to catch in Go:
Description: A tiny, green dinosaur-like Pokémon, Larvitar can be found in mountains and caves. It has dark, diamond shaped holes on its side and back, a bright red diamond on its belly, and black markings under its red eyes. Its tail resembles a tunnel boring machine and it has a large, blunt spike atop its head which helps in digging. Larvitar are born deep in the ground, where it must consume massive quantities of dirt and dig its way out, before emerging to meet its parents. Although this little Pokémon might not seem like much, its final evolution, Tyranitar remains one of the top attackers in Pokémon Go.
Core Games
Larvitar in the core games
Sword Pokédex: Born deep underground, it comes aboveground and becomes a pupa once it has finished eating the surrounding soil.
Shield Pokédex: It feeds on soil. After it has eaten a large mountain, it will fall asleep so it can grow.
Base Stats
50 HP
64 Attack
50 Defense
45 Sp. Attack
50 Sp. Defense
41 Speed
300 Total
Moves by Level
Tackle (lv 1)
Leer (lv 1)
Rock Throw (lv 1)
Payback (lv 6)
Bite (lv 9)
Scary Face (lv 12)
Rock Slide (lv 15)
Stomping Tantrum (lv 18)
Screech (lv 21)
Dark Pulse (lv 24)
Crunch (lv 27)
Earthquake (lv 31)
Stone Edge (lv 33)
Thrash (lv 36)
Sandstorm (lv 39)
Hyper Beam (lv 42)
Moves by TM/TR
TM08 Hyper Beam
TM15 Dig
TM16 Screech
TM21 Rest
TM22 Rock Slide
TM24 Snore
TM25 Protect
TM26 Scary Face
TM31 Attract
TM32 Sandstorm
TM33 Rain Dance
TM34 Sunny Day
TM39 Facade
TM43 Brick Break
TM48 Rock Tomb
TM49 Sand Tomb
TM57 Payback
TM58 Assurance
TM76 Round
TM79 Retaliate
TM81 Bulldoze
TM85 Snarl
TM98 Stomping Tantrum
TR01 Body Slam
TR10 Earthquake
TR13 Focus Energy
TR20 Substitute
TR24 Outrage
TR26 Endure
TR27 Sleep Talk
TR31 Iron Tail
TR32 Crunch
TR35 Uproar
TR37 Taunt
TR39 Superpower
TR45 Muddy Water
TR46 Iron Defense
TR51 Dragon Dance
TR58 Dark Pulse
TR67 Earth Power
TR74 Iron Head
TR75 Stone Edge
TR76 Stealth Rock
Moves by Breeding
Damaged normally by
Bug 1×
Ghost 1×
Psychic 1×
Dragon 1×
Dark 1×
Fairy 1×
Weak to
Fighting 2×
Ground 2×
Steel 2×
Water 4×
Grass 4×
Ice 2×
Immune to
Resistant to
Normal ½×
Flying ½×
Poison ¼×
Rock ½×
Fire ½×
Pokémon Go
Pokédex: Larvitar is born deep under the ground. To come up to the surface, this Pokémon must eat its way through the soil above. Until it does so, Larvitar cannot see its parents.
Egg Distance: 10 KM
Buddy Distance: 5 KM
Base Stats
137 Stamina
115 Attack
93 Defense
Moves
Fast Attacks: Bite, Rock Smash
Charged Attacks: Stomp, Crunch, Ancient Power, Frustration*, Return*
Shiny: Yes
More information
Get the best of iMore in in your inbox, every day!
Casian Holly has been writing about gaming at iMore since 2019, but their real passion is Pokémon. From the games to the anime, cards and toys, they eat, sleep, and breathe all things Pokémon. You can check out their many Pokémon Go and Pokémon Sword and Shield guides and coverage here on iMore.
Thank you for signing up to iMore. You will receive a verification email shortly.
There was a problem. Please refresh the page and try again.