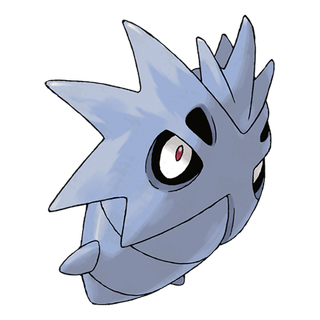 (Image credit: The Pokémon Company)
Name: Pupitar (Japanese: サナギラス Sanagiras)
Classification: Hard Shell Pokémon
Type: Rock/Ground
Generation: Gen II Johto Region
Gender Ratio: 50% Male to 50% Female
Height: 3' 11"
Weight: 335.1 lbs
Evolution:
Evolves from Larvitar at level 30
Evolves from Larvitar with 25 Candies in Pokémon Go.
Evolves into Tyranitar at level 55.
Evolves into Tyranitar with 100 Candies in Pokémon Go.
Alternate Formes: None
How to catch in Sword/Shield:
Trade only for Sword
Evolve from Larvitar
How to catch in Go:
Description: Contained entirely within a grey shell, Pupitar is the first evolution of Larvitar. It is covered in spikes and hard as bedrock, making it extremely difficult to injure. The only portion of its body that remains visible in this stage are its red eyes. Despite its arms and legs being trapped inside its shell, Pupitar uses compressed gas to propel itself about and has no mobility issues. It is said that Pupitar can moves itself with enough force to knock down entire mountains.
Core Games
Pupitar in the core games
Sword Pokédex: Even sealed in its shell, it can move freely. Hard and fast, it has outstanding destructive power.
Shield Pokédex: It will not stay still, even while it's a pupa. It already has arms and legs under its solid shell.
Base Stats
70 HP
84 Attack
70 Defense
65 Sp. Attack
70 Sp. Defense
51 Speed
410 Total
Moves by Level
Iron Defense (lv 1)
Tackle (lv 1)
Leer (lv 1)
Rock Throw (lv 1)
Payback (lv 1)
Bite (lv 9)
Scary Face (lv 12)
Rock Slide (lv 15)
Stomping Tantrum (lv 18)
Screech (lv 21)
Dark Pulse (lv 24)
Crunch (lv 27)
Earthquake (lv 33)
Stone Edge (lv 37)
Thrash (lv 42)
Sandstorm (lv 47)
Hyper Beam (lv 52)
Moves by TM/TR
TM08 Hyper Beam
TM15 Dig
TM16 Screech
TM21 Rest
TM22 Rock Slide
TM24 Snore
TM25 Protect
TM26 Scary Face
TM31 Attract
TM32 Sandstorm
TM33 Rain Dance
TM34 Sunny Day
TM39 Facade
TM43 Brick Break
TM48 Rock Tomb
TM49 Sand Tomb
TM57 Payback
TM58 Assurance
TM76 Round
TM79 Retaliate
TM81 Bulldoze
TM85 Snarl
TM98 Stomping Tantrum
TR01 Body Slam
TR10 Earthquake
TR13 Focus Energy
TR20 Substitute
TR24 Outrage
TR26 Endure
TR27 Sleep Talk
TR31 Iron Tail
TR32 Crunch
TR35 Uproar
TR37 Taunt
TR39 Superpower
TR45 Muddy Water
TR46 Iron Defense
TR51 Dragon Dance
TR58 Dark Pulse
TR67 Earth Power
TR74 Iron Head
TR75 Stone Edge
TR76 Stealth Rock
Moves by Breeding
Damaged normally by
Bug 1×
Ghost 1×
Psychic 1×
Dragon 1×
Dark 1×
Fairy 1×
Weak to
Fighting 2×
Ground 2×
Steel 2×
Water 4×
Grass 4×
Ice 2×
Immune to
Resistant to
Normal ½×
Flying ½×
Poison ¼×
Rock ½×
Fire ½×
Pokémon Go
Pokédex: Pupitar creates a gas inside its body that it compresses and forcefully ejects to propel itself like a jet. The body is very durable—it avoids damage even if it hits solid steel.
Egg Distance: N/A
Buddy Distance: 5 KM
Base Stats
172 Stamina
155 Attack
133 Defense
Moves
Fast Attacks: Bite, Rock Smash
Charged Attacks: Dig, Crunch, Ancient Power, Frustration*, Return*
Shiny: Yes
More information
Get the best of iMore in in your inbox, every day!
Casian Holly has been writing about gaming at iMore since 2019, but their real passion is Pokémon. From the games to the anime, cards and toys, they eat, sleep, and breathe all things Pokémon. You can check out their many Pokémon Go and Pokémon Sword and Shield guides and coverage here on iMore.
Thank you for signing up to iMore. You will receive a verification email shortly.
There was a problem. Please refresh the page and try again.