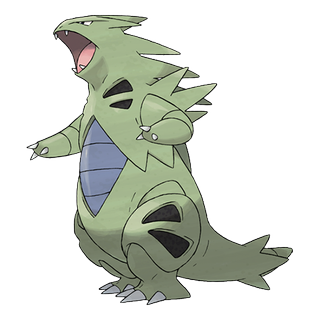 (Image credit: The Pokémon Company)
Name: Tyranitar (Japanese: バンギラス Bangiras)
Classification: Armor Pokémon
Type: Rock/Dark
Generation: Gen II Johto Region
Gender Ratio: 50% Male to 50% Female
Height:
6' 7" (Tyranitar)
8' 2" (Mega Tyranitar
Weight:
445.3 lbs (Tyranitar)
562.2 lbs (Mega Tyranitar)
Evolution:
Evolves from Pupitar at level 55.
Evolves from Pupitar with 100 Candies in Pokémon Go.
Mega Evolves into Mega Tyranitar with Tyranitarite.
Alternate Formes:
How to catch in Sword/Shield:
Trade in Sword only
Max Raid Battle
Bridge Field
Dusty Bowl
Giant's Mirror
Giant's Seat
Rolling Fields
Stony Wilderness
West Lake Axewell
How to catch in Go:
Evolve from Pupitar
Raid Battles
Description: A large, green, dinosaur-shaped Pokémon, Tyranitar is fierce and intimidating. It has spikes going down the back of its head, neck, and shoulders, as well as around the tip of its tail. Like its first stage, Larvitar, Tyranitar has multiple dark holes in it's hide: four on its legs and four on its chest. Tyranitar also has grey-purple diamond markings on its stomach and back. Its thick, rock-like hide protects it from injury in the battles it is constantly seeking out. Insolent and incredibly strong, Tyranitar have been known to alter entire landscapes with their earthquakes. This is only made worse within the Galar Region where Tyranitar's rivalry with Duraludon leads to many battles in the mountains.
Capable of Mega Evolution, Mega Tyranitar is even more destructive than Tyranitar. It has more spikes and many of its existing spikes are much longer. Its stomach and eyes have turned red with energy that emanates from within its armored hide. Its desire to destroy can lead to a blind rage in which Mega Tyranitar can often not longer hear its Trainer's orders. What a Trainer loses in control, however, is made up for by sheer power.
Core Games
Tyranitar in the core games
Sword Pokédex: Its body can't be harmed by any sort of attack, so it is very eager to make challenges against enemies.
Shield Pokédex: The quakes caused when it walks make even great mountains crumble and change the surrounding terrain.
Base Stats
100 HP
134 Attack
110 Defense
95 Sp. Attack
100 Sp. Defense
61 Speed
600 Total
Mega Tyranitar
Ultra Sun Pokédex: Due to the colossal power poured into it, this Pokémon's back split right open. Its destructive instincts are the only thing keeping it moving.
Ultra Moon Pokédex: The effects of Mega Evolution make it more ferocious than ever. It's unclear whether it can even hear its Trainer's orders.
Base Stats
100 HP
164 Attack
150 Defense
95 Sp. Attack
120 Sp. Defense
71 Speed
700 Total
Moves by Level
Iron Defense (lv 1)
Thunder Fang (lv 1)
Ice Fang (lv 1)
Fire Fang (lv 1)
Tackle (lv 1)
Leer (lv 1)
Rock Throw (lv 1)
Payback (lv 1)
Bite (lv 9)
Scary Face (lv 12)
Rock Slide (lv 15)
Stomping Tantrum (lv 18)
Screech (lv 21)
Dark Pulse (lv 24)
Crunch (lv 27)
Earthquake (lv 33)
Stone Edge (lv 37)
Thrash (lv 42)
Sandstorm (lv 47)
Hyper Beam (lv 52)
Giga Impact (lv 59)
Moves by TM/TR
TM00 Mega Punch
TM01 Mega Kick
TM03 Fire Punch
TM04 Ice Punch
TM05 Thunder Punch
TM08 Hyper Beam
TM09 Giga Impact
TM14 Thunder Wave
TM15 Dig
TM16 Screech
TM21 Rest
TM22 Rock Slide
TM24 Snore
TM25 Protect
TM26 Scary Face
TM31 Attract
TM32 Sandstorm
TM33 Rain Dance
TM34 Sunny Day
TM36 Whirlpool
TM39 Facade
TM42 Revenge
TM43 Brick Break
TM48 Rock Tomb
TM49 Sand Tomb
TM54 Rock Blast
TM57 Payback
TM58 Assurance
TM59 Fling
TM64 Avalanche
TM65 Shadow Claw
TM66 Thunder Fang
TM67 Ice Fang
TM68 Fire Fang
TM76 Round
TM79 Retaliate
TM81 Bulldoze
TM85 Snarl
TM97 Brutal Swing
TM98 Stomping Tantrum
TM99 Breaking Swipe
TR01 Body Slam
TR02 Flamethrower
TR03 Hydro Pump
TR04 Surf
TR05 Ice Beam
TR06 Blizzard
TR07 Low Kick
TR08 Thunderbolt
TR09 Thunder
TR10 Earthquake
TR13 Focus Energy
TR15 Fire Blast
TR20 Substitute
TR24 Outrage
TR26 Endure
TR27 Sleep Talk
TR31 Iron Tail
TR32 Crunch
TR35 Uproar
TR37 Taunt
TR39 Superpower
TR45 Muddy Water
TR46 Iron Defense
TR47 Dragon Claw
TR51 Dragon Dance
TR58 Dark Pulse
TR62 Dragon Pulse
TR64 Focus Blast
TR67 Earth Power
TR74 Iron Head
TR75 Stone Edge
TR76 Stealth Rock
TR79 Heavy Slam
TR81 Foul Play
TR94 High Horsepower
TR99 Body Press
Moves by Breeding
Damaged normally by
Rock 1×
Electric 1×
Ice 1×
Dragon 1×
Weak to
Fighting 4×
Ground 2×
Bug 2×
Steel 2×
Water 2×
Grass 2×
Fairy 2×
Immune to
Resistant to
Normal ½×
Flying ½×
Poison ½×
Ghost ½×
Fire ½×
Dark ½×
Pokémon Go
Pokédex: Tyranitar is so overwhelmingly powerful, it can bring down a whole mountain to make its nest. This Pokémon wanders about in mountains seeking new opponents to fight.
Egg Distance: N/A
Buddy Distance: 5 KM
Base Stats
225 Stamina
251 Attack
207 Defense
Moves
Fast Attacks: Bite, Iron Tail, Smack Down*
Charged Attacks: Fire Blast, Crunch, Stone Edge
Shiny: Yes
More information
Master your iPhone in minutes
iMore offers spot-on advice and guidance from our team of experts, with decades of Apple device experience to lean on. Learn more with iMore!
Casian Holly has been writing about gaming at iMore since 2019, but their real passion is Pokémon. From the games to the anime, cards and toys, they eat, sleep, and breathe all things Pokémon. You can check out their many Pokémon Go and Pokémon Sword and Shield guides and coverage here on iMore.