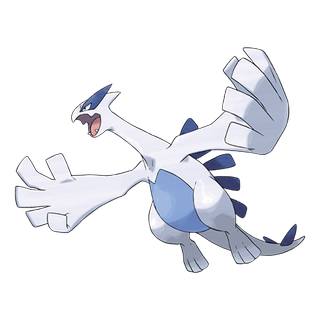 (Image credit: The Pokémon Company)
Name: Lugia (Japanese: ルギア Lugia)
Classification: Diving Pokémon
Type: Psychic/Flying
Generation: Gen II Johto Region
Gender Ratio: Genderless
Height: 17' 1"
Weight: 476.2 lbs
Evolution: N/A
Alternate Formes: None
How to catch in Sword/Shield: Not Available Yet
How to catch in Go:
Description: The mascot for Pokémon Silver and Pokémon SoulSilver, Lugia is a Legendary Pokémon with traits of a plesiosaur and a dragon. The bulk of its body is covered in shimmering white scales, while its belly is light blue and its plates are dark blue. Its plates, which it can move to make itself more aerodynamic. are found in pairs around its eyes, trailing down the length of its back and at the end of its tail. It two has large wing-like limbs and two shorter legs. A long neck supports Lugia's small head and it has a beak similar to a dinosaur or a turtle.
Part of the Tower Duo, this Legendary Pokémon has multiple roles. As Ho-Oh's polar opposite, Lugia is the Guardian of the Seas. It is also the Master of the Legendary Birds of the Kanto Region, Articuno, Zapdos, and Moltres. Lugia can control the weather, both raising and calming storms, and is the only Pokémon capable of keeping the Legendary birds of Kanto from fighting. It has been said that its wings are powerful enough to create storms that last for more than a month. Because it is so powerful, Lugia isolates itself and lives deep beneath the ocean waves.
Core Games
Sword Pokédex: Not Available Yet
Shield Pokédex: Not Available Yet
Omega Ruby Pokédex & Alpha Sapphire Pokédex: Lugia's wings pack devastating power — a light fluttering of its wings can blow apart regular houses. As a result, this Pokémon chooses to live out of sight deep under the sea.
Base Stats
106 HP
90 Attack
130 Defense
90 Sp. Attack
154 Sp. Defense
110 Speed
680 Total
Moves by Level
Whirlwind (lv 1)
Weather Ball (lv 1)
Gust (lv 9)
Dragon Rush (lv 15)
Extrasensory (lv 23)
Rain Dance (lv 29)
Hydro Pump (lv 37)
Aeroblast (lv 43)
Punishment (lv 50)
Ancient Power (lv 57)
Safeguard (lv 65)
Recover (lv 71)
Future Sight (lv 79)
Natural Gift (lv 85)
Calm Mind (lv 93)
Sky Attack (lv 99)
Moves by TM/TR
TM03 Psyshock
TM04 Calm Mind
TM05 Roar
TM06 Toxic
TM07 Hail
TM10 Hidden Power
TM11 Sunny Day
TM13 Ice Beam
TM14 Blizzard
TM15 Hyper Beam
TM16 Light Screen
TM17 Protect
TM18 Rain Dance
TM19 Roost
TM20 Safeguard
TM21 Frustration
TM24 Thunderbolt
TM25 Thunder
TM26 Earthquake
TM27 Return
TM29 Psychic
TM30 Shadow Ball
TM32 Double Team
TM33 Reflect
TM37 Sandstorm
TM40 Aerial Ace
TM42 Facade
TM44 Rest
TM48 Round
TM49 Echoed Voice
TM51 Steel Wing
TM57 Charge Beam
TM58 Sky Drop
TM68 Giga Impact
TM73 Thunder Wave
TM76 Fly
TM77 Psych Up
TM78 Bulldoze
TM82 Dragon Tail
TM85 Dream Eater
TM87 Swagger
TM88 Sleep Talk
TM90 Substitute
TM94 Surf
TM98 Waterfall
TM100 Confide
Moves by Tutoring
Aqua Tail
Defog
Dragon Pulse
Earth Power
Giga Drain
Hyper Voice
Icy Wind
Iron Head
Iron Tail
Laser Focus
Shock Wave
Signal Beam
Skill Swap
Sky Attack
Snore
Tailwind
Telekinesis
Trick
Water Pulse
Wonder Room
Zen Headbutt
Moves by Event
Hurricane
Defog
Tailwind
Skill Swap
Damaged normally by
Normal 1×
Flying 1×
Poison 1×
Bug 1×
Steel 1×
Fire 1×
Water 1×
Dragon 1×
Fairy 1×
Weak to
Rock 2×
Ghost 2×
Electric 2×
Ice 2×
Dark 2×
Immune to
Resistant to
Fighting ¼×
Grass ½×
Psychic ½×
Pokémon Go
Pokédex: Lugia's wings pack devastating power—a light fluttering of its wings can blow apart regular houses. As a result, this Pokémon chooses to live out of sight deep under the sea.
Egg Distance: N/A
Buddy Distance: 20 KM
Base Stats
212 Stamina
193 Attack
323 Defense
Moves
Fast Attacks: Extrasensory, Dragon Tail
Charged Attacks: Sky Attack, Hydro Pump, Future Sight
Shiny: Yes
More information
Get the best of iMore in in your inbox, every day!
Casian Holly has been writing about gaming at iMore since 2019, but their real passion is Pokémon. From the games to the anime, cards and toys, they eat, sleep, and breathe all things Pokémon. You can check out their many Pokémon Go and Pokémon Sword and Shield guides and coverage here on iMore.
Thank you for signing up to iMore. You will receive a verification email shortly.
There was a problem. Please refresh the page and try again.