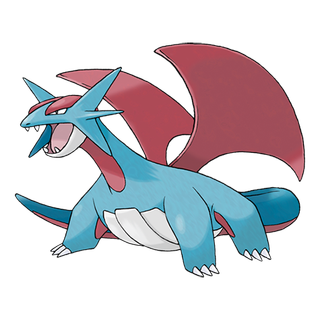 (Image credit: The Pokémon Company)
Name: Salamence (Japanese: ボーマンダ Bohmander)
Classification: Dragon Pokémon
Type: Dragon/Flying
Generation: Gen III Hoenn Region
Gender Ratio: 50% Male to 50% Female
Height:
4' 11" (Salamence)
5' 11" (Mega Salamence)
Weight:
226.2 lbs (Salamence)
248.2 lbs (Mega Salamence)
Evolution:
Evolves from Shelgon at level 50.
Evolves from Shelgon with 100 Candies in Pokémon Go.
Alternate Formes:
How to catch in Sword/Shield: Not Available Yet
How to catch in Go:
Description: After spending so long building up its strength as Bagon and changing inside its shell as Shelgon, Salamence finally has the wings it had always dreamed of. The bulk of its body is blue, but its large, sharp wings are bright red. It also has red stripes on its forehead, neck, and legs, while its belly and jaw are grey. It has three fins on either side of its head, and three, sharp claws on each foot. When happy, Salamence flies about, shooting fire every which way to express its delight in finally having wings; however, when angry, Salamence goes on a rampage that won't cease until it has worn itself ragged.
As Mega Salamence, its temper is even worse. Mega Evolution turns Salamence's pair of wings into a single, huge crescent - somthing that infuriates the Dragon. Earning it the nickname "Blood-soaked Crescent", Mega Salamence are especially brutal, some even turning on their Trainers.
Core Games
Salamence in the core games
Sword Pokédex: Not Available Yet
Shield Pokédex: Not Available Yet
Ultra Sun Pokédex: Overjoyed at finally being able to fly, it flies all over the place and usually doesn't land until it's completely exhausted and needs to sleep.
Ultra Moon Pokédex: Thanks to its fervent wishes, the cells in its body finally mutated, and at last it has its heart's desire—wings.
Base Stats
95 HP
135 Attack
80 Defense
110 Sp. Attack
80 Sp. Defense
100 Speed
600 Total
Mega Salamence
Sword Pokédex: Not Available Yet
Shield Pokédex: Not Available Yet
Ultra Sun Pokédex: The stress of its two proud wings becoming misshapen and stuck together because of strong energy makes it go on a rampage.
Ultra Moon Pokédex: It puts its forelegs inside its shell to streamline itself for flight. Salamence flies at high speeds over all kinds of topographical features.
Base Stats
95 HP
145 Attack
130 Defense
120 Sp. Attack
90 Sp. Defense
120 Speed
700 Total
Moves by Level
Protect (lv 1)
Dragon Tail (lv 1)
Fire Fang (lv 1)
Thunder Fang (lv 1)
Rage (lv 1)
Ember (lv 1)
Leer (lv 1)
Bite (lv 1)
Fly (Evo)
Ember (lv 4)
Leer (lv 7)
Bite (lv 10)
Dragon Breath (lv 13)
Headbutt (lv 17)
Focus (lv 21)
Crunch (lv 25)
Dragon Claw (lv 29)
Zen Headbutt (lv 35)
Scary Face (lv 42)
Flamethrower (lv 49)
Double-Edge (lv 63)
Moves by TM/TR
TM02 Dragon Claw
TM05 Roar
TM06 Toxic
TM10 Hidden Power
TM11 Sunny Day
TM15 Hyper Beam
TM17 Protect
TM18 Rain Dance
TM19 Roost
TM21 Frustration
TM26 Earthquake
TM27 Return
TM31 Brick Break
TM32 Double Team
TM35 Flamethrower
TM38 Fire Blast
TM39 Rock Tomb
TM40 Aerial Ace
TM42 Facade
TM44 Rest
TM45 Attract
TM48 Round
TM51 Steel Wing
TM59 Brutal Swing
TM65 Shadow Claw
TM68 Giga Impact
TM71 Stone Edge
TM76 Fly
TM78 Bulldoze
TM80 Rock Slide
TM82 Dragon Tail
TM87 Swagger
TM88 Sleep Talk
TM90 Substitute
TM100 Confide
Moves by Breeding
Defense Curl
Dragon Dance
Dragon Pulse
Dragon Rage
Dragon Rush
Endure
Fire Fang
Hydro Pump
Thrash
Twister
Moves by Tutoring
Aqua Tail
Defog
Draco Meteor
Dragon Pulse
Heat Wave
Hyper Voice
Iron Tail
Laser Focus
Outrage
Snore
Tailwind
Zen Headbutt
Damaged normally by
Normal 1×
Flying 1×
Poison 1×
Ghost 1×
Steel 1×
Electric 1×
Psychic 1×
Dark 1×
Weak to
Rock 2×
Ice 4×
Dragon 2×
Fairy 2×
Immune to
Resistant to
Fighting ½×
Bug ½×
Fire ½×
Water ½×
Grass ¼×
Pokémon Go
Pokédex: By evolving into Salamence, this Pokémon finally realizes its long-held dream of growing wings. To express its joy, it flies and wheels all over the sky while spouting flames from its mouth.
Egg Distance: N/A
Buddy Distance: 5 KM
Base Stats
216 Stamina
277 Attack
168 Defense
Moves
Fast Attacks: Dragon Tail, Fire Fang, Bite
Charged Attacks: Fire Blast, Hydro Pump, Draco Meteor, Outrage*
Shiny: Yes
More information
Get the best of iMore in your inbox, every day!
Casian Holly has been writing about gaming at iMore since 2019, but their real passion is Pokémon. From the games to the anime, cards and toys, they eat, sleep, and breathe all things Pokémon. You can check out their many Pokémon Go and Pokémon Sword and Shield guides and coverage here on iMore.