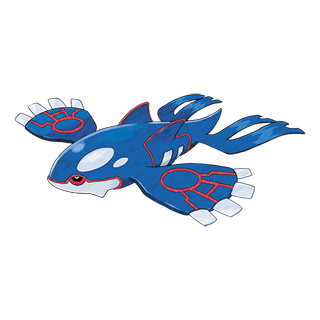 (Image credit: The Pokémon Company)
Name: Kyogre (Japanese: カイオーガ Kyogre)
Classification: Sea Basin Pokémon
Type: Water
Generation: Gen III Hoenn Region
Gender Ratio: Genderless
Height:
14' 9" (Kyogre)
32' 2" (Primal Kyogre)
Weight:
776 lbs (Kyogre)
948 lbs (Primal Kyogre)
Evolution: N/A
Alternate Formes:
How to catch in Sword/Shield: Not Available Yet
How to catch in Go:
Description: The mascot of Pokémon Sapphire and Pokémon Alpha Sapphire, Kyogre is a large, whale-like Pokémon that is mostly blue, with a white underside and bright red markings. Kyogre has two large fins on either side of its body and a massive tail that is split down the center and tattered to ribbons. It has a few white spots on its face similar to an orca, but the red markings are far more noticeable, as they actually glow when Kygore is powering up. Like its counterpart, Groudon, Kyogre has a Primal Form that is similar in shape but more than twice the size. Primal Kyogre is more or a purple and has light blue, glowing markings.
With the power to expand the seas and create rain, Kyogre has been sought after to end droughts. Although it is capable of flying, it spends most of its life, sleeping peacefully in the deepest trenches of the oceans. Kyogre is usually calm and peaceful but upon meeting Groudon, it will not hesitate to engage in a catastrophic battle.
Core Games
Sword Pokédex: Not Available Yet
Shield Pokédex: Not Available Yet
Omega Ruby Pokédex: Through Primal Reversion and with nature's full power, it will take back its true form. It can summon storms that cause the sea levels to rise.
Alpha Sapphire Pokédex: Kyogre is said to be the personification of the sea itself. Legends tell of its many clashes against Groudon, as each sought to gain the power of nature.
Base Stats
100 HP
100 Attack
90 Defense
150 Sp. Attack
140 Sp. Defense
90 Speed
670 Total
Primal Kyogre
Base Stats
100 HP
150 Attack
90 Defense
180 Sp. Attack
160 Sp. Defense
90 Speed
770 Total
Moves by Level
Ancient Power (lv 1)
Water Pulse (lv 1)
Scary Face (lv 5)
Aqua Tail (lv 15)
Body Slam (lv 20)
Aqua Ring (lv 30)
Ice Beam (lv 35)
Origin Pulse (lv 45)
Calm Mind (lv 50)
Muddy Water (lv 60)
Sheer Cold (lv 65)
Hydro Pump (lv 75)
Double-Edge (lv 80)
Water Spout (lv 90)
Moves by TM/TR
TM04 Calm Mind
TM05 Roar
TM06 Toxic
TM07 Hail
TM10 Hidden Power
TM13 Ice Beam
TM14 Blizzard
TM15 Hyper Beam
TM17 Protect
TM18 Rain Dance
TM20 Safeguard
TM21 Frustration
TM24 Thunderbolt
TM25 Thunder
TM26 Earthquake
TM27 Return
TM31 Brick Break
TM32 Double Team
TM39 Rock Tomb
TM42 Facade
TM44 Rest
TM48 Round
TM55 Scald
TM68 Giga Impact
TM73 Thunder Wave
TM77 Psych Up
TM78 Bulldoze
TM80 Rock Slide
TM87 Swagger
TM88 Sleep Talk
TM90 Substitute
TM94 Surf
TM98 Waterfall
TM100 Confide
Moves by Tutoring
Aqua Tail
Block
Icy Wind
Iron Head
Liquidation
Shock Wave
Signal Beam
Snore
Uproar
Water Pulse
Damaged normally by
Normal 1×
Fighting 1×
Flying 1×
Poison 1×
Ground 1×
Rock 1×
Bug 1×
Ghost 1×
Psychic 1×
Dragon 1×
Dark 1×
Fairy 1×
Weak to
Immune to
Resistant to
Steel ½×
Fire ½×
Water ½×
Ice ½×
Pokémon Go
Pokédex: Kyogre is said to be the personification of the sea itself. Legends tell of its many clashes against Groudon, as each sought to gain the power of nature.
Egg Distance: N/A
Buddy Distance: 20 KM
Base Stats
205 Stamina
270 Attack
228 Defense
Moves
Fast Attacks: Waterfall
Charged Attacks: Hydro Pump, Blizzard, Thunder, Surf
Shiny: Yes
More information
Get the best of iMore in your inbox, every day!
Casian Holly has been writing about gaming at iMore since 2019, but their real passion is Pokémon. From the games to the anime, cards and toys, they eat, sleep, and breathe all things Pokémon. You can check out their many Pokémon Go and Pokémon Sword and Shield guides and coverage here on iMore.