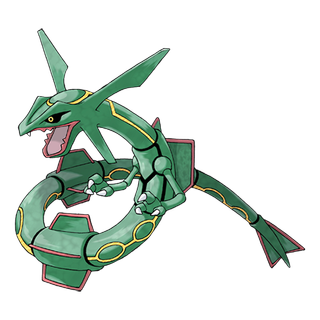 (Image credit: The Pokemon Company)
Name: Rayquaza (Japanese: レックウザ Rayquaza)
Classification: Sky High Pokémon
Type: Dragon/Flying
Generation: Gen III Hoenn Region
Gender Ratio: Genderless
Height:
23' (Rayquaza)
35' 5" (Mega Rayquaza)
Weight:
455.2 (Rayquaza)
865.2 lbs (Mega Rayquaza)
Evolution:
Mega Evolves into Mega Rayquaza if it knows Dragon Ascent and is not holding a Z Crystal.
Alternate Formes:
How to catch in Sword/Shield: Not Available Yet
How to catch in Go:
Description: A massive, serpentine Pokémon, Rayquaza resembles a Quetzalcoatl. It is mostly green with thin black, yellow, and red markings. Four fins protrude from behind its skull, framing its face, and it has two, skinny arms. It has sections of armor plating circling various spots down the length of its body and on its tail. As Mega Rayquaza, its fins are more prominent and it's nearly twice as large. It also gains long, glowing orange streamers, as well as glowing, orange orbs in several places along its body. The particles that emanate from its streamers give it the ability to manipulate air density and humidity to alter the weather.
The only Pokémon capable of Mega Evolution without the use of an item, Rayquaza was the first Pokémon to ever Mega Evolve. It gained this ability by eating meteoroids as it flew through the stratosphere, charging up its Mikado organ. Rayquaza is also the only Pokémon capable of calming Kyogre and Groudon, even in their Primal states, once the pair have begun to battle. Hundreds of millions of years old, Rayquaza has spent most of its existence far out of sight of people, flying in the ozone layer.
Core Games
Rayquaza in the core games
Sword Pokédex: Not Available Yet
Shield Pokédex: Not Available Yet
Omega Ruby Pokédex: Rayquaza is said to have lived for hundreds of millions of years. Legends remain of how it put to rest the clash between Kyogre and Groudon.
Alpha Sapphire Pokédex: It flies forever through the ozone layer, consuming meteoroids for sustenance. The many meteoroids in its body provide the energy it needs to Mega Evolve.
Base Stats
105 HP
150 Attack
90 Defense
150 Sp. Attack
90 Sp. Defense
95 Speed
680 Total
Mega Rayquaza
Base Stats
105 HP
180 Attack
100 Defense
180 Sp. Attack
100 Sp. Defense
115 Speed
780 Total
Moves by Level
Twister (lv 1)
Scary Face (lv 5)
Ancient Power (lv 15)
Crunch (lv 20)
Air Slash (lv 30)
Rest (lv 35)
Extreme Speed (lv 45)
Dragon Pulse (lv 50)
Dragon Dance (lv 60)
Fly (lv 65)
Hyper Voice (lv 75)
Outrage (lv 80)
Hyper Beam (lv 90)
Moves by TM/TR
TM02 Dragon Claw
TM05 Roar
TM06 Toxic
TM08 Bulk Up
TM10 Hidden Power
TM11 Sunny Day
TM13 Ice Beam
TM14 Blizzard
TM15 Hyper Beam
TM17 Protect
TM18 Rain Dance
TM21 Frustration
TM22 Solar Beam
TM24 Thunderbolt
TM25 Thunder
TM26 Earthquake
TM27 Return
TM31 Brick Break
TM32 Double Team
TM35 Flamethrower
TM37 Sandstorm
TM38 Fire Blast
TM39 Rock Tomb
TM40 Aerial Ace
TM42 Facade
TM44 Rest
TM48 Round
TM49 Echoed Voice
TM50 Overheat
TM52 Focus Blast
TM53 Energy Ball
TM56 Fling
TM58 Sky Drop
TM59 Brutal Swing
TM65 Shadow Claw
TM68 Giga Impact
TM71 Stone Edge
TM73 Thunder Wave
TM74 Gyro Ball
TM75 Swords Dance
TM76 Fly
TM77 Psych Up
TM78 Bulldoze
TM80 Rock Slide
TM82 Dragon Tail
TM87 Swagger
TM88 Sleep Talk
TM90 Substitute
TM94 Surf
TM98 Waterfall
TM100 Confide
Moves by Tutoring
Aqua Tail
Bind
Defog
Draco Meteor
Dragon Ascent
Dragon Pulse
Earth Power
Hyper Voice
Icy Wind
Iron Head
Iron Tail
Outrage
Shock Wave
Snore
Tailwind
Uproar
Water Pulse
Damaged normally by
Normal 1×
Flying 1×
Poison 1×
Ghost 1×
Steel 1×
Electric 1×
Psychic 1×
Dark 1×
Weak to
Rock 2×
Ice 4×
Dragon 2×
Fairy 2×
Immune to
Resistant to
Fighting ½×
Bug ½×
Fire ½×
Water ½×
Grass ¼×
Pokémon Go
Pokédex: It flies forever through the ozone layer, consuming meteoroids for sustenance. The many meteoroids in its body provide the energy it needs to Mega Evolve.
Egg Distance: N/A
Buddy Distance: 20 KM
Base Stats
213 Stamina
284 Attack
170 Defense
Moves
Fast Attacks: Air Slash, Dragon Tail
Charged Attacks: Outrage, Aerial Ace, Ancient Power
Shiny: Yes
More information
Get the best of iMore in your inbox, every day!
Casian Holly has been writing about gaming at iMore since 2019, but their real passion is Pokémon. From the games to the anime, cards and toys, they eat, sleep, and breathe all things Pokémon. You can check out their many Pokémon Go and Pokémon Sword and Shield guides and coverage here on iMore.